Jim Stoppani is stuck between a rock and a hard place.

If you haven't been paying attention to supplement news lately there have been quite a few things going on in the industry. Phil Heath left behind Gifted Nutrition, numerous supplements are being found to have fraudulent information and ingredients, and oh yeah, Jim Stoppani has stepped on the toes of CEO and founder of NutraBio, Mark Glazier. If you haven't seen the video of Glazier's response to Stoppani, then here's your chance now.
That was only a taste of the fallout in this developing situation, all of it beginning with some unfounded statements made on the part of Stoppani about the purity of NutraBio's protein powder.
[wptouch target="mobile"][/wptouch]
[wptouch target="non-mobile"][/wptouch]
These days controversy can't seem to be avoided in the fitness community and from the looks of things it seems that a highly regarded fitness personality has found himself in a bit of pickle. Many bodybuilding and fitness fans know the name Jim Stoppani. He's been lauded for his extensive knowledge on both supplementation and exercise sciences.
But it appears that Stoppani is now currently under scrutiny due to comments he made in a May 7th 2016 Facebook post claiming that he has the only non proprietary protein powder currently on the market. When followers on Stoppani's page suggested that there were other brands on the market that fit the bill, particularly the well respected brand NutraBio, known for full-label disclosure, Stoppani went on to claim that the company's label "makes no sense." For a full look at the quote take a look at the statement and image below.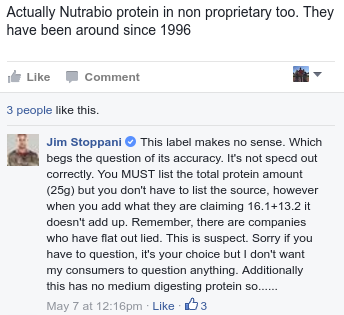 "This label makes no sense. Which begs the question of its accuracy. It's not specd out correctly. You MUST list the total protein amount (25g) but you don't have to list the source, however when you add what they are claiming 16.1+13.2 it doesn't add up. Remember, there are companies who have flat out lied. This is suspect. Sorry if you have to question, it's your choice but I don't want my consumers to question anything. Additionally this has no medium digesting protein so……"

— Jim Stoppani
This was proved to be just the beginning of proceedings as NutraBio founder and CEO Mark Glazier decided to comment on the situation at hand. His statement reads as follows:
"Hello all, I am the founder of NutraBio. I appreciate the discussion of my protein so let me jump in and clear up a few things.

The label shown has 100% ingredient disclosure including the exact dosage of each protein source and each component of the flavor system. I am not required to disclose the dosage of the source, but I believe to claim a true "no proprietary blend label" you must disclose everything to the consumer. I am the only brand on the market that discloses the exact dosage of every ingredient with absolutely no exceptions, and I have done so in every one of my 300 plus products for over 15 years.

Here is the math: This product contains only 5 ingredients with a total serving size of 29.92 grams broken down as follows: 16.1 grams of whey Protein Isolate (WPI), 13.2 grams of Micellar Casein (MC), 417mg of vanilla flavor, 167mg of xanthan and 37mg of sucralose. The ingredients total 29.92 grams, which matches the serving size claimed on the label exactly.

Lets go a step further. We all understand that no protein source is 100% protein, for example WPI contains about 90% protein and MC about 80%. I take label transparency so serious that I disclose not only the dose of each protein source but also the amount of complete protein each source provides.

In this case, my label claims each serving contains 25 grams of complete protein. To achieve this, the formula requires 29.3 grams of WPI and MC combined. The label shows the breakdown exactly: one serving includes 16.1 grams of WPI supplying 14.3 grams of complete protein, along with 13.2 grams of MC supplying 10.7 grams of complete protein. By adding the two together you get a total of 25 grams of complete protein.

The protein values of each protein source add up to the total protein claim, the individual ingredients add up to the serving size claim. The math makes absolute sense. Folks, this is what complete label transparency is all about. With this high level of information disclosed on my labels, you can prove out the formula to milligram accuracy."

— Mark Glazier, Founder and CEO of NutraBio
But that's just the beginning. Stoppani deleted Glazier's comments from his Facebook page while leaving his original criticism up. Stoppani took the argument to YouTube with a scathing video response against all those who disagreed with him, including Stack3d.com, PricePlow.com, and Glazier.
Glazier own video response, as seen above, was made in defense to Stoppani's own claims. Stoppani is making more and more enemies by the day and this feud could just be the start of his woes.
To makes matters worse for Stoppani it looks like Bodybuilding.com has some complaints of their own. As reported by PricePlow, the all purpose fitness company filed a lawsuit against Stoppani making some pretty hefty allegations as detailed here. 
Both Bodybuilding.com and Jim Stoppani have gone on record with NutraIngredient on the matter. Representatives from Bodybuilding.com stated the following:
"Bodybuilding.com recently filed a lawsuit against PhD Fitness, LLC and Jim Stoppani with regard to use of the JYM trademark. Bodybuilding.com's relationship with Jim Stoppani evolved over many years into a formal business partnership, which included developing and jointly promoting the JYM brand, sold exclusively by Bodybuilding.com for the past three years."

"While we do not comment on pending litigation, it is our hope that we can continue this mutually beneficial relationship going forward. In the interim, JYM products will continue to be available on the Bodybuilding.com website."
Jim Stoppani had his own choice words to say about the lawsuit in the below statement to NutraIngredients:
"It's very unfortunate that Bodybuilding.com has taken this stance on the trademarks and brand. Given my background in the industry, as a scientist, expert and consultant it's ludicrous to say that I did not formulate my own products…I had a great relationship with Bodybuilding.com and hope to continue to work with them, but the plan was always to make the products available to as many people as possible and go to GNC, Amazon and others [once the development agreement expired on May 17, 2016].

These products championed non-proprietary blends based on real research. They're my formulations, and my IP (intellectual property).

JYM Supplement Science is not a brand, It's an extension of what I do, who I am, what I teach. The brand is me…I'm not concerned at all about the outcome."
What happens next is anyone's guess. What is abundantly clear is that Jim Stoppani has found himself in a tough position, one that can hopefully be resolved in a concise and amicable manner with all parties involved.
Do you think Jim Stoppani will make it out of these situations unscathed?
Let us know by hitting up our comments below or head on over to our official Facebook and Twitter.
[wptouch target="mobile"][/wptouch]
[wptouch target="non-mobile"] [/wptouch]
[wptouch target="mobile"] [/wptouch]
[wptouch target="non-mobile"][/wptouch]