With an international cult following, it's only a matter of time before you get hit with The Curse!.
Product Overview
Most pre-workouts tout that they are superior to everyone else. With a market full of great options to choose, your ability to digest all of the information about each ingredient can feel more than overwhelming. All you know is that you want a pre-workout to offer more focus, longer sessions, potential weight loss, and a serious muscle pump, but which one's are telling you the truth? JNX Sports The Curse! is an internationally known pre-workout ready to give you everything you want.
As their flagship product, The Curse! exploded onto the international supplement scene and gave JNX Sports a huge boost as an emerging high-performance supplement company. Designed to give you huge muscle pumps, extreme mental focus, and an incredibly large boost of intensity, The Curse! is one of those pre-workouts that will elevate your strength and overall performance to new heights.
JNX Sports offers ingredients you can trust with a fully transparent label to let you know exactly what you are putting into your body. As a vegan friendly and gluten-free option, this supplement is one to take care of your workouts, but also your body. Formulated in New Zealand but manufactured in the United States, The Curse! will push your fitness limits while offering a safe and effective product at a great price with great flavors.
The Curse! Highlights
The Curse! has garnered a great reputation as being a high-quality product with a huge range of great flavors, and its collection of award nominations shows we aren't alone in saying that. The formula consists of three highly effective blends including the Energizing Muscle Fuel Blend, the Amplifier Blend, and the Mind Control Matrix. With just 7 ingredients total shared amongst the three blends, this pre-workout proves to be simple yet effective without anything added to hurt your gains.
The Curse! is great for those looking to change and power there transformation and those under the spell of this supplement will see increased stamina, power, and motivation to get your personal records to where you want them. The blends of natural products will push your body to new limits and unlock your endurance and strength potential you may have not thought possible. It will give you more energy and also save your wallet from added strain with more servings per container than most other pre-workouts.
Ingredients
Energizing Muscle Fuel Blend (3,000mg)
Creatine Monohydrate: Plays a role in boosting endurance by allowing for quicker recovery and will ultimately aid in muscle growth by lowering recovery time for faster muscle-building to occur. As a great ingredient to convert energy in the muscles, this provides for a great pump and increased stamina (1).
Beta-alanine: Is found in the muscles and brain and is used to promote exercise and overall athletic performance. It's ability to boost aerobic capacity, support health, and stop muscle fatigue and acid build-up (2) make this a great ingredient for pre-workouts.
Citric acid: Is found in many citrus fruits and does support energy levels and promotes mood. It serves as a supportive ingredient for the others in terms of overall cognitive assistance and bioavailability (3).
Amplifier Blend (900mg)
L-Citrulline: A very common ingredient in pre-workouts for its muscle pumps. It allows athletes to work harder, faster, and longer and can decrease fatigue and muscle soreness to really amplify your workout (4).
L-arginine alpha ketoglutarate: Is used to regulate protein synthesis leading to muscle growth, while enhancing energy production and immune function. By using this, you can increase muscle mass and overall performance without suffering from muscle atrophy (5).
Mind Control Matrix (157mg)
Caffeine Anhydrous: A great ingredient for appetite suppression and will stop those cravings from kicking in allowing for increased calorie burn. It can stimulate thermogenesis (6) to really aid in weight loss and give you an overall boost of energy to keep you grinding through.
Olive Leaf Extract: This is considered a quick way to recover from rapid fatigue and can support wellness and longevity. It can also lower blood pressure, stabilize cholesterol levels, and reduce weight gain.
Price & Flavors
JNX Sports The Curse! comes at a great price of $21.99. The best part is that each container has 50 servings, offering nearly two months of pumps as opposed to the standard one. With one scoop per serving, you are sure to get everything you want out of this pre-workout. The flavor choices are endless with 10 flavors that include:
Pina Colada
Peach Rings
Fruit Punch
Lemon Rush
Watermelon
Dark Grape
Blue Raspberry
Green Apple
Orange Mango
Tropical Storm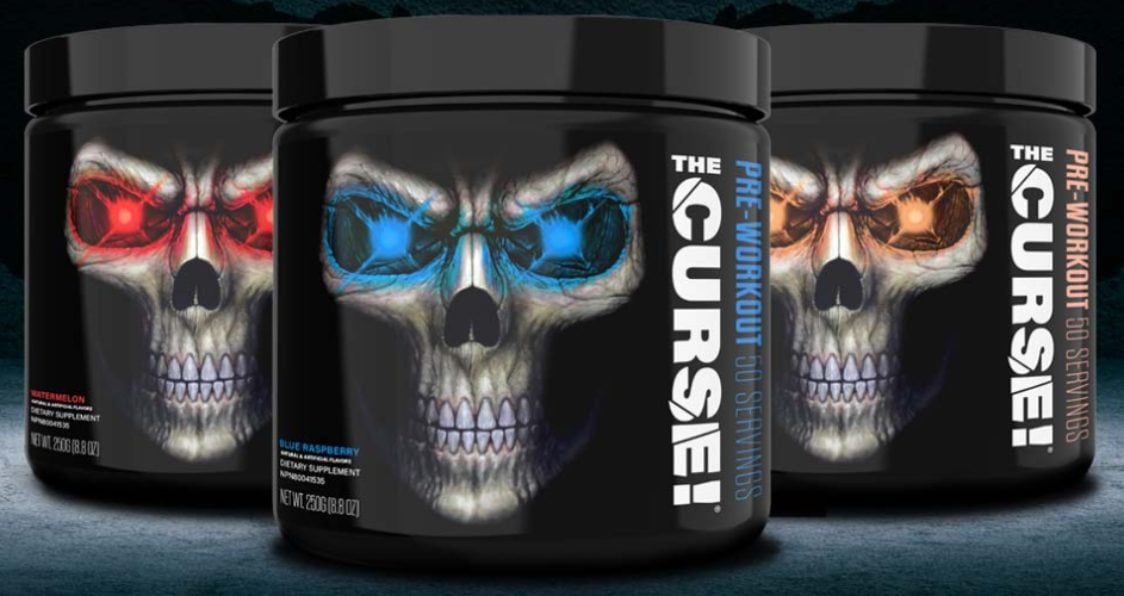 World-Wide Cult Around The Curse!
The Curse! is instantly recognizable and due to repeated effort and excellent marketing, on top of having just a great overall pre-workout product, JNX Sports has amassed a huge following for this supplement spanning countries and continents. Their staple prop, a giant skull throne, has seen the likes of every major fitness expo from Olympia Weekend in Las Vegas, FIBO in Germany, and others in the United Kingdom, Peru, and China. It is mind-blowing to think about just how many people have been affected by The Curse! world-wide.
Overall Value
The Curse! by JNX Sports is one of those pre-workouts that seems to have it all. As a great pre-workout supplement to really boost intensity, provide for huge muscle pumps, and increase mental focus, The Curse! will give you that much-needed push to test your limits. With 7 natural ingredients shared between three unique blends, it is no wonder this pre-workout has hit the international market by storm. JNX ensures the product is tested for safety and effectiveness to support your overall health and fitness. What you are really getting is a very solid pre-workout with three unique blends of all-natural ingredients with tons of flavors at a great price. Check out this pre-workout and see if you fall under the spell of The Curse!.
Try The Curse! at JNX Sports Today
Let us know what you think in the comments below. Also, be sure to follow Generation Iron on Facebook, Twitter, and Instagram. 
*Images courtesy of JNX Sports
References