Check out this premium super greens supplement to thrive, nurture, and flourish.
Product Overview
Our health and wellness should take top priority over all else and looking for a super greens supplement can be a huge help. So, while training and diet are obviously very important, looking for the best ways to maximize our health and wellness can be a game changer when it comes to boosting all our gains. With super greens supplements being versatile and convenient ways to pump ourselves with plenty of nutrients, making sure we get everything we need is now easier than ever. Kaged Muscle Outlive 100 is a fantastic super greens product designed to help you flourish, nurture, and thrive.
When it comes to super greens supplements, key benefits associated with them are increased immunity, higher energy levels, and improved gut health. Able to fill you with tons of antioxidants, you can better fight oxidative stress and as an effective vegetable substitute, you never have to miss those vital nutrients in your diet again. Kaged Muscle Outlive 100 can do this and much more and is a top choice for super greens supplements on the market.
Code GENIRON For 15% OFF
Kaged Muscle Outlive 100 is perfect for boosting wellness and vitality while also managing stress and aiding in healthy digestion. With 26 organic superfoods, this 100% plant-based product is perfect for your goals.
Kaged Muscle is a supplements company who takes their production process and final products seriously, only reinforcing the deepest of integrity. They source the purest, most potent raw materials and ensure their labs operate beyond the status quo with rigorous testing and third-party assurance. Never compromising on quality and price, Kaged Muscle seeks to only make the highest quality supplements they can, for they know you the athlete deserve only the best.
Kaged Muscle Outlive 100 Highlights
Kaged Muscle Outlive 100 is great for anyone looking to improve their daily routine with a full serving of 26 fruits and vegetables. This super green has great potential to boost vitality and wellness, help manage stress, offer prebiotics for healthier digestion, and strengthen your immune system. Being 100% plant-based and vegan friendly, this product is great for everyone and is conducive with all diets. Offering variety for greens and grasses, superfoods and antioxidants, fiber and digestion, and cleansing and detox, this supplement is a great greens formula to help you flourish, nurture, and thrive.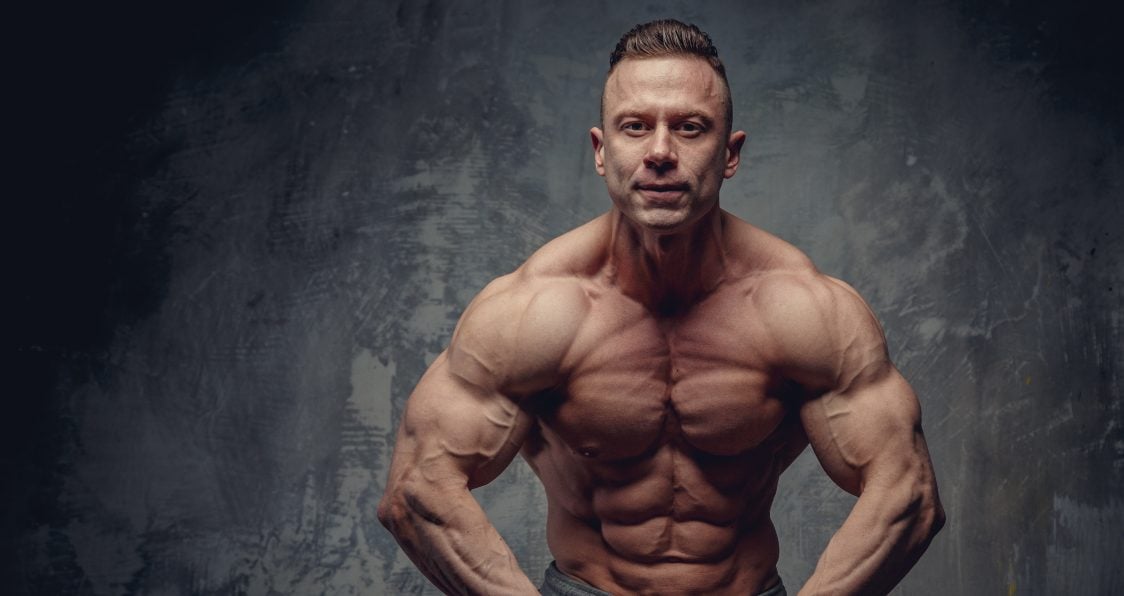 Ingredients
Organic Alkalizing Greens Blend
Organic Wheat Grass Powder: High in nutrients and antioxidants, this can improve digestion, promote healthy skin, and work to fight inflammation (1).
Organic Spirulina Powder: Acts as a powerful antioxidant and anti-inflammatory aid while working for better cholesterol.
Organic Superfood & Antioxidant Blend
Organic Acai Fruit Juice Powder: Will boost immunity and lower blood sugar levels while working to alleviate inflammation (2).
Organic Blueberry Fruit Powder: A great antioxidant food, this is low in calories and high in nutrients which can protect a host of bodily functions.
Organic Cleanse & Detox Blend
Organic Apple Fruit Cider Vinegar Powder: Can fight inflammation, improve digestion, burn fat and enhance your metabolism, and improve gut health (3).
Organic Cranberry Whole Fruit Juice Powder: Great for pumping you with antioxidants, this can boost immunity, nourish skin, and help improve cognitive function.
Organic Fiber & Digestion Blend
Organic Gum Acacia Fiber: A good source of fiber, this can act as a prebiotic supplement while working to support weight management and gut health.
Organic Quinoa Grain Powder: Packed with nutrients, this is high in fiber and has antioxidant and anti-inflammatory properties (4).
Organic Adaptogen
Organic Ashwagandha Root Extract: An ancient herb, this can reduce blood sugar levels and cortisol, thus helping with stress and anxiety (5).
Other Ingredients
Organic Barley Grass Powder, Organic Alfalfa Grass Powder, Organic Chlorella Powder, Organic Matcha Leaf Powder, Organic Kale Leaf & Stalk Powder, Organic Broccoli Bud & Stalk Powder, Organic Spinach Leaf Powder, Organic Turmeric Root Powder, Organic Lemon Fruit Juice Powder, Organic Cinnamon Bark Powder, Organic Ginger Root Powder, Organic Aloe Vera Inner Leaf Powder, Organic Black Pepper Fruit Powder, Organic Goji, Organic Beet Root Powder, Organic Coconut Fruit Water Powder, Organic Kiwi Fruit Concentrate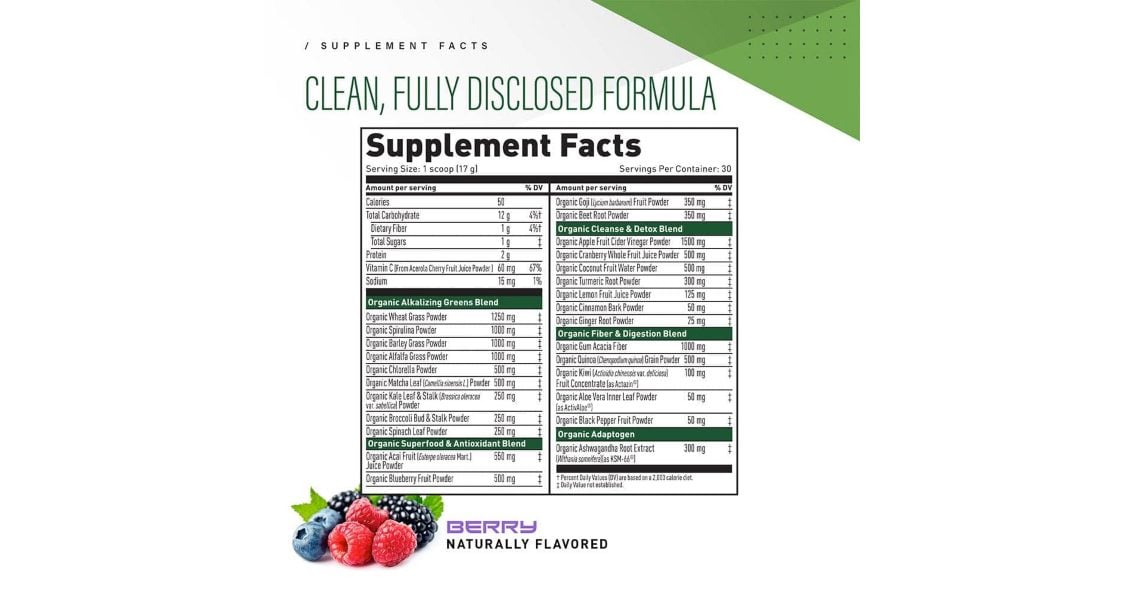 | | |
| --- | --- |
| Calories | 50 |
| Protein | 2g |
| Carbs | 12g |
| Fat | 0g |
| Sugar | 1g |
| Flavors | Berry, Apple Cinnamon |
| Best Way To Take | Mix 1 scoop with desired beverage of choice. |
Price, Flavors & Effectiveness
Kaged Muscle Outlive 100 is full of organic superfoods and greens to serious boost your health and wellness so you thrive inside and out of the gym as you flourish, nurture, and thrive. With 30 servings per container, 1 scoop of this super greens powder will pump you with all those vital nutrients. Two flavors in Berry and Apple Cinnamon ensure you don't grow too bored of the taste.
Pros
26 organic superfoods for the best nutrients
Great benefits to your overall health and wellness
100% plant-based and vegan friendly conducive for all diets
From a reputable and honest company
Cons
Only two flavors so more would be nice
Price per serving is okay, but it is similar to others on the market
Price: $39.99
---
Check out our list of the Best Super Greens for more great health and wellness products!
---
Overall Value
Kaged Muscle Outlive 100 is a great super greens supplement to boost your health and wellness and comes from a reputable company in Kaged Muscle who knows the needs of athletes. Able to pump you with organic super foods and greens, you get the best benefits with this super greens product. What you are really getting is a top tier super greens able to pump you with vital nutrients to see serious gains. Try Kaged Muscle Outlive 100 and see what this can do for your health and wellness goals.
Try Kaged Muscle Outlive 100 Today
---
Generation Iron may receive commissions on purchases made through our links. See our disclosure page for more information.
Let us know what you think in the comments below. Also, be sure to follow Generation Iron on Facebook, Twitter, and Instagram. 
*Images courtesy of Kaged Muscle and Envato
References