This set of three kettlebells allows for diversity and variation with different weights but the same great feel.
Product Overview
With gyms on the verge of reclosing as more COVID measures creep in, or just the fact your comfort level may not be totally up to par to return to a gym, it is important to know your alternatives that you can do for at home use. Many pieces of equipment we would all love to have may just be too expensive to fit our budgets right now.
Thankfully, sports equipment companies recognize this dilemma and have sought solutions to fix it. Kettlebell Kings is one such company who seeks to make their products convenient, simple, versatile, and more importantly affordable, so you can tackle any workout with ease from the comfort of your own home. Kettlebell Kings Powder Coat Kettlebells Set is the perfect solution for your needs with just three kettlebells, all being different weights.
Kettlebells have grown in popularity as the perfect workout tools to advance your goals while providing efficiency, proper technique, and overall exercise performance. By combining strength training with cardiovascular activity (1), kettlebells work to improve a number of things like range of motion, calorie burn, and ultimately, that desired physique. As solid tools to save money, time, and energy, consider checking out kettlebells for your home gyms.
Kettlebell Kings is a company that simply loves kettlebells and believes in the many benefits that kettlebells can provide for people. Located in Austin, Texas, their mission is to provide consumers with the right equipment to better their minds and bodies overall while also promoting a healthy lifestyle. Riding the edge of innovation and design with workouts and products, Kettlebell Kings gives you that great boost in training matched by incredible customer service. For those home gym needs, make Kettlebell Kings your one stop shop for all things kettlebells.
---
See where Kettlebell Kings Powder Coat Kettlebells finished on our list of the Best Kettlebells!
---
Kettlebell Kings Powder Coat Kettlebells Set Highlights
These kettlebells are made from cast iron and covered with a powder coating in order to ensure enhanced grip, overall protection of the iron, and durability to promote longevity. These three kettlebells are perfect for exercises like swings, presses, and Turkish get-ups, but can be versatile for whatever workout you need them for. With three weight amounts, you can see your strength grow each and every day. The weights are: 16 kg (35 lbs.), 24 kg (53 lbs.), and 32 kg (70 lbs.).

Each kettlebell is made from a single piece of cast iron so the handle remains intact without the chance for it to break off. Color-coded for weight and engraved with each number ensures you know exactly which weight you are using. The powder coating on the grip also helps to eliminate slippage from sweating so you don't risk form by using other muscles to counteract imbalances.
Designed for your strength and cardio needs, this kettlebell set will provide great opportunity to see growth and gains without the need for all that gym equipment. With a lifetime warranty, Kettlebell Kings is sure that you will love this product and that they are built to last. The structural integrity of these kettlebells will support the integrity of your growth and form to keep you operating at a high level for whatever workout comes your way.
Check out other Kettlebell Kings Powder Coat Kettlebells here!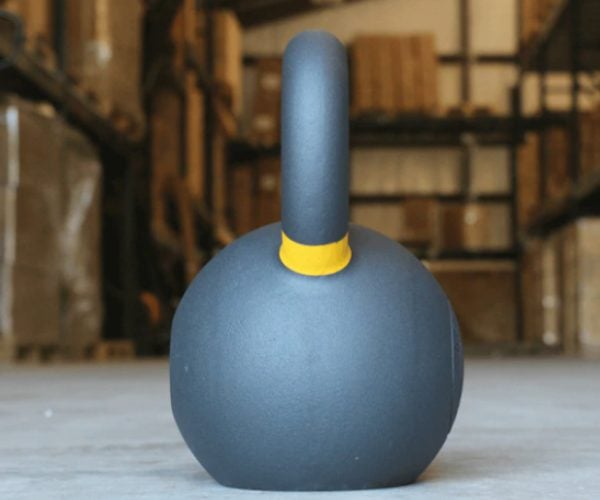 Price & Effectiveness
Kettlebell Kings Powder Coat Kettlebells Set is a great fitness set to tackle all of your needs. With three sizes, these kettlebells come in: 16 kg (35 lbs.), 24 kg (53 lbs.), and 32 kg (70 lbs.).
Pros: The powder finish is the right amount of smooth and rough for enhanced grip and the different weights add nice versatility to each workout. Consistent and durable products from a company who cares about their equipment and consumers.
Cons: It is a premium priced item and some of the higher weights may have pitting issues.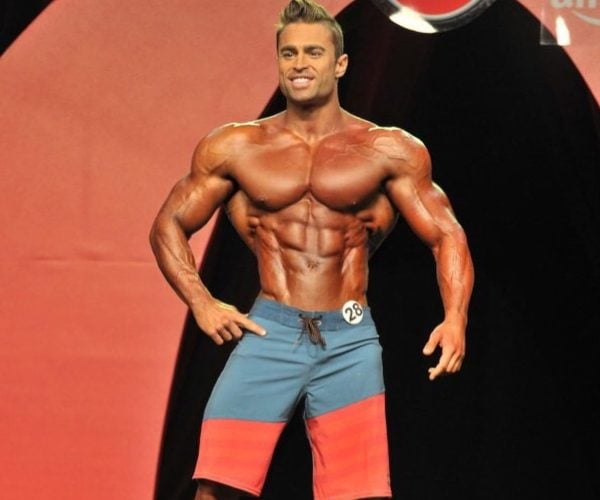 Showcased Athlete
IFBB pro Jason Poston is a force in the bodybuilding world with four Olympia appearances and a top 3 finish on the world's biggest stage. With 16 years of experience, Poston knows just how to get your body to where you want it to be. Having Type 1 diabetes, Poston also knows the sensitivity involved with diet and nutrition in order to allow your body to start to operate at full capacity. He has become one of the most followed Type 1 diabetics in the health and fitness world and is a leader in the health industry for his knowledge on just how to properly push your body.
As a serious competitor with knowledge on how to get that desired physique, Poston uses Kettlebell Kings kettlebells in his drive to be the best. High quality and top tier equipment, these kettlebells are surely some of the best to push your body to new limits. As staples in Poston's workouts, he drives to be the best with the help of Kettlebell Kings and their amazing workout equipment.
Wrap Up
Kettlebell Kings Powder Coat Kettlebells Set is one of those at home gym equipment must-haves. With three kettlebells, you can challenge yourself however you like and work to give yourself the boost you need to see growth and gains even without a gym. Built to last with durable cast iron and a powder coat finish, these kettlebells are sure to stick with you for a long time. From strength training to cardio work, you won't be disappointed with the results that come from Kettlebell Kings products. Trusted by professional athletes and experts everywhere, these will really work to boost your training to new heights. What you are really getting are high quality kettlebells made from solid material with enhanced grip to support any workout from a company who cares about their consumers and products. Check out this kettlebell set from Kettlebell Kings and see what it can do for you today.
Try Kettlebell Kings Kettlebell Set Here
Generation Iron may receive commissions on purchases made through our links. See our disclosure page for more information.
Let us know what you think in the comments below. Also, be sure to follow Generation Iron on Facebook, Twitter, and Instagram. 
*Images courtesy of Kettlebell Kings and Jason Poston
References
Kravitz, Len. "Kettlebell Research Update". (source)