Kurt Angle opened up about his Olympic gold medal victory and how he was able to do it with a broken neck.
Kurt Angle is one of the all-time greats in a WWE ring. Before making waves in professional wrestling, he put together an incredible career in college. Angle's claim to fame was his 1996 gold medal victory at the Olympics with a broken neck. He recently discussed how he was able to pull this off with Joe Rogan.
Angle is one of four men to win what is called the amateur grand slam in wrestling. This is victories in the Junior Nationals, NCAA, World Championships, and Olympics. In 2016, Angle was inducted into the International Sports Hall of Fame and was named the best shoot wrestler by USA Wrestlers.
Kurt Angle was also part of the WWE Hall of Fame Class of 2017. During his career, Angle became known for his incredible athleticism, wrestling tactics, and personality on the microphone. He was a four-time WWE Champion and former World Heavyweight Champion.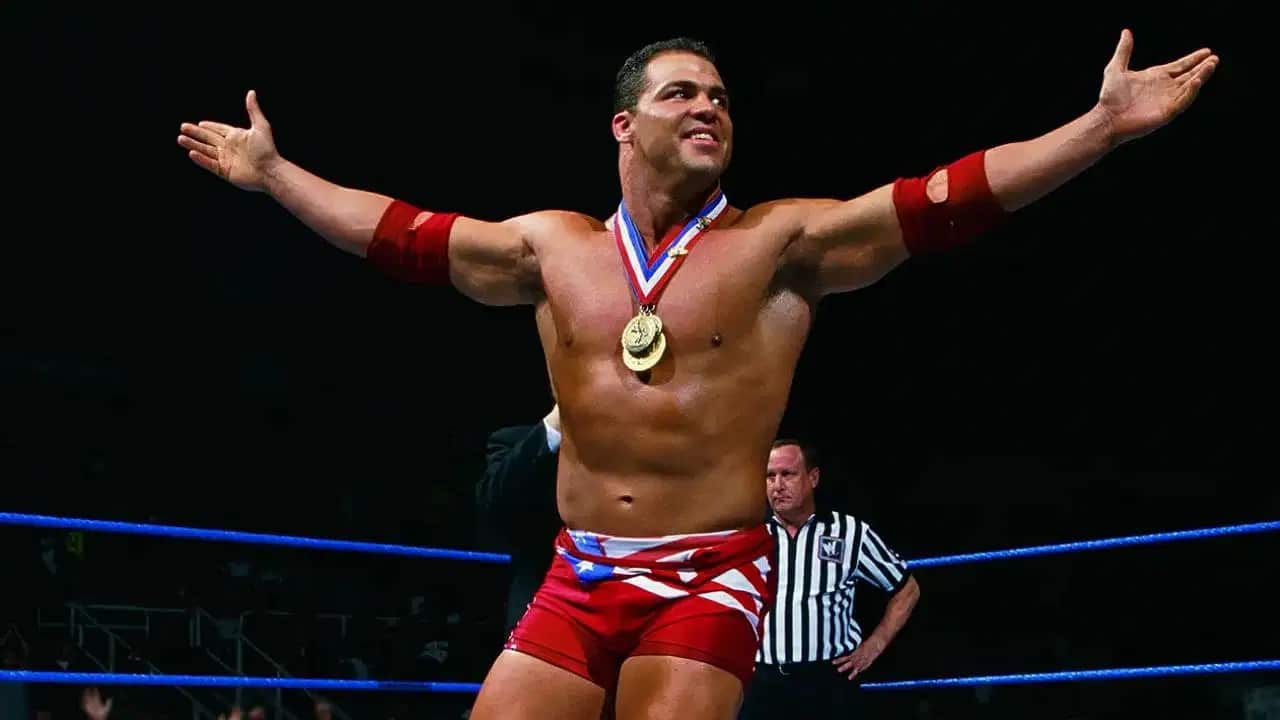 Kurt Angle Talks Gold Medal Victory
There are many accolades and accomplishments on the resume of Kurt Angle over the course of his career. In 1996, he was able to showcase one of the most insane feats of strength and determination on the mat.
"What happened was, I got thrown on my head the first round of the Olympia trials and I broke my neck and didn't know it so I kept wrestling. My arms were numb and my neck was in excruciating pain and I wrestled through semis and won and I had to go onto the finals and wrestle and I won there."
View this post on Instagram
Angle continues to explain how he was aware of his broken neck and continued to wrestle before finding out when he got home.
"I won the first round of Olympic trials with my neck broken. I went home the next day and went to the doctor and he took an MRI of my neck and said you have four broken vertebrates and two disks sticking directly in your spinal cord. He said you can't wrestle anymore. You are done. I was devastated."
After hearing this, Angle went for a second opinion. This doctor attempted to get Angle ready for the next round of trials, which was approximately six weeks out.
"It's not gonna be completely healed but it will be healed enough that you can still go and what I'm gonna do is have a doctor travel with you and this doctor is gonna stick you with 12 shots of novocaine in your neck five minutes before each one of your matches.

I didn't have a choice. It was no guarantee I was going to make the Olympic team in 2000 or 2004. This is my one time. This is my one shot."
Kurt Angle Talks WWE Career And Backlash From Injuries
This was the first injury for Kurt Angle and many more came during his time in the WWE.
"I broke m neck four more times in WWE and it got worse and worse. I mean, I have nerve damage in my neck. I lost three inches in my arm that they atrophied because my neck was just so messed up. I've had five surgeries and none of them have really worked."
View this post on Instagram
Angle continues to explain how he attempted stem cell treatments but they did not work.
"I can't feel my pinky fingers. I have a lot of atrophy in my arms. I don't have a lot of strength. I can curl like 20-pound dumbbells. When I do triceps, I can only push the weights about 60 pounds forward. I don't have a lot of strength in my upper body."
Kurt Angle put together an elite career as one of the greatest wrestlers of all-time. His Olympic gold medal victory in 1996 continues to be one of the best moments in wrestling history.
For more news and updates, follow Generation Iron on Facebook, Twitter, and Instagram.