Mark Hunt, defender of the universe
It seems UFC Heavyweight Mark Hunt has been quite busy lately. After calling out fellow heavyweight Junior Dos Santos on social media, he seemed to have found time to defend his family from stray Monkeys. Fresh off a win against UFC veteran Frank Mir – Mark Hunt has made it clear that he's coming for vengeance against all his past transgressions in his road to the strap. The #6 ranked fighter mentioned rematches in his post octagon speech at UFC FIGHT NIGHT in Australia, and didn't mince words on twitter when he told Dana White who he wants next.
@danawhite @ufc @junior_cigano let's do it Dana would love a rematch

— mark richard hunt (@markhunt1974) April 10, 2016
 Junior Dos Santos came off of an impressive win last weekend against then rising star "Big" Ben Rothwell, who was picked apart in a 5 round war. Junior looked particularly impressive on the feet, mixing up his strikes and staying light on his feet. With the heavyweight picture being the epitome of style makes fights, the bout would satisfy MMA purist and fair weather fans alike.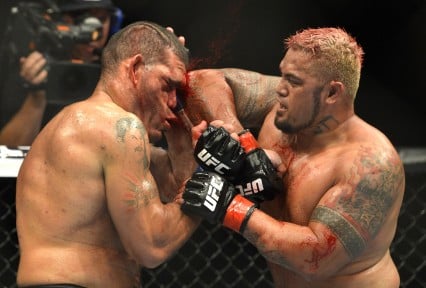 When Mark isn't fighting heavyweights, he seems to be fighting primates – putting out a video of some Monkeys hanging out by his infinity pool. His new found friends got a little too friendly and tried to attack, that's when Mark had to get a little nasty – big mistake Monkeys. Check out the video below.
Big monkee vs lil monkee Mark hunt Vs Dobson brown lol The first monkee tried to staunch me out and wen it couldn't the other one bummed him and said get outta here birch lol
I don't know about you guys but I want to hang out at Mark Hunt's house, he's got the Swiss Family Robinson tree house vibe with swinging vines and everything. What do you guys think? Will Mark Hunt vs. Junior Dos Anjos end up like Mark Hunt vs. Monkeys? Hit us up with your comments below.