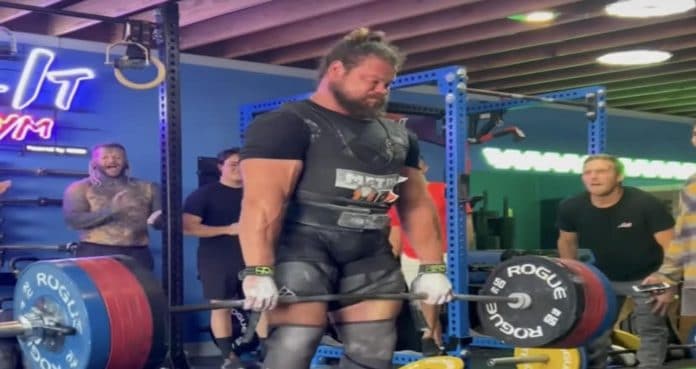 Martins Licis continues to be one of the contenders to be the 2022 World's Strongest Man.
Martins Licis is back to his best and that has been clear during some recent performances. Licis will enter the 2022 World's Strongest Man competition as one of the favorites to claim the title and that is even more apparent after watching some training videos. Recently, Licis completed five reps of 805 pounds while deadlifting.
The World's Strongest Man competition will take place from May 24-29 in Sacramento. The full roster and list of events has been released. Licis looks to be back at full strength after being forced to miss the biggest competition of the year over the last couple years. In his recent Instagram post, Licis is seen completing massive deadlifts using a deadlift suit, lifting belt, a knee straps.
"Hookgrip 805lb 366kg deadlift for reps 💪 Just wanted three, but didn't get the lockout I wanted on the second rep, got mad, kept going to makeup for it. I've got @reignbodyfuelto thank for the ⚡️ boost! One more deadlift session remaining to lock this in before @theworldsstrongestman ! Thank you @wreckitgym crew for cheering me on!"
View this post on Instagram
The max deadlift is one of the events in the upcoming competition. Martins Licis is seen in the video using a conventional stance and hook grip. He was going for three reps but was able to get five. With the competition three weeks away, Licis will have one final deadlift session before heading to Sacramento.
Martins Licis won the World's Strongest Man crown in 2019 before suffering some bad luck that kept him out of competition. He was able to return to prominence in 2021 by winning the Rogue Invitation. This year, he is already off to a hot start.
Licis won the 2022 Arnold Strongman Classic in Columbus, OH. This was a competition that featured many of the top strongmen in the world, such as the Stoltman Brothers and Oleksii Novikov. The Ukrainian strongman finished second to Licis and is another competitor to watch come the end of May.
The 2022 World's Strongest Man competition has a full roster of 30 with some former champions. Reigning champ Tom Stoltman will be looking to make it two in a row while four-time champion Brian Shaw will also be featured. Novikov won the title back in 2020 as well.
Martins Licis seems to be back at full strength and this could lead to another title come the end of May.
For more news and updates, follow Generation Iron on Facebook, Twitter, and Instagram.