UFC The Matchmaking Machine
Well that was fast – less than a month after Conor Mcgregor's record setting :13 second K.O. of former king Jose Aldo, he's on course to make good on his record setting promise to unify the featherweight and lightweight titles against current champ Rafael Dos Anjos. The co-main event of the UFC 197 Vegas – set for March 5  – will be featuring bantamweight champ Holly Holm vs. number one contender Miesha Tate. While UFC has yet to officially announce the fights, multiple sources have confirmed that the ink is dry on the deal.
Much to the adu of Frankie Edgar, who was promised the next featherweight title shot by UFC president Dana White, the champion is moving onwards and upwards to the heavier weight class of 155 in an attempt to unify the belt in a never before seen move from a UFC star. What this fight will look like exactly? I have no idea. Some people are already stating that Conor will get crushed by the power that put fan favorite Donald Cowboy Cerrone down for good just over in a minute in the first roundof their title bout. Dos Anjos has also put the lights out on Ben Henderson, a fight known for his chin and toughness (he fights with a toothpick in his mouth for God sakes) which is no easy feat. Despite all that though I've gotta go with Conor. I know you think I'm crazy but this guy has done everything he said he would and looking to put to put a stamp on his biggest promise on March 5th. At it's really hard to doubt that this guy can do anything he puts his mind to – he simply sees things we don't. I will say this – Dos Anjos is mostly a stationary fighter that uses his power and pressure to get off first and hurt you in the dirty exchanges. I'm not sure if he'll be able to do that against Conor. We all know about Conor's movement and a stationary target for him is pretty much a sitting duck. He maybe be able to light him up from the outside and then move in for the kill. As far as Dos Anjos, he'll definitely be able to have the power advantage as well as an advantage on the ground. If he can back Conor up and some how make it ugly – similar to the Pettis fight – things could get interesting. The real question is will Conor's power carry over to the larger weight class? Only time will tell.
As far as Holm vs. Tate this one is less of a mystery. Honestly, I see the bigger, stronger Holly Holm steamrolling over the (17-5) UFC vet. Don't get me wrong Meisha definitely has a dog. She's a brawler that doesn't shy away from a slug fest and a natural striker. If she can make the fight ugly and eat a couple of hard shots trying to come in I could see her hurting the current undefeated champion and possibly ending the fight as we did see the champion wobble from the few good shots Ronda Rousey did have in UFC 193 domination that was put on her back in November. Also, Tate will most likely have the advantage on the ground. As we saw in the Sarah McMann fight, she's no slouch off her back and could take Holms in deep water if she can find a way to get her to the  mat.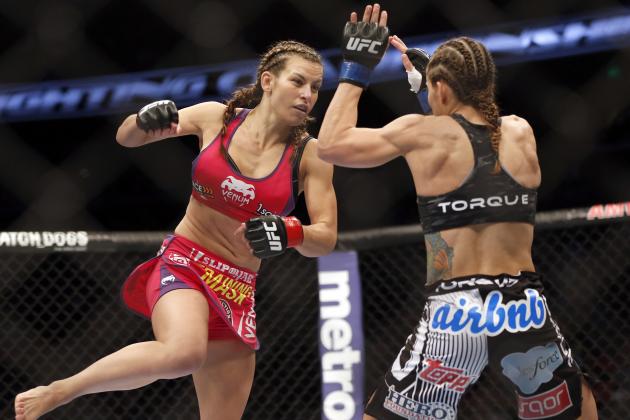 Most likely however it will be a stand up bout in which Holm will proceed to pick her apart with her superior striking – using her reach and footwork to keep the smaller Tate from coming in and dominating the fight. UFC 197 is set for March 5, 2016 and will either take place at the MGM Grand Garden Arena or Mandalay Bay Events Center. So what do you guys think? Am I off the my head or what? Are these intriguing match ups or do you see both fights being a landslide? Hit us up below and be sure to follow us on Fbook, Twitter, Instagram