Can it help you get more out of high-intensity workouts?
MET-Rx is a nutritional supplement company with an emphasis on the power of protein. They are based in Boca Raton, Florida.
For over 20 years, they have been developing precise formulations to enhance the diets of athletes and people who maintain a healthy, active lifestyle. As a result, they've come up with their proprietary blends that a lot of gym-goers swear by.
They have a nice selection of products including power bars, powders, and drinks. In this review, we're going to focus on one of their most popular supplements, Creatine 4200. We wanted to find out if it's worth all the hype.
Note: Supplements are meant to enhance a balanced diet, not replace it. They also should not be used as treatment for conditions.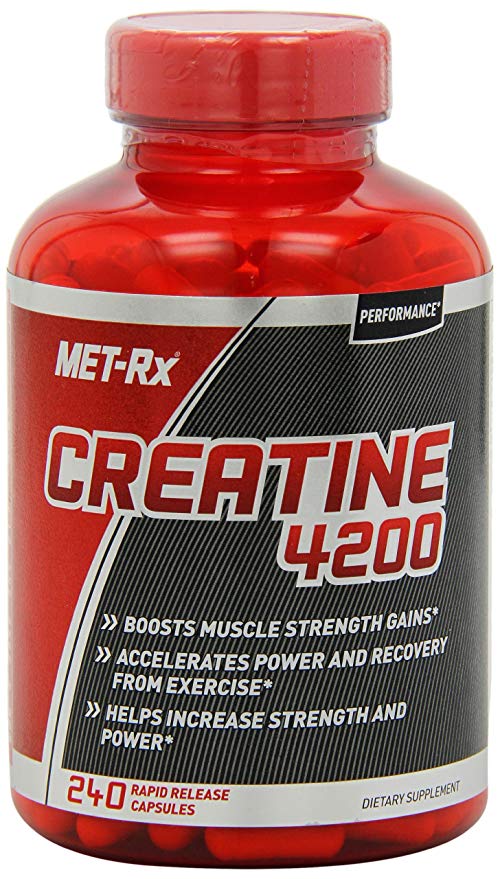 Pros 
Affordable
Pure ingredient with very little fluff
Effective
Easy to consume
Cons
Click here for the lowest price on Amazon
Ingredients and Nutritional Information
MET-Rx's Creatine 4200's ingredients are not very varied. It gets its name precisely because it contains 4,200mg of HPLC Pure Creatine Monohydrate and not much else.
Here are the ingredients in Creatine 4200…
HPLC Pure Creatine Monohydrate 4,200mg (4.2g)
Additional ingredients include (<2%):
Gelatin
Silica
Vegetable Magnesium Stearate
Creatine 4200 Benefits
In this section, we're going to go over all the ingredients in these capsules to see how it can impact your workouts.
Note: All the ingredients found in Creatine 4200 poses no harm to the body.
That being said, it is still advisable that you consult your health care provider before consuming any kind of supplement.
HPLC Pure Creatine Monohydrate  
Creatine is a common ingredient in ergogenic aids. It's a naturally-occurring amino acid compound found in meats and seafood.
A typical diet contains about 1-2g of creatine a day. (1) With Creatine 4200, you get double that amount in each serving, hence maximizing your high intensity exercise performance and gains. Here's how (2):
It gives you a boost in energy by fortifying your phosphocreatine stores.
It promotes new muscle growth, effectively adding mass.
It ups your strength, endurance, and resistance to fatigue.
Improves your focus by boosting brain function
Helps prevent neurological diseases like Parkinson's and Huntington's
Helps lower blood sugar levels
Best of all, the consumption of creatine monohydrate is completely safe as seen here in this study. (3) It shows that the compound was well-tolerated among all the participants and even improved their bench-pressing performance during testing.
The HPLC stands for high performance liquid chromatography, which is a process of running a compound through a high pressure liquid to break it down into smaller particles. (4) This ensures that your body will absorb the creatine faster than regular supplements.
Gelatin
Gelatin is extracted from the connective tissues of domesticated animals. Bad news for vegetarians and vegans. In Creatine 4200, MED-Rx confirms that the gelatin used in their capsules come from beef.
Silica
This product contains less than 2% of Silica, which is pretty dismissible. It's seen in a lot of food items as an anti-caking agent. However, if you're really a stickler for what you put in your body, we're pleased to report that the ingestion of Silica improves joint health. (5)
Vegetable Magnesium Stearate
VMS is an extracted salt from stearic acid, a common additive that acts as a binder or emulsifier. It has extremely low toxicity and naturally occurs in food like poultry, nuts, and oils.
How Much Should I Take?
As with any supplement, it's best to start with a low to moderate dosage. MED-Rx's recommended serving of Creatine 4200 is 6 capsules per day. That will effectively give you 4.2g of creatine, which slightly exceeds the average creatine intake from a balanced diet, which is 1-2g.
Given that you're already performing well on a perfect diet, you can expect to increase your gains at the gym by upping your creatine intake even more.
To give you an idea of how much protein you'll have to consume to get that amount, you can get around 1-2g of creatine from a pound of salmon. That's a fish.
The whole point of supplements is to cut down on meal planning and prep by giving your body some of the nutrients it needs in a condensed form. We have to emphasize that you will still need to eat healthy to get other nutrients that your body requires.
There is very little chance of overdosing on creatine. In fact, athletes who regularly do intense workouts have to take 5-10g of creatine a day to for it to take effect. (6)
There are also some folks who can't synthesize creatine at all and they have to consume anywhere from 10-30g of creatine a day to avoid health complications.
Best Time To Take Creatine 4200
MED-Rx's labels Creatine 4200 as a post and pre-workout supplement, which can be confusing for some. Since you have to take 6 capsules a day, you can have 3 before and after you work out.
Here is a study that proves that the subjects' muscle masses increased slightly more after having taken the creatine after their workouts. (7) The scientists also observed a greater decrease in fat mass.
But there are other studies that show taking it before or after workout sessions makes no difference at all. (8) Either way, it requires testing on your end, and it helps that the dosage is spread out in 6 capsules. What's important is you supplement shortly before and after any heavy physical activity to see its effects.
This study shows that subjects who supplemented close to their exercise periods gained more muscle than those who did it early in the day and late at night. (9) Timing does matter.
Why MET-Rx?
MET-Rx prides themselves for formulating sports nutrition products that are more than just a slew of dietary calories. All of their formulations are specially concocted for specific purposes.
They understand that there's more to a healthy diet than supplement-loading and they even have recipes to incorporate into your diet program. MET-Rx products are also beneficial for people who lead more stagnant lives.
Drawbacks
The main drawback of Creatine 4200 is it's not a vegan product. Those who are trying to be more environmentally conscious may take issue with this. It's not halal nor kosher. Creatine 4200 also hasn't undergone third party testing.
How Much Does It Cost?
A bottle of MET-Rx Creatine 4200 sells for $11.99 on their website. You can get it cheaper from other sources like Amazon. For that price, you get 240 capsules, which makes it extremely affordable.
Review Rating Of MET-Rx Creatine 4200
Effectiveness – 8/10 Stars
Ingredients – 7/10 Stars
Taste – N/A (capsules)
Price – 9/10 Stars
Final Thoughts
Regularly doing intense workouts increases your chances of plateauing. With a supplement like Creatine 4200, you can train harder and get better results to keep your progress on an upswing. You can boost your muscle mass as well as shorten your recovery time after every session at the gym.
Aside from being safe to consume, Creatine 4200 is also an economical choice at $0.29 per serving. Other supplements and powders that claim to do the same thing are much more expensive.
We also appreciate that this product comes in capsule form as some drinks might not agree with some people's palates. Without the added sweeteners, you also don't have to worry about the added calories. It's an easy way to give your workout a hefty boost without having to lug around jugs of protein mixes.
References:
1-Richard B. Kreider, Douglas S. Kalman, Jose Antonio, Tim N. Ziegenfuss, Robert Wildman, Rick Collins, Darren G. Candow, Susan M. Kleiner, Anthony L. Almada, Hector L. Lopez. (2017; 14: 18) "Safety and efficacy of creatine supplementation in exercise, sport, and medicine". Journal of the International Society of Sports Nutrition. doi: 10.1186/s12970-017-0173-z. PMCID: PMC5469049. PMID: 28615996.
2-Lisa A. Riesberg, Stephanie A. Weed, Thomas L. McDonald, Joan M. Eckerson, Kristen M. Drescher. (2016; 37: 31-42) "Beyond Muscles: The Untapped Potential of Creatine". International Immunopharmacology Journal. doi: 10.1016/j.intimp.2015.12.034. PMCID: PMC4915971. NIHMSID: NIHMS750689. PMID: 26778152.
3-Elfego Galvan, Dillon K. Walker, Sunday Y. Simbo, Ryan Dalton, Kyle Levers, Abigail O'Connor, Chelsea Goodenough, Nicholas D. Barringer, Mike Greenwood, Christopher Rasmussen, Stephen B. Smith, Steven E. Riechman, James D. Fluckey, Peter S. Murano, Conrad P. Earnest, Richard B. Kreider. (2016; 13: 12). "Acute and chronic safety and efficacy of dose dependent of creatine nitrate supplementation and exercise performance". Journal of the International Society of Sports Nutrition. doi: 10.1186/s12970-016-0124-0. PMCID: PMC4815124. PMID: 27034623.
4-Carolina Cortes-Herrera, Graciela Artavia, Astrid Leiva, Fabio Granados-Chinchilla. (2019 Jan; 8(1): 1). Foods Open Access Journal. doi: 10.3390/foods8010001. PMCID: PMC6352167. PMID: 30577557.
5-Martin KR POM Wonderful LLC. (2007 Mar-Apr; 11(2):94-7). "The chemistry of silica and its potential health benefits". The journal of nutrition, health & aging.
6-Joseph Nordqvist, reviewed by Debra Rose Wilson, Ph.D, MSN, RN, IBCLC, AHN-BC, CHT. (2017) "Should I use creatine supplements?" Medical News Today.
7-Antonio J, Ciccone V. (2013 Aug6; 10:36) "The effects of pre versus post workout supplementation of creatine monohydrate on body composition and strength". Journal of the International Society of Sports Nutrition. doi: 10.1186/1550-2783-10-36.
8-Candow DG, Vogt E, Johannsmeyer S, Forbes SC, Farthing JP. (2015 Jul; 40(7):689-94). "Strategic creatine supplementation and resistance training in healthy older adults". Applied Physiology, Nutrition, and Metabolism Journal. doi: 10.1139/apnm-2014-0498
9-Cribb PJ, Hayes A. (2006 Nov;38(11):1918-25). "Effects of supplement timing an resistance exercise on skeletal muscle hypertrophy". Medicine & Science in Sports & Exercise Journal. PMID:17095924