Can this consistent strongman hold on to win the Lightweight Men's division?
Richard Yu hails from Rhode Island, but currently resides in Florida. As someone who has always been fairly active, Yu made a name for himself in high school with his favorite sport being track and field. As a mainstay in the Lightweight Men's division for years, Richard has proven time and time again that his consistent performances are not that of luck, but of sheer strength, performance, and will to claim the top spot at the NAS National Championships.
His Strongman journey began in 2012 when his coach, Alan Colley, asked if he wanted to compete at a local competition taking place at an Anytime Fitness. Excited by the opportunity and intrigued by the sport, Richard agreed to compete and has never looked back.
This crazy year of 2020 could be Richard's year to claim the championship. Capable of winning any given event, he is a real threat to the field given his experience, strength, and overall determination to be the best. With notable finishes in the top 10 at Arnold's and a finishing spot of sixth in Strongest U80kg Man in 2017, Richard will do everything to stand tall on that podium.
Richard's Routine
Training & Recovery
His week usually consists of four days and always sees exercises like the deadlift, bench, squat, and overhead presses to really work those large muscle groups. He thrives on events with overhead pressing and this shows given his strict routine of always working those pressing muscles. Included in his rotation is varying accessory work to hit those stabilizing muscles to stay free from unwanted pain and injury, as well as getting that overall muscular endurance to where it needs to be for these grueling events.
His recovery routine is simple, but highly effective and those looking for convenient ways to recover should take notes. Stretching and foam rolling can really work to loosen up those tight muscles and take care of all that strain brought on by his workouts. After a cold shower, he always feels better and is ready to take on the next challenge.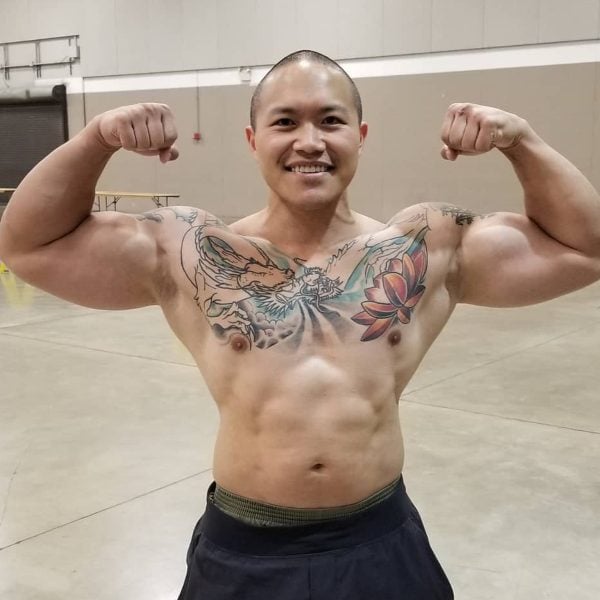 Nutrition
A common theme among athletes and nutrition is that no one way works for everyone. While there are staples that everyone needs in their diets to fully operate and maximize growth and performance, often times what works for some is detrimental for others, and of course, that is how our bodies are. Richard admits his diet could be better, but what he does works well for him.
Working the graveyard shift has forced Richard to adapt and find ways to get all of the nutrients he needs to function not only in his workouts but at work as well. Starting his day at around 3pm, he orders two luncheon specials from a restaurant called China Taste which consists of pepper steak and white rice. One meal is consumed before his workout and the other is reserved for after. During his work shift, he snacks on whatever is in his toolbox but makes sure he consumes around 600-900 calories. After work, he will enjoy coach Greg Doucette's anabolic French toast to fill him up and provide for a sweet, filling treat before he heads to bed.
Richard uses Advanced Molecular Labs pre- and post-workout for his supplements. As a company with proven leadership and almost three decades of product development, their products are cutting-edge and help with overall performance and quality of life. Richard loves the fact that these supplements contain very simple ingredients without a lot of added fillers.
NAS National Championships
Working towards this event, Richard comes with a lot of experience and a proven ability to perform. His best event and one to watch is the circus dumbbell. He trains this event every other week for sets of 5 reps and all of his training with overhead pressing has really shown with this event. His main focus with this has been to increase efficiency through perfect form. Events that give him some trouble are any that require a max distance carry. Each time his goal is to make it a little further and with his training and solid mindset, this strongman will no doubt give his absolute best to tackle these events.
Richard's Journey Unfolded
Richard is a strong believer in progressive overload while in a training block. His key when it comes to training, as well as competing, is to keep it simple. Relying on the basics and fundamentals will progress Richard to exactly where he needs to be. Every workout he trains as hard as he can because he knows with his recovery routine, he will be more than ready to take on the next challenge. After the NAS National Championships, Richard plans on competing at Florida's Strongest Man in mid-December, but fans can be sure this strongman is ready to tackle the competition laid before him this weekend. Keep an eye on Richard for those overhead events and know that whatever comes his way, he will fight to the end to earn that top spot on the podium and the Lightweight Men's title.
For information on the NAS National Championships including event details, ticket prices, and more, click here!
Let us know what you think in the comments below. Also, be sure to follow Generation Iron on Facebook, Twitter, and Instagram. 
*Images courtesy of Richard Yu Instagram