Easier and faster mixing to improve strength and power for those desired gains you want to see most.
Product Overview For NutraBio Creatine
As a widely researched and very popular supplement, creatine has become one of those staples for bodybuilders and other strength athletes. Creatine is a trusted and highly reliable supplement that can really boost all areas of your training and performance. The benefits are safe and effective so you see that increase in strength and mass really start to take shape. NutraBio Creatine Monohydrate is pure grade, micronized creatine to support power output and really improve strength and size, especially if paired with a protein and diet for serious muscle gain.
Creatine is naturally occurring in our bodies and is typically found in the muscle cells as a way to supply energy for those massive lifts. With similar properties to amino acids, it has real ability to enhance muscle growth and recovery, as well as a host of other bodily functions. Some benefits of creatine are increases in strength, its ability to boost performance, improve your metabolism, and enhance cognitive capabilities (1), all great reasons to look into a high quality creatine like NutraBio Creatine Monohydrate.
NutraBio is a high-quality sports supplement company creating top tier products for athletes everywhere. Their mission is clear: maximize the health and wellness of all consumers by bringing advanced nutrition products with science-backed research to enhance training and performance while aiding in an overall better quality of life. They are a standout in the industry for clean and effective products with no artificial fillers or excipients and stand by their goal of being honest and transparent with their labels.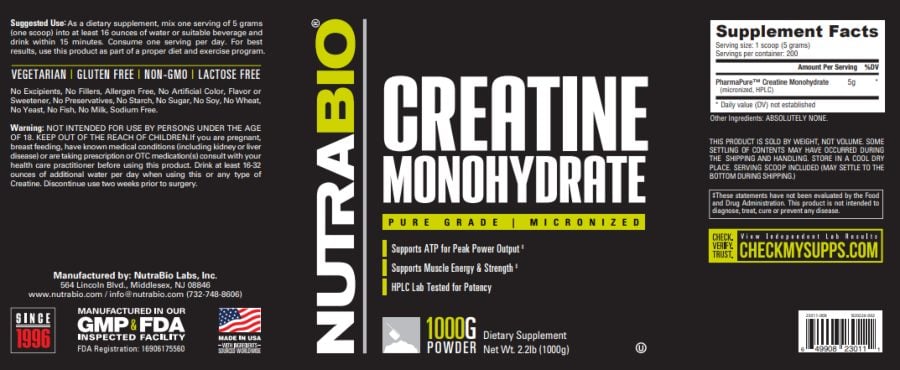 NutraBio Creatine Monohydrate Highlights
NutraBio Creatine Monohydrate is pure grade, micronized creatine tested for easier, faster, and more complete mixing. With twenty times more surface area than regular creatine, it dissolves easily for no stomach discomfort or cramping. Not only can this supplement volumize muscle and size to see a real increase as you gain strength and power, but it will act as a buffer for lactic acid to add reps and intensity to any workout while working to optimize ATP adenosine triphosphate levels for muscle contractions supplementing with the purest form of creatine that customers love while shopping with minimal search headache.
What makes this supplement so great is there is ONE ingredient and full label disclosure. One scoop of this will pump you with 5g of the purest creatine in creatine monohydrate and that's it. No other ingredients added means nothing to harm you or ruin this great product. On top of this stellar formula, you get 200 servings per container, so you never have to worry about running low and hurting your workouts, power, recovery, and muscle growth for levels during maximum intensity and endurance work and supports of all areas of training for even the smallest details.
The Only Ingredient In NutraBio Creatine
PharmaPure Creatine Monohydrate (5g)
Creatine is one of the most researched and important supplements for those serious about gains. Using creatine increases levels of creatine phosphate in your muscles to improve everything from power output, recovery, and muscle hydration so you get the most out of every lift (2). By supplementing with creatine, you work to replenish your stores of cellular ATP (adenosine triphosphate), which can elevate intensity, increase muscle energy, and delay fatigue. This leads to quick lean muscle growth and strength which is what we all want as serious lifters (3), while improving work output capacity since creatine can increase levels and other factors for muscle size and strength to your body.
Another benefit of NutraBio Creatine Monohydrate is that it may act as a buffer for lactic acid build up that causes that unwanted soreness and fatigue (4). Lactic acid is that tired, burning feeling you get after doing serious work and it is the main cause of feeling drained and fatigued. Creatine may act as a buffer for this to delay the onset of fatigue to keep you training longer and adding a little extra to your gains.
Price & Effectiveness For This Creatine Supplement
NutraBio Creatine Monohydrate is a great creatine supplement to boost muscle mass while working to reduce fatigue to give you the edge when it comes to your workouts. With 200 servings per container, one scoop delivers 5 grams of creatine monohydrate and NOTHING ELSE per day while using this product. Pure, clean, and effective, this is a great supplement to add to your routine for muscle mass along with a protein.
Pros: One ingredient of pure, micronized creatine monohydrate tested for building muscle size with no artificial additives, fillers, or proprietary blends. A lot of servings at a great price. Easier and faster mixing with no upset stomach or cramps. From a reputable and honest company in NutraBio producing the highest quality supplements with fast shipping and good ratings for good compromise and purity.
Cons: N/A
Price: $20.99
NutraBio Featured Athlete
Jimmie Rivera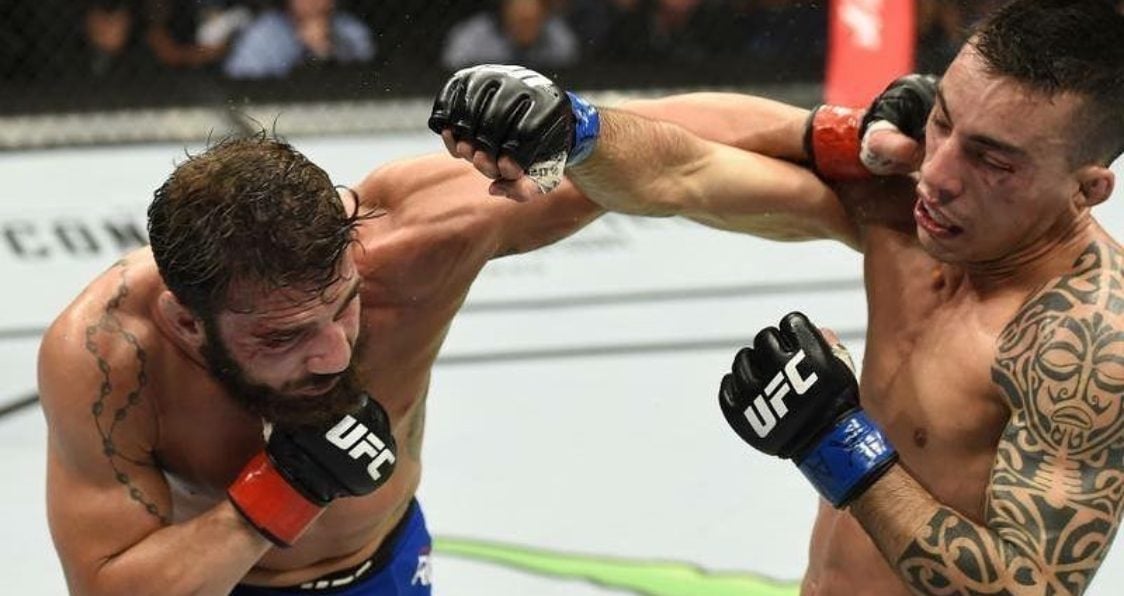 Jimmie Rivera is a professional MMA fighter ranked #9 in the UFC Bantamweight division. With a record of 23-4, Rivera has some big wins under his belt and is a serious force in the sport and dangerous opponent to face. On his way to becoming one of the UFC's elite Bantamweights, Jimmie was able to win twenty fights in a row which included victories in organizations such as the UFC and Bellator MMA against prominent opponents like John Dodson and UFC legend Uriah Faber. Rivera has worked with NutraBio since 2015, both using and promoting their great supplements to better not only himself, but others around him. As a professional athlete who knows what it's like to fight on the biggest stage, Rivera knows just how important it is to stay healthy overall. With the help of NutraBio, Rivera remains at the top of the field and trusts NutraBio with all of his supplementation needs, like this creatine monohydrate.
Overall Value For NutraBio Creatine
NutraBio Creatine Monohydrate is that creatine supplement we've all been waiting for. As a widely researched and popular supplement, it is safe and effective for all sorts of exercise and benefits including increased lean muscle strength and power, reduced lactic acid for less fatigue, and a host of others to improve all areas of our diet, training, and performance. NutraBio is an honest company working to bring consumers the best supplements around. What you are really getting is a pure, high-quality creatine supplement with no added ingredients and a pure, micronized form of creatine from a great company. Check out NutraBio Creatine Monohydrate today and see what this can do for your gains as one of the best supplements on the market.
Try NutraBio Creatine Monohydrate Today
Generation Iron may receive commissions on purchases made through our links. See our disclosure page for more information.
Let us know what you think in the comments below. Also, be sure to follow Generation Iron on Facebook, Twitter, and Instagram. 
*Images courtesy of NutraBio and Envato
References