This product can help promote mobility and revitalize those joints for healthy and effective lifts.
Product Overview
It's fair to say our joints take a beating every single day. Whether you're an everyday gym-goer or serious athlete training for competition, there's no escaping the pain we endure after a grueling workout. This is where joint support supplements come to our aid. While many companies offer what they consider to be the game-changer when it comes to your joint health, NutraBio backs up this claim with patented ingredients and a true joint support formula designed to keep you primed and ready for whatever workout comes next.
Joint support supplements are used to slow down damage and pain caused by degenerative changes as you age, or repeated abuse through constant wear and tear from training and performance. Anything from retaining more water, increasing the rate of collagen synthesis and fighting inflammation are all benefits associated with joint support supplements. What Extreme Joint Care can do is make sure you get an effective, clinically dosed, and safe supplement so all your bases are covered.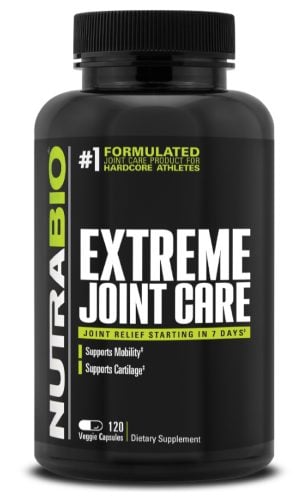 NutraBio is a high-quality sports supplement company creating top tier products for athletes everywhere. Their mission is clear: maximize the health and wellness of all consumers by bringing advanced nutrition products with science-backed research to enhance training and performance while aiding in an overall better quality of life. They are a standout in the industry for clean and effective products with no artificial fillers or excipients and stand by their goal of being honest and transparent with their labels.
*Credit to The Kings of Gains Delran NJ
NutraBio Extreme Joint Care Highlights
Extreme Joint Care is the number one formulated joint care product for hard core athletes given its advanced formula of patented ingredients to give your joints the best chance to fully recover. This supplement can promote mobility and renew cartilage, maintain healthy connective tissue, help revitalize your joints, and provide for optimal function for not just workouts, but everyday activities. A true joint support formula, this is the most trusted and innovative name on the market.

A 100% transparent label is matched with clinically dosed and research backed ingredients for a safe supplement. With no proprietary blends, fillers, excipients, chemicals, or other harmful substances, this will show results and keep you healthy overall. NutraBio works to provide the best care for all consumers so your training and performance never falter.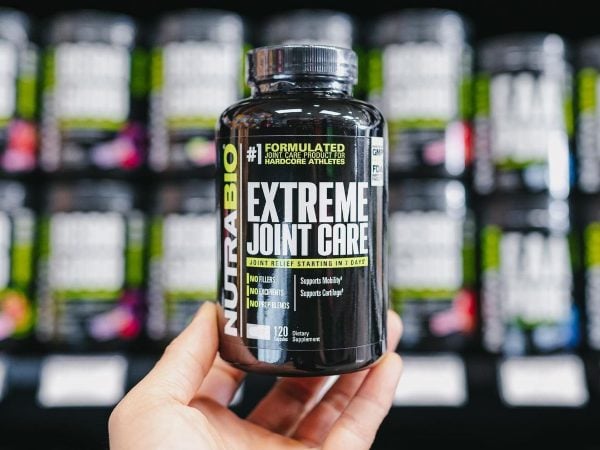 *Credit to Get Yok'd Nutrition
Ingredients
D-Glucosamine Sulfate (1,500mg): Can block enzymes responsible for breaking down cartilage while reducing oxidative stress within tissue. Works to help grow, repair, and maintain cartilage (1).
Chondroitin Sulfate (540mg): Used to reduce joint pain and improve functionality. Forms the structural framework of collagen which can also benefit skin, hair, and nail growth (2).
OptiMSM (500mg): Necessary for collagen production and can decrease joint pain while allowing faster recovery after exercise for reduced muscle damage. Helps maintain the cushion between joints for better mobility.
Gelatin (442mg): Contains lysine which helps strengthen bones and allows the body to better absorb calcium (3).
Meriva Curcumin Phytosome (200mg): Provides support for joints and helps protect against muscle stress.
Other Ingredients: KollaGen II-xs Collagen Type II, ApresFlex, Hyaluronic Acid, Horsetaul Herb S.E., BioPerine, Boron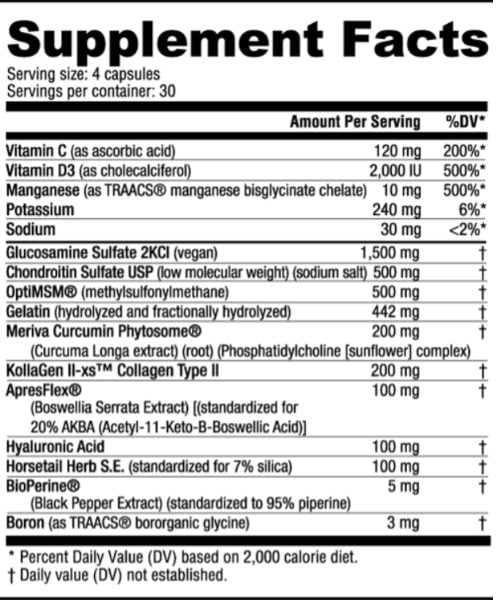 Price & Effectiveness
NutraBio Extreme Joint Care is a great supplement to enhance the health of your joints and really give you support for all those grueling workouts. With 30 servings per container, each serving size of 4 capsules can be taken with meals for optimal effectiveness.
Pros: Patented ingredients and very effective at promoting mobility and revitalizing joints. A great price from a reputable and honest company in NutraBio.
Cons: Four capsules is a lot for a serving size.
Price: $29.99
Featured Athlete
Shane Burgos is a professional MMA fighter and NutraBio athlete who uses their products to enhance all of his training and performance needs. His amateur record stood at 7-0, giving him the chance to compete with the best at the pro level. Once going pro, his winning streak continued, winning 7 consecutive fights, all being either by knockout or submission. Five of those fights were won in the first round. As a serious athlete who knows what it takes to keep his body in the utmost shape to compete with the best in the world, Burgos relies on NutraBio for all his supplementation needs to keep him going strong under the bright lights in the cage.
Wrap Up
NutraBio Extreme Joint Care is the most trusted joint support supplement on the market. An advanced formula is designed to offer a host of benefits from increased mobility, healthy connective tissue, and revitalized joints so no workout is done haphazardly. Patented ingredients and harmful additives are shown with an honest and transparent label, so you know this is safe. NutraBio not only works to enhance their consumers' training and performance, but also overall quality of life. What you are really getting is a high-quality joint support supplement with safe and effective ingredients from a company who knows how to take care of athletes. Try Extreme Joint Care from NutraBio today and see what this supplement can do for you.
Try NutraBio Extreme Joint Care Here
Generation Iron may receive commissions on purchases made through our links. See our disclosure page for more information.
Let us know what you think in the comments below. Also, be sure to follow Generation Iron on Facebook, Twitter, and Instagram. 
*Images courtesy of NutraBio and Shane Burgos Instagram
References
Bruyere, Olivier; Altman, Roy D.; Reginster, Jean-Yves (2016). "Efficacy and safety of glucosamine sulfate in the management of osteoarthritis: Evidence from real-life setting trials and surveys". (source)
Henrotin, Yves; Marty, Marc; Mobasheri, Ali (2014). "What is the current status of chondroitin sulfate and glucosamine for the treatment of knee osteoarthritis?". (source)
Liu, Dasong; Nikoo, Mehdi; Boran, Gokhan; Zhou, Peng; Regenstein, Joe M. (2015). "Collagen and gelatin". (source)