Pump yourself with essential nutrients for optimal immune response and support.
Product Overview
When it comes to our health and wellness, too often do we ignore the obvious. Our busy days are full of working, relationships, hitting the gym, and finding any ounce of time for ourselves that we can. While this is part of what we consider to be just another day in our routine, the physical and mental toll this takes on our bodies is intense. For those of us who partake in grueling workouts to shred and see a real confident physique, we often miss valuable nutrients that can keep our bodies strong and healthy. NutraBio First Response is at the top of the list for immune support supplements so you can carry on without ever missing out on anything.
Immune support supplements are incredibly important, and while a pre-workout or protein supplement can enhance your gains, an immune support product can make sure you stay healthy overall to actually get to the gym to work on those gains. A multivitamin or super greens supplement are certainly wise to include in your routine, but what First Response offers is an advanced formula with six essential ingredients to pack a punch and keep you moving effortlessly.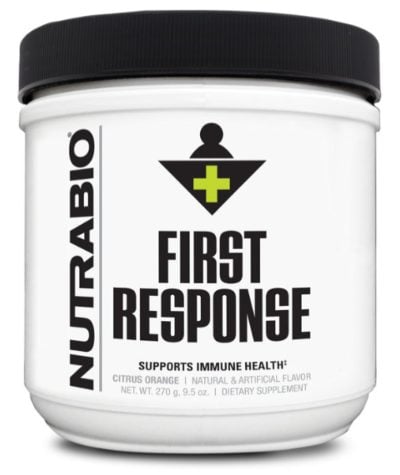 NutraBio is a high-quality sports supplement company creating top tier products for athletes everywhere. Their mission is clear: maximize the health and wellness of all consumers by bringing advanced nutrition products with science-backed research to enhance training and performance while aiding in an overall better quality of life. They are a standout in the industry for clean and effective products with no artificial fillers or excipients and stand by their goal of being honest and transparent with their labels.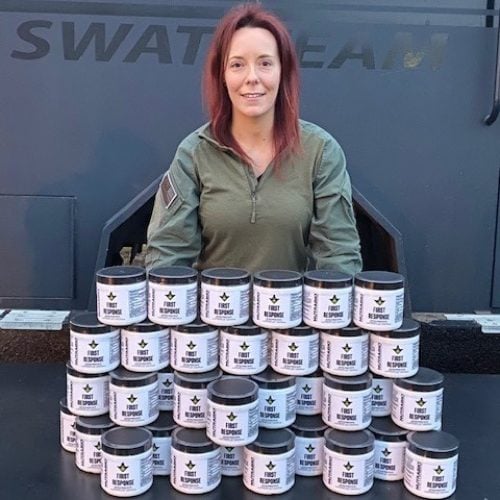 NutraBio First Response Highlights
NutraBio First Response is a high-quality immune support supplement to advance your health and wellness despite whatever external forces throw at you. By the numbers alone, this immune response product provides you with 6 essential nutrients for optimal immune response and give you 60 days of immune support. With vital nutrients like vitamin C, zinc, and selenium, you can be sure NutraBio's diligence for this advanced formula is unmatched.
Taken as a dietary supplement, you can mix this immune supplement with water or another beverage once daily with meals for optimal effectiveness. With NutraBio's commitment to honesty and transparency, their diligence in producing pure, clean, and effective products is backed by third party testing and fully transparent labels.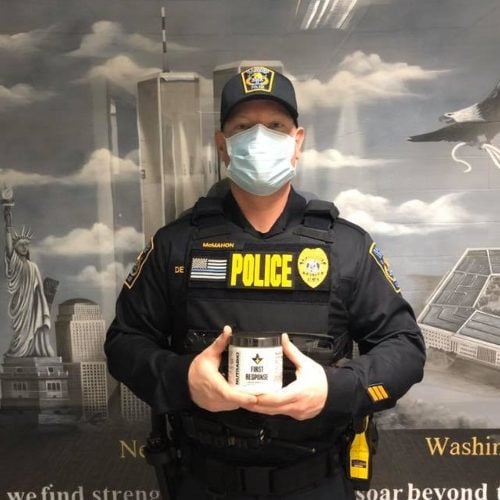 Ingredients
Epicor – Epicor is the whole food ingredient that supports your immune system as well as provide prebiotic benefits to support the digestion process of your food.
Grape Seed Standardized Extract – This ingredient provides antioxidant benefits and can help prevent free radical damage.
Ginger Root Extract – Supports the immune system and joints in hard-training athletes as well as older adults.
Vitamin D3 – A vitamin that works alongside GRE in supporting bone health and a healthy heart.
N-Acetyl-Cysteine – NAC is a derivative of the amino acid L-cysteine which supports respiratory and immune health.
Zinc – Zinc is a well-known essential mineral that supports immune cells, metabolism, nerve function and skin health.
Selenium – Supports the immune system and thyroid health.
Copper – Copper is an essential mineral that supports nerve cells and is involved in the production of red blood cells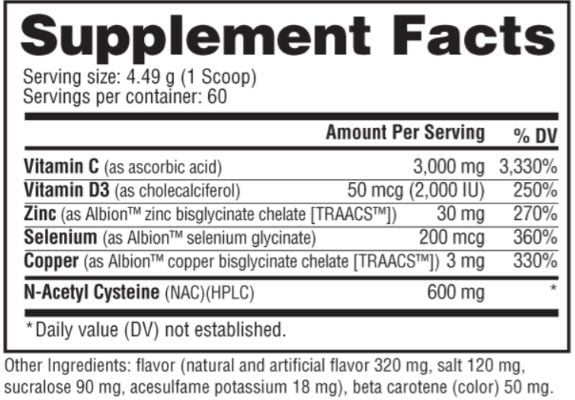 Price & Effectiveness
NutraBio First Response is a powerful immune support supplement to help strengthen and support your immune system. With 60 servings per container and one scoop as a serving size, this product will give you 60 days of immune support you will love. This supplement comes in a great flavor of Citrus Orange.
Pros: Six great ingredients with effective dosing for an advanced immune support formula. Great to add to your daily dietary routine and convenient with a host of benefits. A transparent and honest label from a reputable company in NutraBio.
Cons: None.
Price: $29.99
NutraBio's First Responder's Initiative
During this trying time for everyone, first responders and those essential health care workers have been at the forefront of this crisis since the start. They've put their lives on the line to help treat and care for patients, while dealing with the emotional and physical toll endured from this worldwide pandemic. NutraBio created First Response as a way for our first responders who risk their lives every day to find comfort in knowing there is someone looking out for their own health and wellness. To date, NutraBio has donated First Response to tens of thousands of first responders serving on the front lines so we all can stay safe and continue to get through this together. Now available for the general public, First Response means so much than just a supplement; it's a way to say thank you and keep getting us all just that much closer to coming out on top.
Overall Value
NutraBio First Response is one of those supplements to absolutely add to your supplementation and dietary routine. As a powerful immune support supplement, First Response is packed with six essential ingredients to give you the best chance at fighting off any unwanted illness and staying healthy overall to tackle any challenge in the gym or out of it. With a great company in NutraBio driving the supplement market with clean and effective ingredients, your choice of supplements just got that much easier. What you are really getting is a high-quality immune support supplement from a great company at an affordable price with loads of benefits. Try NutraBio First Response today and really see what this supplement can do for your health and wellness goals.
Try NutraBio First Response Here
Generation Iron may receive commissions on purchases made through our links. See our disclosure page for more information.
Let us know what you think in the comments below. Also, be sure to follow Generation Iron on Facebook, Twitter, and Instagram. 
*Images courtesy of NutraBio
References