This supplement will enhance bioavailability and absorption, so you get the most out of all those essential nutrients.
Product Overview
We all seek the best when it comes to our food and supplements. Knowing what to take and what essential nutrients are included is more than important when looking for a healthier overall lifestyle. But just because you take said supplement, doesn't necessarily mean you are maximizing the absorption, leaving some of those essential nutrients as waste. NutraBio UpSorb is the perfect supplement to take to ensure all the vital nutrients hit your body and pump you with all those benefits. Whether to promote better workouts or just a better quality of life, UpSorb is the nutrient absorption optimizer you need.
Nutrient absorption is important to eliminate deficiencies, for any deficiency of an essential nutrient can negatively affect your body (1). This typically happens when you don't absorb said nutrient properly or fully. At this point, your health will take a hit, your workouts may decline, and all that hard work you put into your dietary and supplementation routine goes unnoticed. What a supplement like UpSorb will do is ensure all of these essentials get to where they need to be to avoid symptoms like fatigue, muscle wasting, pain and cramps, depression, and a host of other negative side effects of nutrient deficiencies you just don't need.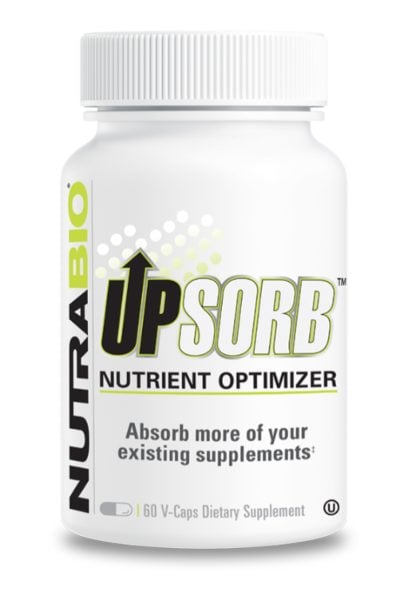 NutraBio is a high-quality sports supplement company creating top tier products for athletes everywhere. Their mission is clear: maximize the health and wellness of all consumers by bringing advanced nutrition products with science-backed research to enhance training and performance while aiding in an overall better quality of life. They are a standout in the industry for clean and effective products with no artificial fillers or excipients and stand by their goal of being honest and transparent with their labels.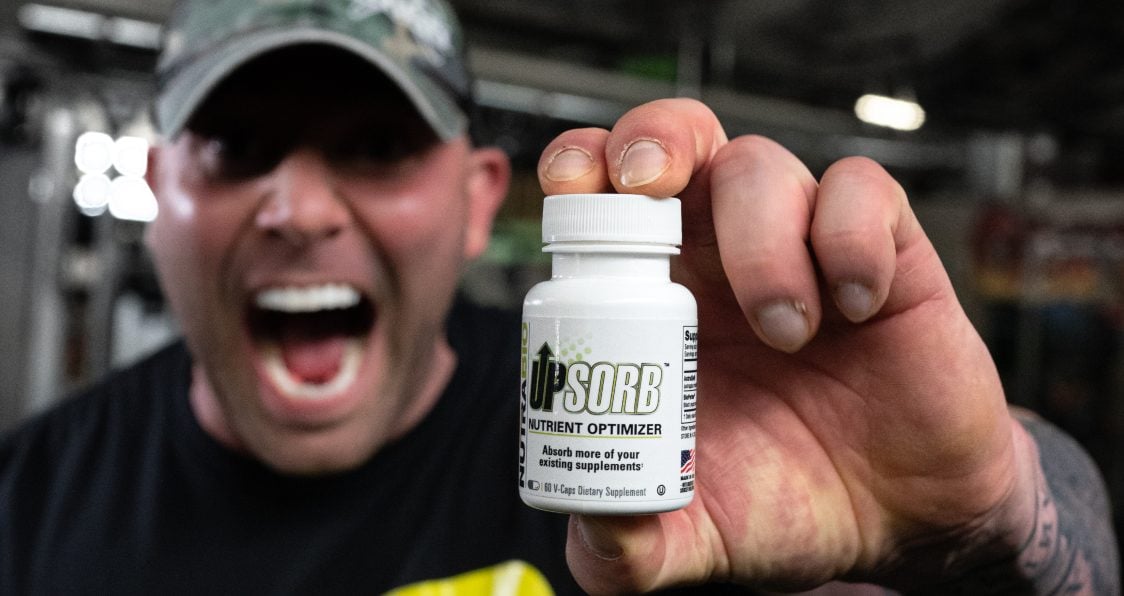 NutraBio UpSorb Highlights
NutraBio Upsorb is a top tier bioavailability and absorption enhancer taken twice a day so you get the most out of your diet and supplement routines. Perfect as an addition to your already well-rounded supplement stack, UpSorb can maximize the effects of those great products while also making sure the money you spend on high quality and often times pricey supplements actually goes to good use. Unleashing the raw power of every single supplement you take, UpSorb is a great optimizer for you.

Made from a synergistic blend of AstraGin and BioPerine, each ingredient is research-backed and clinically dosed to increase nutrient transporters, ultimately helping nutrient uptake and absorption. These will help utilization all the essentials including key amino acids, healthy fats, vitamins, and minerals. Vegetarian, non-GMO, and gluten free, UpSorb is a safe and effective product to seriously enhance all of your gains.
Ingredients
AstraGin (50mg)
AstraGin is made from astragalus membranaceous (root) and panax notoginseng (root) through a highly purified and fractionated complex. AstraGin has been shown to improve nutrient absorption by up-regulating transporters which regulate the amount of nutrients in the intestinal cells to ensure they are used and not excreted. By aiding in absorption, muscle protein synthesis and muscle recovery are all enhanced as amino acids are more easily taken in. It can work as an appetite suppressant by triggering Tryptophan and can support a healthy gut (2).
BioPerine (5mg)
Made from black pepper, this can enhance nutrient bioavailability by working with enzymes that metabolize nutrients. An active compound called Piperine can stimulate amino acid transporters and works well with common supplements like CoQ10 (3).
Other Ingredients: rice flour, vegetable capsule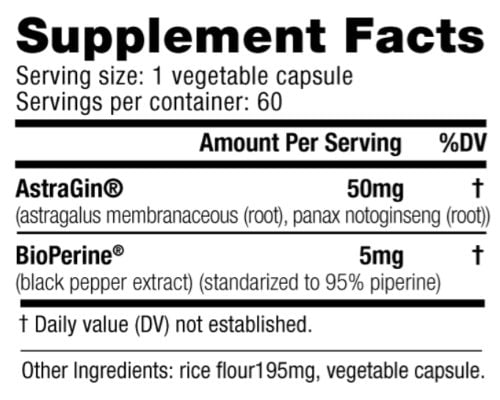 Price & Effectiveness
NutraBio UpSorb is a fantastic product designed to unleash the raw power of all your supplements so every essential nutrient hits your body for maximum benefit. With one vegetable capsule as a serving size, each container holds 60 servings, making this a great amount for the price.
Pros: Great for maximizing bioavailability and absorption. Research-backed dosages are matched with a great synergistic combo of just two ingredients. A great price for the amount of servings. From a reputable company in NutraBio.
Cons: None
Price: $14.99/ 60 capsules
Featured Athlete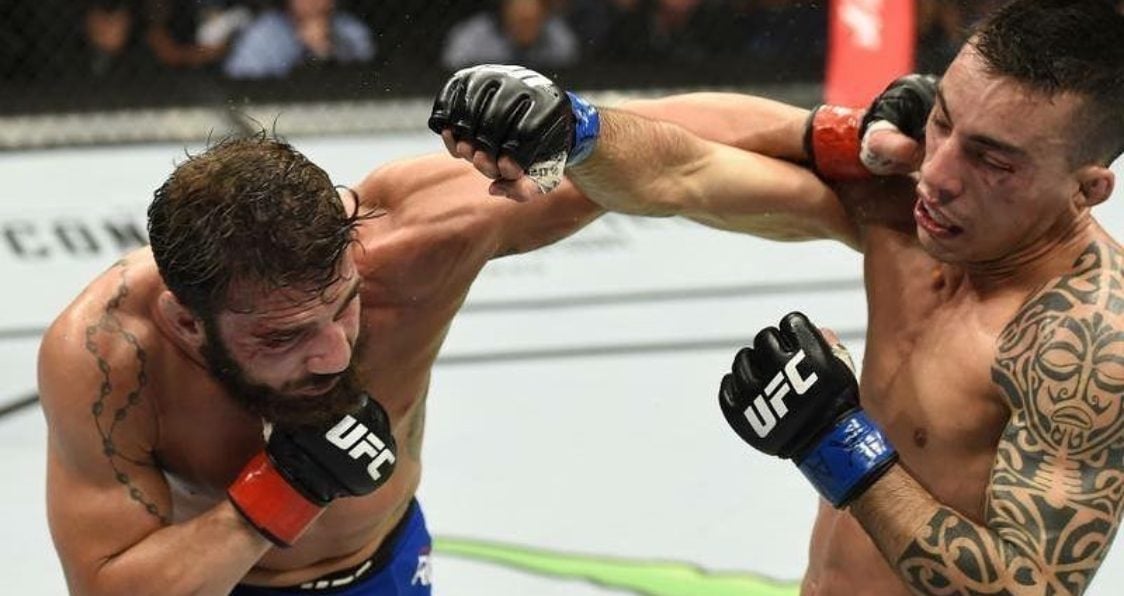 Jimmie Rivera is a professional MMA fighter ranked #9 in the UFC Bantamweight division. With a record of 23-4, Rivera has some big wins under his belt and is a serious force in the sport and dangerous opponent to face. On his way to becoming one of the UFC's elite Bantamweights, Kimmie was able to win twenty fights in a row which included victories in organizations such as the UFC and Bellator MMA against prominent opponents like John Dodson and UFC legend Uriah Faber. Rivera has worked with NutraBio since 2015, both using and promoting their great supplements to better not only himself, but others around him. As a professional athlete who knows what it's like to fight on the biggest stage, Rivera knows just how important it is to stay healthy overall. With the help of NutraBio, Rivera remains at the top of the field and trusts NutraBio with all of his supplementation needs.
Wrap Up
NutraBio UpSorb is a great nutrient absorption optimizer so none of those essential nutrients go to waste. We all work to hard to eat well and take the best supplements to enhance our gains so don't let a deficiency or poor absorption ruin all your hard work. A supplement like UpSorb is clean and effective with a great formula designed to help you. NutraBio works to create the best supplements so athletes and gym-goers alike can see their desired physique really unfold and optimize a healthy lifestyle. What you are really getting is a high-quality nutrient absorption optimizer with great potential to help your gains at the right price from a company who cares about their consumers. Try NutraBio UpSorb today and see what this absorption enhancer can do for you.
Generation Iron may receive commissions on purchases made through our links. See our disclosure page for more information.
Let us know what you think in the comments below. Also, be sure to follow Generation Iron on Facebook, Twitter, and Instagram. 
*Images courtesy of NutraBio
References
Goodman, Barbara E. (2010). "Insights into digestion and absorption of major nutrients in humans". (source)
Turck, Dominique; Castenmiller, Jacqueline; Hendaw, Stefaan; Hirsch-Ernst, Karen I.; et al. (2020). "Safety of a botanical extract derived from Panax notoginseng and Astragalus membranaceus (AstraGin) as a novel food pursuant to Regulation (EU) 2015/2283". (source)
Gorgani, Leila; Mohammadi, Maedeh; Najafpour, Ghasem D.; Nikzad, Maryam (2016). "Piperine- Th Bioactive Compound of Black Pepper: From Isolation to Medicinal Formulations". (source)