This 100% whey protein isolate is sure to pump you with protein for fast acting support and repair while also aiding in insane muscle growth for that desired physique to really pop.
We all choose to exercise for a number of reasons. These range from staying overall fit and healthy to maximize longevity, promoting weight loss for that desired physique, aiding in our cognitive abilities to function as efficiently as possible, or a host of others to assist in our overall wellness. Whatever the reason may be, for those of use looking to see big gains and properly fuel our bodies, a good protein supplement is a must to really enhance all of your bodybuilding and fitness goals. NutraBio's 100% Whey Protein Isolate is the perfect solution to pump you with that much needed protein boost to see good growth and optimize recovery.
NutraBio is a top tier company in the sports supplement industry operating with the mission of maximizing the quality of life for all consumers by providing high quality nutrition products with science-backed research to reach only the highest standards. Founded in 1996, they made a shift in 2001 to revolutionize the industry by not using any fillers, additives, our excipients of any kind ensuring accurate dosages of all active ingredients, and manufacturing with the utmost quality in mind. If it's in the supplement, then it's on the label and that transparency and honesty is exactly what you want out of your sports supplements.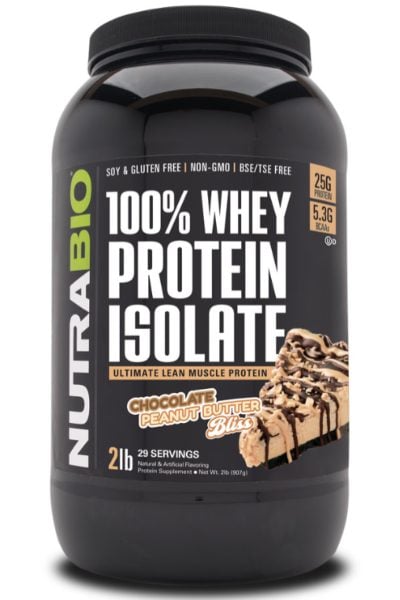 ---
See where NutraBio 100% Whey Protein Isolate fell on our list of the Best Protein Powders!
---
NutraBio 100% Whey Protein Isolate Highlights
NutraBio whey protein isolate is the ultimate protein powder to provide fast acting support, repair, and recovery while also working to promote muscle protein synthesis, encourage optimal nitrogen retention, and really enhance muscle growth so you see those huge gains come to life. A 100% transparent label for this whey ensures no banned fillers or additives ruin this product and honestly shows no soy, lactose, gluten, or hormones are in this protein. Packed with 25g of protein, this supplement contains 0g fat, 1g carbs, and sits at just 100 calories, conducive for any diet.

Quality: Clean, Honest & No Banned Substances
When it comes to quality, NutraBio takes every product very seriously and this whey protein isolate is gram for gram the purest form of protein available. You will not find any proprietary blends, fillers, added sugars or carbs, artificial colors, or banned substances, making this product a high quality and transparent supplement with a 100% transparent label. While some companies try to trick or steer you in the wrong direction, NutraBio remains upfront about their mission to bring only the best supplements to the table.
Ingredients: Full Profile Of Essential & Natural Nutrients
With 5g of BCAAs and 4g Glutamine, you get a full profile of these essential and naturally occurring nutrients to see muscle growth, decreased muscle breakdown, and serious recovery on top of the whey protein isolate which is the driving force behind this product. The added benefit of these ingredients is that your desired muscle growth and overall performance are greatly enhanced with this advanced formula. Each serving also contains 18% glycomacropeptides (GMPs), which are derived from milk and provide protein as well as aid in weight loss. This isolate is clean, honest, and fast digesting so you know exactly what you are getting in terms of ingredients and how much you are getting in terms of amount.
Editor's Note: This nutrition label below is for NutraBio's Chocolate Peanut Butter Bliss flavor.

Type Of Protein: Whey Protein Isolate For Clean Protein
Whey isolate is a more filtered form of whey as opposed to its counterpart in whey concentrate and is of the highest quality for protein powders. As a result of the isolation process, many of the excess carbs and fats are filtered out, leaving you with virtually a total protein supplement. It is good for those looking to pack on lean muscle while also aiding in weight loss or management. It can significantly aid in recovery from any muscle soreness or strain caused by your workouts. It is easily absorbed so those nutrients hit your muscles faster and more efficient to really kickstart the regeneration process (1). NutraBio uses whey that is cold processed cross-flow micro- and ultra-filtered with a full balance of bioactive whey protein factions to give you the best quality protein around for a great product and protein shake with quality ingredients and rave reviews for this one product.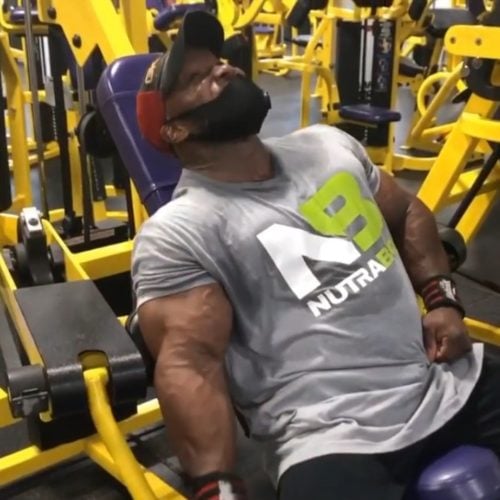 Price, Flavors & Effectiveness Of NutraBio Protein Isolate
NutraBio's 100% Whey Protein Isolate powder is exactly what you need to get those vital nutrients into your body for optimal growth and recuperation. Each 2 lbs. tub of this powder holds just under 30 servings with one scoop as the amount per serving to enhance protein synthesis in a shaker cup or blender for desired taste and consistency from this top rated protein.
Many great flavors are included with this protein isolate:
Dutch Chocolate
Alpine Vanilla
Strawberry Ice Cream
Bourbon Banana Nut
Chocolate Peanut Butter Bliss
Cinnamon Sugar Donut
Blueberry Muffin
Pancakes and Maple Syrup
Raw Unflavored
Root Beer Float
Ice Cream Cookie Dream- Limited + Free Shaker
Pros: Great tasting and fast acting to support recovery and repair. A 100% transparent label comes with great ingredients like 5g BCAAs and 4g Glutamine. From a reputable and trusted company in NutraBio.
Cons: Some flavors do contain sucralose and acesulfame potassium. But they do offer a Grass Fed Isolate option that uses only natural sweeteners for those who prefer.
Price: $39.99
Shaun Clarida Limited Edition 100% Whey Protein Isolate
Shaun Clarida is your new 2020 Olympia Champion in the Men's 212 Division and NutraBio athlete who works with them to promote these great products and power his own workouts in his quest to be the best. In celebration for his Olympia victory, NutraBio has created a Limited Edition 100% Whey Protein Isolate for Clarida in the Ice Cream Cookie Dream flavor. This special offer comes with a free shaker bottle and the opportunity for you to train like "The Giant Killer" himself.
Check out NutraBio Limited Edition Shaun Clarida Edition Here
Overall Value For NutraBio 100% Whey Protein Isolate
NutraBio 100% Whey Protein Isolate is the perfect protein supplement for all of your bodybuilding and fitness goals. Designed to maximize muscle growth and recovery while also keeping your overall health in mind, NutraBio has created a transparent and honest product to give you the best chance at reaching your goals. What you are really getting is a transparent and honest protein supplement at a great price from a company who cares about their customers and products. Check out the many flavors of NutraBio's awesome selection of protein isolates and find the right one for you as you embark on your own bodybuilding journey.
Try 100% Whey Protein Isolate at NutraBio Today
Generation Iron may receive commissions on purchases made through our links. See our disclosure page for more information.
Let us know what you think in the comments below. Also, be sure to follow Generation Iron on Facebook, Twitter, and Instagram. 
*Images courtesy of NutraBio
References
Cooke, Matthew B.; Rybalka, Emma; Stathis, Christos G.; Cribb, Paul J.; Hayes, Alan (2010). "Whey protein isolate attenuates strength decline after eccentrically-induced muscle damage in healthy individuals". (source)