The results are in for the Bikini Division at Olympia 2020!
The Olympia Bikini competition is always interesting for its sheer number of competitors present each year. While there are always front runners, the mass amount of competitors promises that surprises are always possible.
At the Olympia 2020 Bikini competition, Elisa Pecini was the returning champion after earning her first big win last year. But there were many other high profile competitors ready to challenge her. This includes previous Olympia champion Angelica Teixeira. Could she reclaim her champion status?
The Saturday morning Olympia 2020 Bikini pre-judging brought in the Janet Layug, Elisa Pecini, and Angelica Teixeira all into the top 6 final lineup. It was a fierce competition and the battle continued well into the finals. Ultimately, the finals comparison round was short – it seemed that the judges had already pinpointed most of the scoring in the earlier pre-judging round.
With a massive lineup the battle was fierce but we now have the official Olympia 2020 Bikini results announced! Check out the final results below – brought to you by Nutrabio!
Olympia 2020 Bikini Results
1. Janet Layug
2. Jennifer Dorie
3. Etila Santiago Santos
4. Angelica Teixeira
5. Lauralie Chapados
6. Elisa Pecini
7. Ashley Kaltwasser
8. Ashlyn Brown
9. Jasmine Gonzalez
10. Breena Martinez
11. Jennifer Ronzitti
12. Monica Ellis
13. Nittaya Kongthun
14. Daraja Hill
15. Sara Choi
16. Susana Aramayo
16. Maya Astabie
16. Beatriz Biscaia
16. Evita Breide
16. Natoshia Coleman
16. Sethia Daigle
16. Brittney Dayne
16. Svetiana Elina
16. Alessia Facchin
16. Eli Fernandez
16. Maia Gordon
16. Hye Kyeong Hwang
16. Lucia Malavaze Johnson
16. Adrianna Kaczmarek
16. Sung Uk Kim
16. Juli Lopez
16. Noora Mahonen
16. Gabrielle Messias
16. Katya Nosova
16. Hannah Ranfranz
16. Lexus Redmond
16. Alexandria Ross
16. Francesca Stoico
16. Casey Torres
16. Cristobalina Pajares Torres
Olympia 2020 Bikini Highlights

Official Olympia 2020 Bikini Scorecard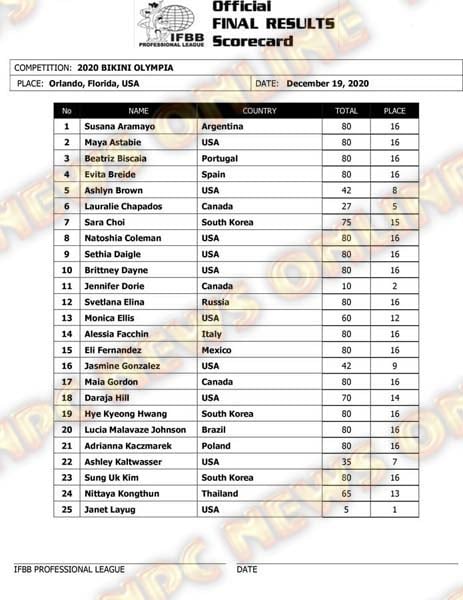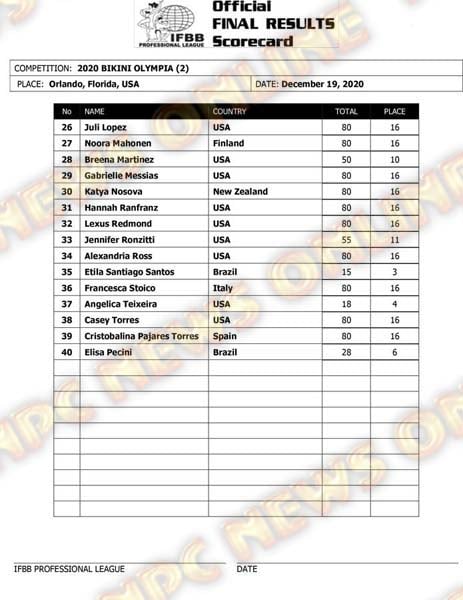 Previous Olympia Bikini Winners
2019: Elisa Pecini Las Vegas, NV
2018: Angelica Teixeira
2017: Angelica Teixeira
2016: Courtney King
2015: Ashley Kaltwasser
2014: Ashley Kaltwasser
2013: Ashley Kaltwasser
2012: Nathalia Melo
2011: Nicole Nagrani
2010: Sonia Gonzalez