And the Mr. Olympia 2020 champion is…
To say that this year's Mr. Olympia was a different one is a bit of an understatement. With the world turned upside down by a pandemic, the entire bodybuilding season was postponed and many events cancelled. The Mr. Olympia, which traditionally occurs in September, was pushed back to December. It also was moved from Las Vegas, Nevada to Orlando, Florida due to public event restrictions.
It seemed as if we would never get here but here we are. Another Olympia has finished and we have a 2020 Mr. Olympia champion. Sadly, beyond the rescheduling and location changes – there were also some changes in the lineup.
Flex Lewis had to drop out due to an injury. This was meant to be his debut in the Men's Open division. Some even believed that he had a shot to win the entire division.Cedric McMillan also had to drop out due to injury. Roelly Winklaar also had to drop out due to contracting COVID-19 just one week before the competition.
On top of that, Shawn Rhoden is still unable to compete due to his ongoing legal issues. Until those are cleared up, he will not be allowed to compete in any IFBB events.
That being said, there were still a large collective of bodybuilders able to compete and fight for the biggest honor of the year. Brandon Curry returned to defend his Olympia title. Phil Heath made a comeback return after taking a year off following his loss at the Olympia 2018.
After some last minute worries, Hadi Choopan and Big Ramy both were able to receive their visas and travel to the United States. And of course William Bonac was prepared as ever to fight alongside the other top contenders in the division.
With Phil Heath in the mix, it truly felt like anything was possible at the Olympia 2020. The last we had seen of Heath, he was looking ever so slightly off in his midsection. This was clearly the weakness that allowed Shawn Rhoden to defeat him. Going into this competition, it was unclear what version of Phil Heath we would see. 8x Mr. Olympia legend Ronnie Coleman even mused that Heath was on his way out and fading. Would that be the case this weekend?
It was a hard fought battle but the results are finally in. Check them out below – brought to you by Nutrabio!
Mr. Olympia 2020 Men's Bodybuilding Results
Big Ramy
Brandon Curry
Phil Heath
Hadi Choopan
William Bonac
Akim Williams
Iain Valliere
Hunter Labrada
Dexter Jackson
Justin Luis Rodriguez
Lukas Osladil
Seung Chul Lee
Maxx Charles
Antoine Vaillant
Regan Grimes
Juan Morel
Mr. Olympia 2002 Highlights
Official Olympia 2020 Men's Open Bodybuilding Scorecards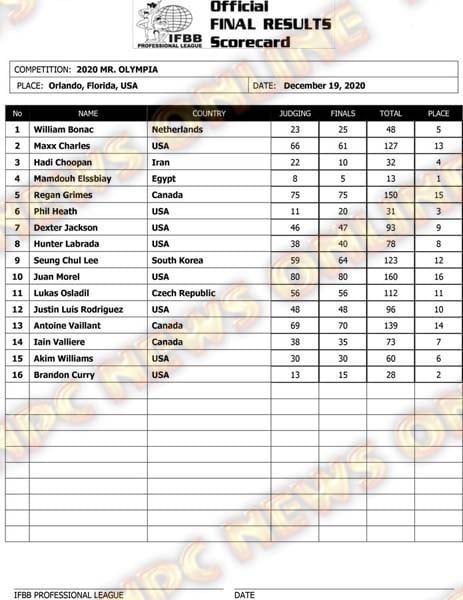 Previous Mr. Olympia Winners
2019: Brandon Curry
2018: Shawn Rhoden
2017: Phil Heath
2016: Phil Heath
2015: Phil Heath
2014: Phil Heath
2013: Phil Heath
2012: Phil Heath
2011: Phil Heath
2010: Jay Cutler
2009: Jay Cutler
2008: Dexter Jackson
2007: Jay Cutler
2006: Jay Cutler
2005: Ronnie Coleman
2004: Ronnie Coleman
2003: Ronnie Coleman
2002: Ronnie Coleman
2001: Ronnie Coleman
2000: Ronnie Coleman
1999: Ronnie Coleman
1998: Ronnie Coleman
1997: Dorian Yates
1996: Dorian Yates
1995: Dorian Yates
1994: Dorian Yates
1993: Dorian Yates
1992: Dorian Yates
1991: Lee Haney
1990: Lee Haney
1989: Lee Haney
1988: Lee Haney
1987: Lee Haney
1986: Lee Haney
1985: Lee Haney
1984: Lee Haney
1983: Samir Bannout
1982: Chris Dickerson
1981: Franco Columbu
1980: Arnold Schwarzenegger
1979: Frank Zane
1978: Frank Zane
1977: Frank Zane
1976: Franco Columbu
1975: Arnold Schwarzenegger
1974: Arnold Schwarzenegger
1973: Arnold Schwarzenegger
1972: Arnold Schwarzenegger
1971: Arnold Schwarzenegger
1970: Arnold Schwarzenegger
1969: Sergio Oliva
1968: Sergio Oliva
1967: Sergio Oliva
1966: Larry Scott
1965: Larry Scott