The Ms. Olympia returns – but who is is the 2020 champion?
For the past few years, it seemed as if Women's Bodybuilding was nearly dead. The last time the Women's Bodybuilding division was present at the Olympia was back in 2014. Since then, there had been no Ms. Olympia. So there was no title to shoot for. This fundamentally broke the entire system of motivation for female bodybuilders to prove themselves best in the world.
All of that changed this year with the return of the Ms. Olympia. Not only that, but the reigning champion, Iris Kyle returned to see if she could continue her winning streak right where she left off.
With nine Ms. Olympia titles under her belt, would she be able to earn herself into the double digits? That would make her a first among all Olympia weekend competition champions.
Ultimately, this would not be the case. Iris Kyle did not appear during the Friday morning pre-judging routines. It was later confirmed by Olympia officials that she had fallen ill. They did not confirm what the specific illness was.
With Iris Kyle out – suddenly the first place position was more opened up. It was already a close race – but without the 9x Ms. Olympia champion returning the landscape looked a bit different.
Now there's no more need to guess as the official Ms. Olympia results have finally arrived. You can check them out below – brought to you by Nutrabio!

Ms Olympia 2020 Results
1. Andrea Shaw
2. Margie Martin
3. Helle Trevino
4. MayLa Ash
5. Irene Anderson
6. Monique Jones
7. Asha Hadley
8. Nicki Chartrand
9. Reshanna Boswell
10. Margita Zamolova
11. Kim Buck
12. LaDawn McDay
13. Yaxeni Oriquen
14. Theresa Ivancik
15. Janeen Lankowski
Official Ms. Olympia 2020 Scorecard

Ms. Olympia 2020 Highlights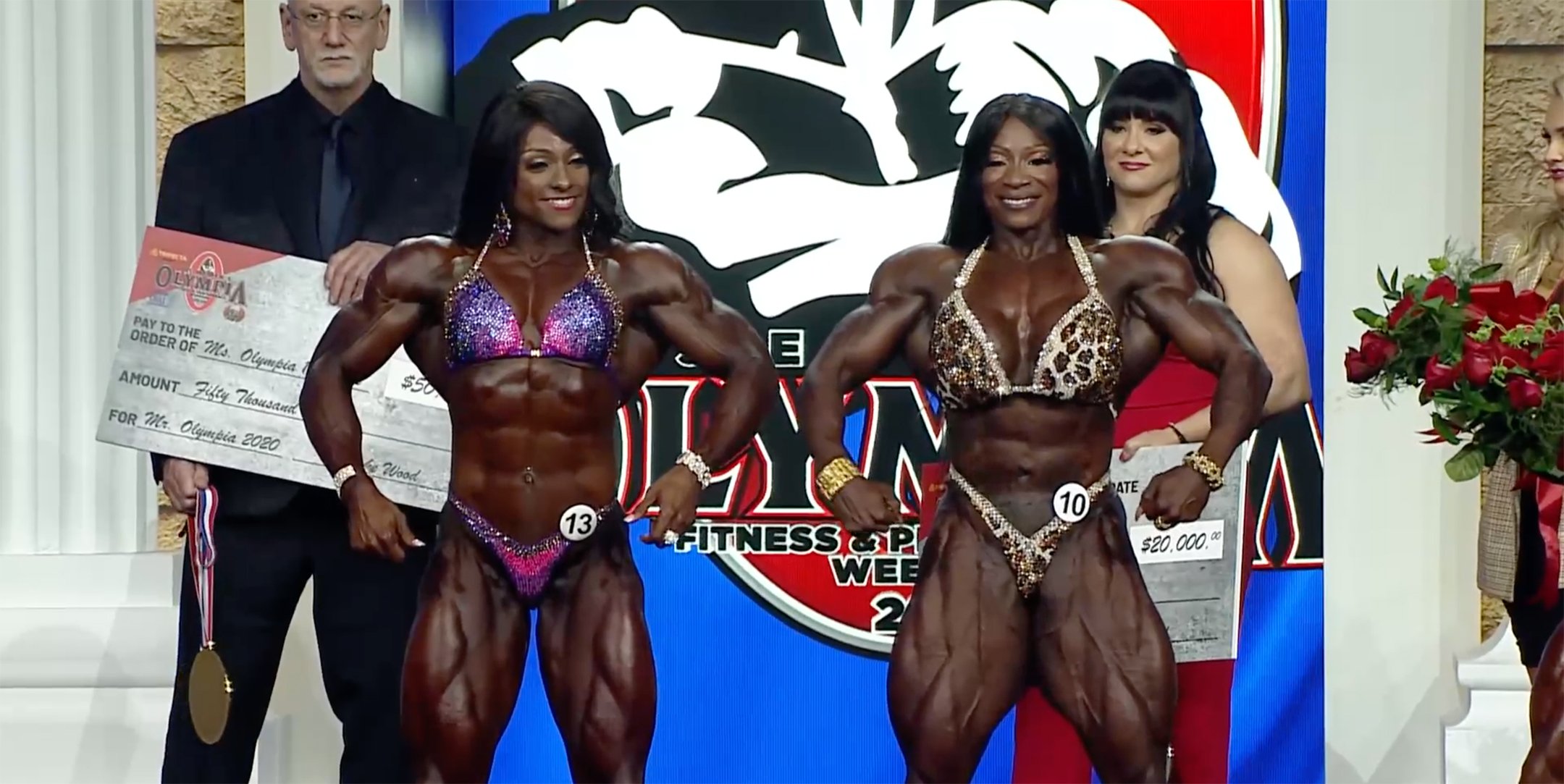 View this post on Instagram
Ms. Olympia Past Winners
1980: Rachel McLish
1981:  Kike Elomaa
1982: Rachel McLish
1983: Carla Dunlap
1984: Cory Everson
1985: Cory Everson
1986: Cory Everson
1987: Cory Everson
1988: Cory Everson
1989: Cory Everson
1990: Lenda Murray
1991: Lenda Murray
1992: Lenda Murray
1993: Lenda Murray
1994: Lenda Murray
1995: Lenda Murray
1996: Kim Chizevsky
1997: Kim Chizevsky
1998: Kim Chizevsky
1999: Kim Chizevsky
2000: Valentina Chepiga (heavyweight), Andrulla Blanchette (Lightweight) No overall winner selected
2001: Juliette Bergmann
2002: Lenda Murray
2003: Lenda Murray
2004: Iris Kyle
2005: Yaxeni Oriquen
2006: Iris Kyle
2007: Iris Kyle
2008: Iris Kyle
2009: Iris Kyle
2010: Iris Kyle
2011: Iris Kyle
2012: Iris Kyle
2013: Iris Kyle
2014: Iris Kyle