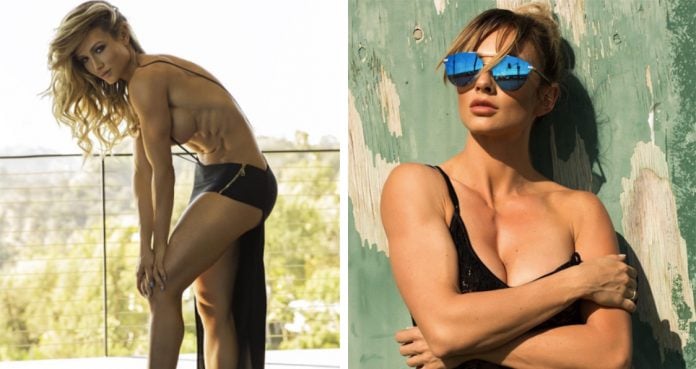 Gym Crush: Paige Hathaway
Every gym has a few girls which work harder than the guys. Most of the guys try avoiding these girls so they can save themselves from embarrassment. Paige Hathaway is one such girl and she is our gym crush of the week.
Paige is on a personal mission to break the stereotype that muscular girls look manly. It didn't take a lot of convincing for us to believe her. Paige Hathaway has a jaw-dropping physique which you can't stop looking at.
You can also check out Paige Hathaway stop by the Generation Iron Fitness Network for our digital series The Breakdown where she talks about sexual harassment in the bodybuilding industry.
Muscles Make Women Sexy
We totally agree with Paige. Miss Hathaway can rock any outfit effortlessly. We are digging this 'sun's out guns out' picture. If staring at her pictures can be considered a job, we don't have the day off.
Paige The Beach Bum
Easing our minds is one thing we cannot do. We didn't know mermaids existed before we saw this picture. B&W or colored, Paige is flawless no matter what. Hathaway has some of the most exotic photos on Instagram.
Squats are the Key
Squats are the secret to booty gains. Let this photo be the reminder to this fact. Paige has one of the best rears in the fitness world and she shares all her training and diet secrets on Instagram.
Behind The Scenes
Building a physique like Paige's is pure hard work. It takes years of training, dieting and persistence. This is a sneak peek into one of Paige's leg and glutes workout. Follow this routine for your next leg workout.
The Entrepreneur
Paige Hathaway isn't your average meathead. She is focused on building a personal brand. This meeting with the social media guru Gary Vaynerchuk is the proof. You can expect to see the entrepreneurial side of Paige soon.
When She Rocked Hollywood
Paige Hathaway graced the Grammy's this year. While Paige thanks her team, let us take this moment to thank Instagram for giving us this beauty. We wish to see more of her in Hollywood in the coming years.
Elegance At Its Best
Hathaway is a beauty with brains. Most of her posts accompany a moving message. Her posts can make you enter a reflective mode. One can turn reading Paige's captions into a hobby.
Shredded To The Bone
When was the last time you saw a girl with such a ripped physique? A lot is said about this picture of Paige. While most people think a girl shouldn't be muscular, we believe they say so because of their own insecurities.
The Stunner
This is exactly how we wait every day for Paige's new photo to drop. There are thousands of people waiting to double tap her pictures the moment they see them. We bet the pizza delivery boy loves to deliver pizzas to her house.
Picture Perfect
Even we need some shade from all the heat. Paige Hathaway has one of the most loyal following in the fitness industry which is growing every single day. We hope Paige achieves bigger milestones in her career.
Who is your gym crush? Let us know in the comments below. Also, be sure to follow Generation Iron on Facebook and Twitter.