Phil Heath addresses his future endeavors.
One of the greatest bodybuilders to ever compete, Phil Heath has spawned a truly impressive legacy for himself. Winning the Olympia seven straight times, it can't be denied that Phil Heath is one of the best of the best.
After losing at the 2018 Olympia, Heath has been on a bit of a hiatus, exploring his options. He's opened his own supplement company, signed with a new manager Dany Garcia, and has even had designs on competing again. But the major question on everyone's mind has been at what show, the Olympia or Athleticon?
In a recent interview with Patrick Bet-David of Valuetainment, Phil Heath touched on that question and more. One major questioned posed during the interview was if Phil Heath thought the Olympia would still take place in September.
I believe that from what I've seen they're on track. They have a great product. They've going around for fifty-six years. They're for sure going to have the show this year. I one hundred percent believe that.
Phil Heath went on to discuss the importance of getting the expo up and running in order for the Olympia to have a successful show. With the economy in an uncertain state, it's hard to tell how well the expo would do in these circumstances.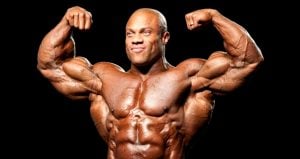 Always one to ask the hard hitting questions, Bet-David followed up, discussing the change of ownership of the Olympia brand.
"I've known Jake (Wood) for awhile," said Heath. "Saw what he did with the Wings of Strength model. I'm very happy for him actually. The Olympia of all things needs to have a passionate leader. Obviously you have to have the finances, but you have to be very passionate. Joe Weider was passionate. And Jake is that guy. He's a man of few words, but you can tell that his passion is strong.
Bet-David also asked Phil Heath the question that has been on so many people's minds: will he compete at the Mr. Olympia or Athleticon?
"Well, we can't even really get into the gym right now. So, I definitely feel like those are two events that spark a lot of interest. I've never competed at Athleticon. I do know that it would be their inagurable season.

I think for me, it's more like; how do I align life in itself, with business and obviously my personal life, and then the desire to want to compete again. Because I got a taste of not doing it, and there were parts of it that I liked, and parts of it that I didn't like. So I think a better answer will come when we get through this Phase One (of reopening gyms), and be back into business."
For more news and updates, follow Generation Iron on Facebook, Twitter, and Instagram.
---
Managing Editor at Generation Iron, Jonathan Salmon is a writer, martial arts instructor, and geek culture enthusiast. Check out his YouTube, Instagram, Twitter, Facebook, and Sound Cloud for in-depth MMA analysis.
Header image courtesy of Instagram