Power your workouts and promote solid recovery with this supreme energy drink.
Product Overview
When it comes to energy drinks and performance beverages, many stereotypes and preconceived ideas surround almost all of them. You will hear that they have too much caffeine, you will never get to sleep, they are loaded with sugar, just have coffee instead, and on and on the list continues. While that may be true about some, others have made it their mission to be different. Reign Total Body Fuel has sought just that with their new performance enhancing energy beverage.
When looking for that extra boost of energy, either for that pre-workout jolt or a mid-day pick up, finding what works best for us can be challenging. Grabbing a cup of coffee may help, but these performance energy drinks may provide for much more benefit that we actually think. Infused with vitamins and various performance enhancing ingredients, these blends can aid in overall health, recovery, and that desired energy boost.
Reign Total Body Fuel is the ultimate fitness focused beverage with caffeine, CoQ10, electrolytes, and BCAAs all working to increase performance.
Reign Total Body Fuel comes from Monster Beverage Company, the same team that brings you the popular Monster energy drinks. As a brand of Monster, Reign follows their same mission of working together as one team leading to overall success. Taking pride in their products, everything is thought out, planned out, and executed with consumers' needs in mind. With a safe and helpful work environment, you know this performance drink comes from a good place.
Total Body Fuel Highlights
Reign Total Body Fuel is the ultimate fitness focused beverage for athletes, bodybuilders, strongmen, and those looking to get and stay fit. Blended with BCAAs, CoQ10, electrolytes, and 300mg of caffeine, this performance energy drink is designed to fuel any active lifestyle. The amazing part of this product is that it will cover all facets of your workout from a pre-workout boost with loads of caffeine, to increased mid-workout power with CoQ10, and BCAAs and B vitamins to aid in recovery and reduce fatigue.
With zero sugar, artificial flavors, or colors, and only 10 calories, Reign is a safe and effective way to boost your workouts and enhance athletic performance. Ten unique flavors offer variety so you will never be bored with the choices. Focus on your fitness with Reign Total Body Fuel and elevate your workouts to a new level.
Key Details:
Loaded with caffeine: Provide for a great, natural pre-workout boost.
Contains CoQ10: Increase mid-workout power to avoid a crash.
Packed with BCAAs and B vitamins: Aid in muscle recovery and reduce fatigue.
10 great flavors: Never grow bored with the unique flavors provided by Total Body Fuel.
Ingredients
L-Leucine
Considered the primary branch chain amino acid (BCAA), L-leucine plays a role in almost every cell of the body. As a key piece of the mitochondria, it helps with energy regulation as well as balancing blood sugar levels. With its role in insulin production, it can give you that much needed energy boost you need for a workout. It will also aid in protein synthesis to see that muscle growth you aim for (1).
Caffeine
A natural stimulant, caffeine is a solid way to get an energy boost without any added artificial elements. It will increase energy levels by increasing neurotransmitters like norepinephrine and dopamine to improve performance. For weight loss, it can really help kickstart your metabolism to burn off fat and give you that desired physique (2).
L-Valine
L-valine can work to boost protein production for both athletic performance and growth (3). It can also prevent damage to the muscles and reduce soreness and inflammation that may come from a strenuous workout. By working for muscle repair, it will help you maintain that hard earned muscle so new muscle can be built.
Potassium
Potassium is a key mineral for a host of bodily functions including blood pressure regulation, protein synthesis, and muscle contraction (4). As an electrolyte, it can help regulate fluid balance to avoid cramping and keep your muscles primed for exercise. As an important factor for digestion and absorption, it allows us to process foods and extract those nutrients to aid in protein synthesis so all of those vital muscle-building nutrients help us see growth.
Coenzyme Q-10
CoQ10 helps generate energy in our cells and while our body does produce this compound, it is important to make sure we get adequate amounts for proper functioning. To aid in exercise performance, CoQ10 works to decrease oxidative stress in cells and increase power to reduce fatigue. This allows for longer, more solid workouts (5).
Other Ingredients: Carbonated water, citric acid, sodium citrate, natural flavors, L-isoleucine, sucralose, sodium benzoate, potassium citrate, potassium sorbate, acesulfame potassium, niacinamide, pyridoxine hydrochloride, cyanocobalamin, magnesium lactate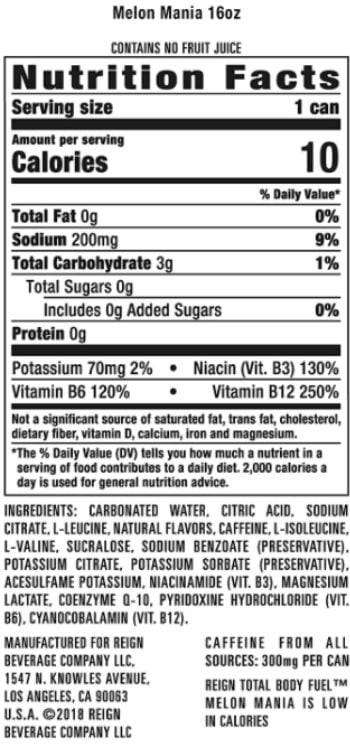 Price & Flavors
This performance drink comes at a price of $18.98 for a 12 pack of 16 oz cans. While the price is good for a pack of 12 cans, the flavors will blow you away. With 10 amazing flavors, your choices are endless when it comes to this great tasting energy drink.
Flavors include:
Peach Fizz
Lemon Hdz
Mang-O-Matic
Strawberry Sublime
Orange Dreamsicle
Razzle Berry
Carnival Candy
Sour Apple
Melon Mania
Lilikoi Lychee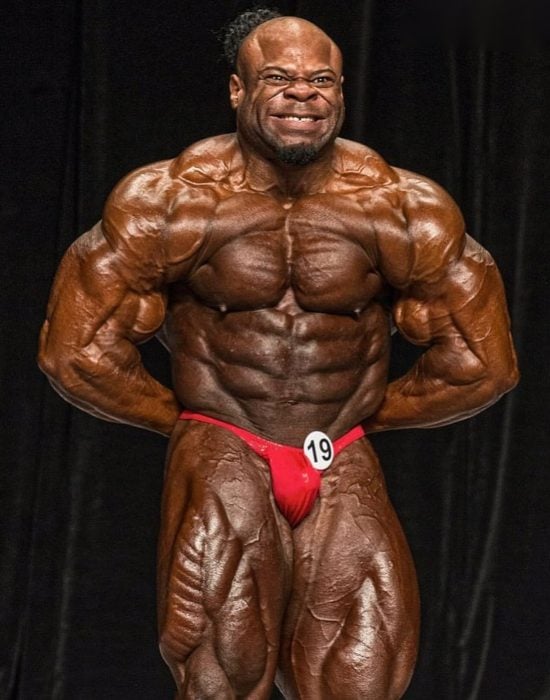 Brand Ambassador
Professional bodybuilder Kai Greene works with Reign as a brand ambassador to promote this product, as well as many others, to bring the best fitness and performance enhancing aids to consumers. Greene has notable second place finishes at Mr. Olympia in 2012, 2013, and 2014 and won the Arnold Classic in 2009, 2010, and 2016. Greene seeks only the best for fuel when it comes to supplementing and performance aids and Reign Total Body Fuel does just that for him.
Pros & Cons
Pros: Loaded with BCAAs, CoQ10, and electrolytes, this beverage offers amazing pre-, mid-, and post-workout benefits. Zero sugar and 10 calories makes this a solid option and the choice of flavors is beyond expected. The price is good and there are plenty of places to purchase from.
Cons: With 300mg of caffeine, that high dose may not sit well with those sensitive or who take other products with caffeine. It does contain sucralose, so while it doesn't have sugar, this is an artificial sweetener.
Overall Value
Reign Total Body Fuel is a great performance enhancing energy drink to give your pre-workout fuel, a mid-workout boost, and post-workout recovery. With zero sugar or artificial flavors or colors, you get the full benefit of this product with only 10 calories. As the ultimate fitness focused beverage, the blend of BCAAs, CoQ10, electrolytes, and caffeine will help elevate your workouts to the next level. What you are really getting is a high quality performance beverage with great natural ingredients from a reputable company to aid in your health and exercise needs. Try Reign Total Body Fuel and see your workouts elevate to that next level.
Try Total Body Fuel at Reign Today
Generation Iron may receive commissions on purchases made through our links. See our disclosure page for more information.
Let us know what you think in the comments below. Also, be sure to follow Generation Iron on Facebook, Twitter, and Instagram. 
*Images courtesy of Reign and Kai Greene Instagram
References