The documentary film will chronicle the iconic life story of Robby Robinson, his illustrious pro bodybuilding career, and his game changing 6-Step Blueprint to the best physique of your life.
Generation Iron Network in association with The Vladar Company have announced that they are set to produce a feature film documentary exploring the life story of pro bodybuilding legend Robby Robinson. An iconic athlete from the "Golden Era" of bodybuilding, Robinson is the first ever black man featured on the cover of a bodybuilding magazine. He is also well known for using his platform to advocate for equal rights in the sport. 
Born and raised in Florida, Robby Robinson was one of 14 children – son to an illiterate mother and bootlegger father. He grew up facing extreme poverty and racism throughout his entire childhood. Overcoming the odds, Robinson discovered bodybuilding and competed in over 300 amateur competitions before entering the IFBB Pro league. He would go on to become a star competitor and eventually make history as the first ever Mr. Olympia Masters champion. 
During the prime of his career, he was openly outspoken in bodybuilding over racism and unfairness in the sport – and even put his career on the line to promote change. His comments proved controversial at the time eventually landing him a double-lifetime ban from the IFBB Pro league forcing him into retirement. Despite no longer being able to compete, he remained in shockingly impressive shape well into his 60s and 70s – often being touted as finding the fountain of youth.
"It's a rare opportunity to work on a film about one of the most interesting, unique and underrated figures in bodybuilding," says director Vlad Yudin. "Robby Robinson's film will not focus solely on his bodybuilding career. It will dive way beyond the sport and explore Robby's struggle, purpose and legacy." 
The Robby Robinson biopic will chronicle his entire life story from struggling in childhood and through his illustrious yet controversial career. It will explore the nuance behind his claims of racism in the sport – including statements made against beloved bodybuilding figure and mogul Joe Weider and the subsequent backlash. A complicated yet inspiring figure in the sport, the film will unearth the man behind the myth and muscle.
The documentary will also follow Robby Robinson's current life including the friendship he formed with Tim Taylor. A man who hired Robinson for a four day training session that led to Taylor befriending the notoriously private Robinson very late in his life. Robinson had never let anyone inside his private life until meeting Taylor.  
Through their bond and trust – Robby Robinson transformed Tim Taylor's life and physique at 56 years old using a 6-Step Blueprint. This transformative fitness program was not documented until Robinson and Taylor trained together for those 16 weeks. Taylor documented their training conversations into a journal every day and created the 6-Step Blueprint in order to replicate them long term. 50 years of Robinson's wisdom and knowledge organized into a training system like never before.
Taylor now believes bringing this 6-Step Blueprint to the public eye will solidify the legacy of Robinson – the final crowning achievement that he can leave behind long after he is gone. Acting as a sort of window into the true Robby Robinson – audiences will witness a never before seen side of the legend.
The Robby Robinson biopic will be directed by Vlad Yudin (Generation Iron, Ronnie Coleman: The King, Dorian Yates: The Original Mass Monster) and produced by Edwin Mejia Jr. (Canyon Del Muerto, Generation Iron, The Hurt Business, Ronnie Coleman: The King) and Tim Taylor. 
The Robby Robinson biopic is set to be released in 2022 on limited screens.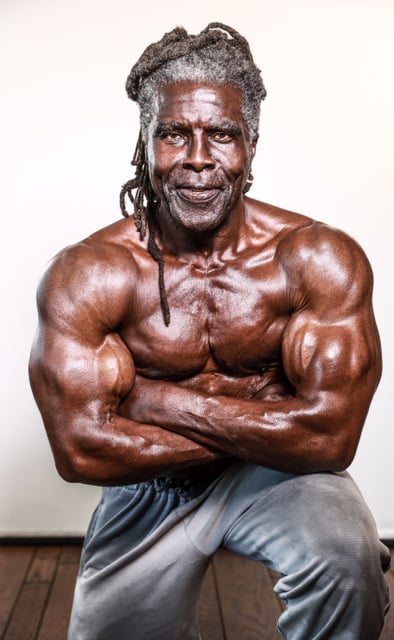 Generation Iron Network
Generation Iron is the first digital media company delivering health, fitness, bodybuilding and strength sports content worldwide. Since launch, Generation has been the leading publisher of original programming, films, and premium entertainment content with the biggest names in Strength Sports worldwide. Generation Iron today is dedicated to making the highest quality digital series aimed at educating and entertaining fans and athletes. Today, Generation Iron has a catalogue of over 30 titles and in depth docu-series which have built the backbone of its original programming.
The Vladar Company
The Vladar Company is a media and entertainment company, which focuses on developing, financing, and packaging a library of intellectual properties. Recent films include Jeremy Scott: The People's Designer, The Hurt Business, Medeas, and Generation Iron. The company has become a leading producer of many niche genres and multiple mediums in US and international markets, while also expanding into acquiring and distributing high quality content.
Vladar continues to develop, finance, and release projects in different formats as well as create and build media brands. Vladar also focuses on creating and developing new distribution models, and contributes to the success of independent film and TV production.