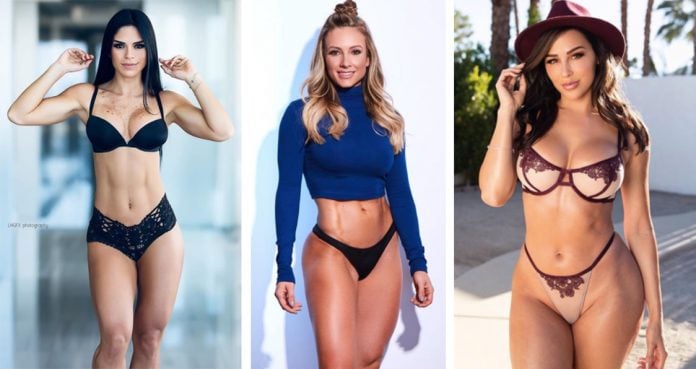 Check Out These Millionaire Instagram Fitness Celebrities
There are no arguments that Instagram is turning into one of the biggest social media platforms. Fitness junkies love following and double tapping their favorite athletes' pictures on Instagram.
For these athletes, what started out as posting a few inspirational (or provocative) pictures of themselves online, turned into a lucrative business. Some of the female fitness athletes have built an empire backed by their loyal followers.
Once a fitness model earns a big enough following, she can earn anywhere between $5,000-$25,000 per sponsored post. This list is based on the number of followers of the models on the list, the number of sponsored posts they have done, their perceived brand value and the number of years they have been active on Instagram.
Paige Hathaway (Net Worth – $5.65 Million)
View this post on Instagram
Paige Hathaway has been in the fitness industry for a very long time. Hathaway was one of the first "Instagram fitness chicks" and has endorsed brands like Shredz. Paige has 4 million followers on Instagram and is a hot target for brands looking to push their products on Insta.
Jen Selter (Net Worth – $3 Million)
Jen Selter has become incredibly famous thanks to her pear-shaped butt. Selter has 11.8 million followers on Instagram and makes frequent TV appearance to promote health and fitness. Jen, 24, is earning big bucks and is showing no signs of slowing down.
Ana Cheri (Net Worth – $4 Million)
View this post on Instagram
Cheri started out as a Playboy playmate and has accomplished a lot since then. Ana has 11.1 million followers on Instagram. Cheri owns a gym with her husband and has her own swimwear line.
Michelle Lewin (Net Worth – $4 Million)
Michelle Lewin is one of the most recognized faces in the fitness industry. Lewin has 12.8 million Instagram followers and charges as much as $10,000 per sponsored Insta post. Michelle adds around 20,000 new followers on Insta every day.
Laci Kay Somers (Net Worth – $3 Million)
View this post on Instagram
Laci Somers started out as an MMA ring girl and now has 9.2 million followers on Instagram. Somers' fans followed her right from the MMA ring to Instagram. Laci had endorsement deals with Shredz, FitTea, and Flavor God seasonings.
Alexa Jean Brown (Net Worth – $2.5 Million)
Alexa Jean Brown is a blonde bombshell you should be following on Instagram. Brown is a mommy of two and has 1.9 million followers on Insta. Alexa is known for her pregnancy fitness guides.
Amanda Lee (Net Worth – $2.83 Million)
Amanda Lee has the perfect hourglass physique. Lee has also been called the blonde Jen Setler for her perfect rear. Scrolling through Amanda's Instagram feed will become one of your favorite pastimes. Lee has 11.3 million followers on Instagram.
Abigail Ratchford (Net Worth – $3.42 Million)
Abigail's Instagram feed is NSFW. Ratchford has 8.2 million followers on Instagram and she uses every inch of her 36DD-24-36 body to keep them entertained. Abigail's role-play photos will leave you drooling.
Chantel Zales (Net Worth – $4.4 Million)
Chantel Zales is an A-list model and has 4.4 million followers on Instagram. Zantel has been featured in magazines like FHM and Maxim. Open this Latina's Instagram Instagram feed and you'll be hooked on for hours.
Kayla Itsines (Net Worth – $7.2 Million)
Kayla might be a surprise to most people on the list. Itsines has 8.7 million loyal followers on Instagram. Kayla has a "girl next door look" and she is cashing in on it by using her following to promote her bikini body guides.
*The actual net worth of these individuals may vary.
How much do you earn as compared to these athletes? Let us know in the comments below. Also, be sure to follow Generation Iron on Facebook and Twitter.
---
*header image courtesy of Instagram