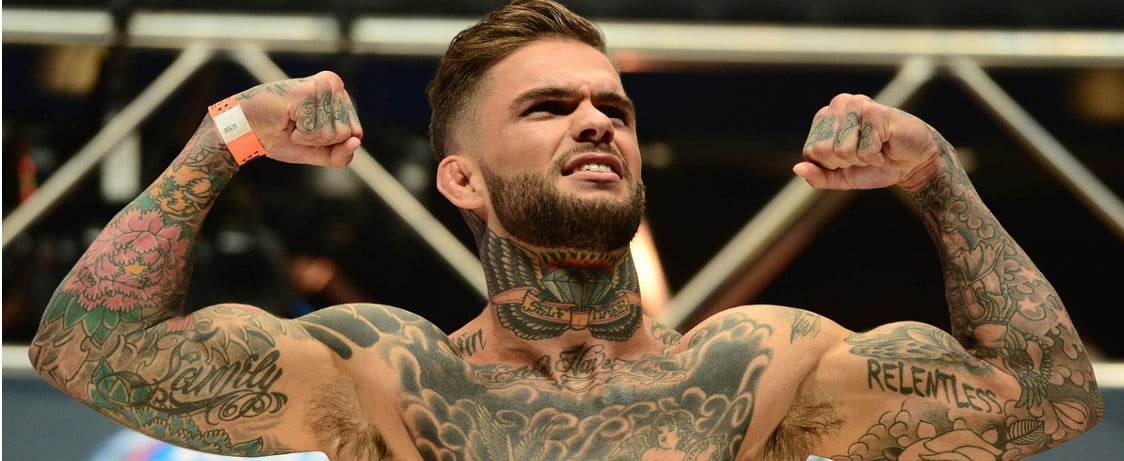 Us vs. Them Cody Grabrandt may be a christian who has become an ambassador for the make a wish foundation for the sport, but don't think this hard knocks fighter will hesitate to tell you where to go when you piss him off. We could tell he "ain't no punk" from the lack of hesitation to get up in Conor Mcgregor's face during last seasons of UFC's TUF after McGregor attacked his fearless leader Uriah Faber. Cody again displays his balls of steel in a recent interview with submission radio where he doesn't mince word when talking about teammates  (Joseph Benavidez and Lance Palmer), and his opinion on their "Cross training" with team Elevation. When asked whether he would be making the move to Colorado and dawning a nuggets Jersey anytime soon, Cody gave it to them straight.
"F**k no. I would never go to Elevation," Garbrandt told Submission Radio. "No, I wouldn't, I wouldn't go there. You know, [Joseph Benavidez and Lance Palmer] are out there and training with T.J. They have previous relationships with him so it's whatever, but they're going to come back and train with us in the team? I don't know how well that's going to go over."
The backstory for all this is that former Alpha Male striking coach Duane Ludwig left the camp – taking former  bantamweight champ TJ Dillashaw with him.  Needless to say things didn't go well. When asked about TJ Dillashaw, Cody says the crossing of paths in inevitable but right now he's just taking it one fight at a time.
"I'll probably end up fighting T.J., so I guess I'll focus on this fight and I guess we'll have to talk about that when it comes," said Garbrandt. "You know, [Benavidez and Palmer] will continue to train with T.J., basically 'the enemy' and Duane Ludwig and all those guys, so I don't know. I don't really try to focus on that too much this camp."
I hear Cody Garbrandt. I get where he's coming from. He's a loyal lion that feels betrayed by some of the main members of a fight camp that feels more like family. The thing is that Benavidez, Palmer, and Dillashaw all have a point. While TJ Dillashaw didn't exactly leave in the best fashion he brought light to the fact that Team Alpha Male were fighters being taught by other fighters, no real coaches.  With the exit of the one real coach, that formed a relationship with may of the fighter, it's no wonder Benavidez and Palmer are "Cross-training" with "the enemy". While I love Cody's fire and agree with the sentiments, team Alpha Male needs a striking coach, a good one, Pronto. https://youtu.be/AlJA4snh7Cc So what do you think? Is Cody Garbrandt right, or are his sentiments clouding the truth? Hit us up with the comments below and follow us on social media: Facebook, Instagram, Twitter