Keep your joints stable and strong with this high-quality joint support supplement.
Product Overview
That constant wear and tear on our joints can cause nagging pain and unwanted strain. For those of us looking to work hard in the gym every day, we don't need these kinds of setbacks to stunt our growth and decrease our overall performance. Many companies will claim theirs joint support supplements will ease your pain, reduce inflammation, and enhance your movement, but Transparent Labs WellnessSeries Joint Support is a high-quality supplement to offer great results.
WellnessSeries Joint Support is great for those looking for a solid joint support formula to promote joint integrity, ease inflammation, and fight stress. The constant tension we put on our joints and the amount of stress we ask them to undergo in everyday life can be immense. With an added workout, the last thing you want is an injury to throw you out of your rhythm. WellnessSeries Joint Support will make your joints stronger keeping you doing those activities you love.
Transparent Labs WellnessSeries Joint Support is perfect for promoting joint integrity, fighting oxidative stress, and decreasing inflammation with well-researched ingredients and a transparent label.
This joint supplement has no added artificial sweeteners, coloring, or preservatives to give you the highest quality product. Transparent Labs is a company who stands by honesty and transparency to give consumers the best products to aid in their overall health. Each product is third party tested to ensure no hidden formulas.
All of the products by Transparent Labs are manufactured in their state-of-the-art facility in Utah that is certified current good manufacturing processes (CGMP) and registered with the Food and Drug Administration (FDA). Each product has ingredients at clinically effective doses to bring you high-quality and a comfortable buying experience.
WellnessSeries Joint Support Highlights
WellnessSeries Joint Support offers a great joint support formula that differs from others on the market. While many contain unproven ingredients like glucosamine and chondroitin, Transparent Labs has built this comprehensive joint supplement from five clinically studied ingredients. You can find comfort knowing there are zero artificial sweeteners, coloring, or preservatives and that this product is gluten-free and non-GMO to give you the best quality ingredients around.
With patented doses of well-researched ingredients, this supplement will promote healthy joint integrity, fight oxidative stress, and decrease inflammation to keep you moving efficiently. No one wants to sit out of those fun activities we all enjoy with friends and loved ones, and with quality testing and high-quality ingredients, WellnessSeries Joint Support can rebuild, protect, and give those joints a boost to keep you doing what you love.
Ingredients
Curcumin C3 Complex
This patented complex comes from dried rhizomes of turmeric and contains 95% curcuminoids, being curcumin, bisdemethoxycurcumin, and demethoxycurcumin. The bioavailability is great for superior absorption to best maximize your benefits. Curcuminoids are vital for many of your body's processes and can aid in immune function, promote increased metabolism, support your stress response, and strengthen joint integrity (1). This complex is the highest ingredients with 500mg per serving.
Calcium Fructoborate
The patented mineral supplement used is FruiteX-B, or calcium fructoborate. This is a great anti-inflammatory agent (2) and can contribute to bone health by controlling that inflammation, as well as helping with hormone homeostasis and arthritis. It can regulate its own environment so it remains stable at all times to further add to your benefit.
Boswellin Super
This patented extract is derived from Boswellia serrata and is best known for its anti-inflammatory properties (3). There are four acids that help promote these properties which inhibit an enzyme, 5-lipoxygenase, which then produces leukotriene, an inflammatory mediator (4). This will kick anti-inflammatory response into gear to improve joint pain and function.
UC-II
UC-II is a patented collagen, which is the most abundant protein in joint cartilage. It is type-II collagen meaning its benefits differ than others. This is great for supporting not only the function, but also the integrity, of joint-related connective tissues (5). It also has properties to increase range of motion and flexibility.
BioPerine
Bioperine is derived from black pepper fruit extract. With bioavailability being so important, it enhances the absorption of various nutrients important for your body's overall health. This allows for maximum benefit so this joint supplement can take full effect.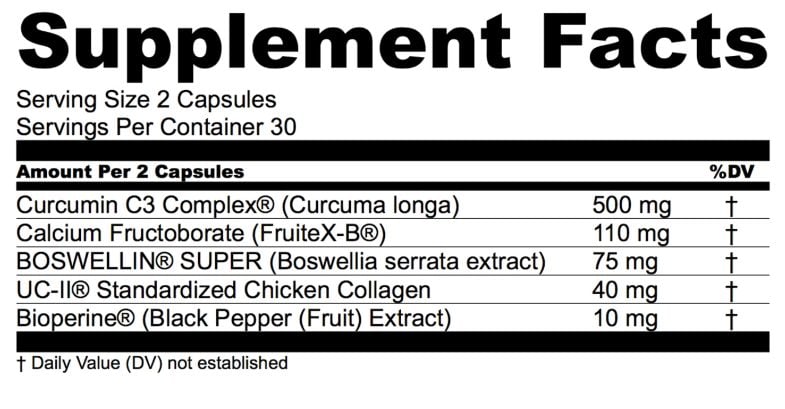 Price
These easy-to-swallow capsules make this product convenient and easy for your everyday needs. With 60 capsules per container, you get 30 servings total at a price of $49.00 USD. WellnessSeries Joint Support is an easy and convenient supplement that competes with many on the market today.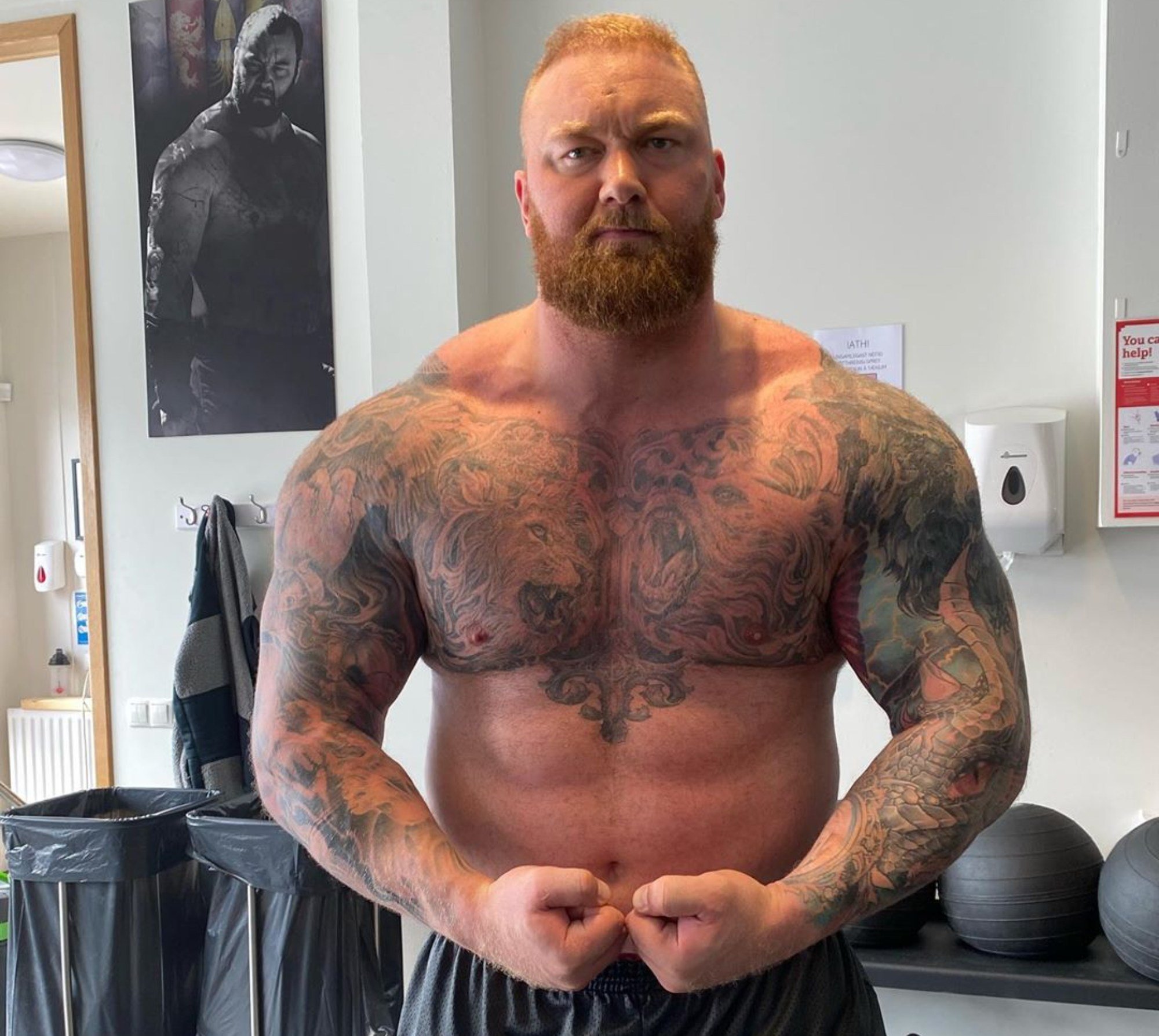 Sponsored Athlete
Hafþór Júlíus Björnsson, former strongman and actor, is a sponsored athlete by Transparent Labs in their mission to bring consumers high-quality and clean products. Björnsson had an illustrious strongman career and became the first to win Europe's Strongest Man, World's Strongest Man, and the Arnold Strongman Classic in the same year. His role as "The Mountain" on HBO's Game of Thrones gave him increased notoriety and he now uses his large following to promote these honest and efficient products.
Overall Value
Transparent Labs WellnessSeries Joint Support is a great supplement to boost joint integrity and keep you doing all the activities you love. Transparent Labs prides themselves on transparency and no hidden formulas to bring consumers a healthy and effective supplement. For those looking to increase joint integrity, reduce inflammation, and get rid of excess pain and strain, WellnessSeries Joint Support can help repair and rejuvenate those worn-down joints. What you are really buying is a solid joint support supplement from a reputable company to keep you doing everything you love.
Try WellnessSeries Joint Support at Transparent Labs Today
Generation Iron may receive commissions on purchases made through our links. See our disclosure page for more information.
Let us know what you think in the comments below. Also, be sure to follow Generation Iron on Facebook, Twitter, and Instagram. 
*Images courtesy of Transparent Labs and Hafþór Júlíus Björnsson Instagram
References