Tyler Parker heads into his sophomore year as one of the strongest football recruits with an impressive 414 pound deadlift
In the world of recruiting today, different collegiate programs are beginning to look at players right when they enter high school. When there is a prospect like Tyler Parker, you cannot blame them. At 14 years old, Parker is a 300-pound lineman who has shown off incredible strength for his age pulling off a 414.4 pound deadlift.
Parker attends Santa Margarita High School in Rancho Santa Margarita, California. During his first high school season, Parker turned heads because of his 6-foot, 300-pound frame. The defensive tackle boasts a 3.36 GPA to go along with some staggering lifts.
On his Hudl page, Tyler Parker has logged some of his most impressive feats. At 14 years old, Parker is already benching 300 pounds and deadlifting 415. He can rep 185 pounds on the bench 25 times and runs a 4.9 40-yard dash.
In a recent Twitter video shared by his high school's account, Parker is seen repping 414.4 pounds three times.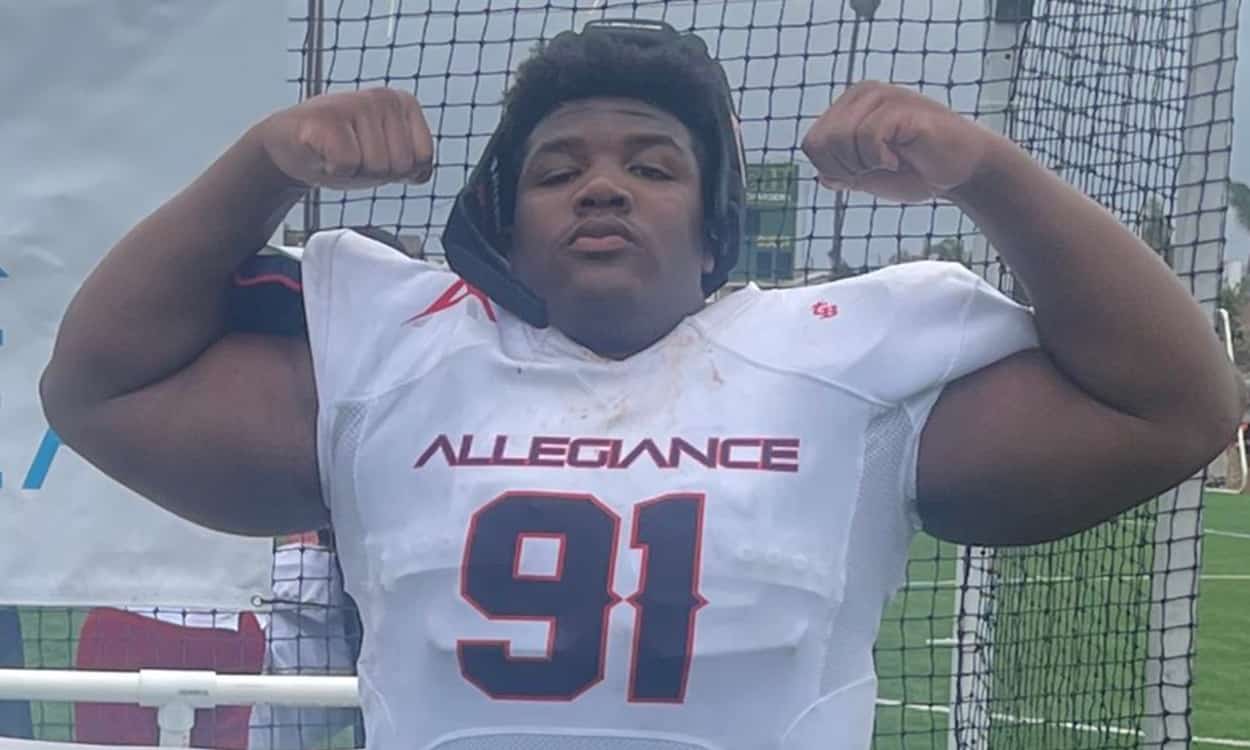 Tyler Parker Is Already Fielding Many DI Offers
It is no surprise that many teams have already reached out to the defensive tackle — and there will be more on the way.
Stay dangerous ! https://t.co/bZ0396DBVn

— Recruit My Lineman (@RMLineman) April 14, 2022
Parker has totaled thousands of followers and views over different social media sites after his lifts have gone viral. His incredible size is what is gaining the attention of many in recent weeks. This includes NFL star Calais Campbell, who has commented on Parker's elite growth. He has also been put side-by-side with Los Angeles Rams' superstar Aaron Donald.
RELATED: NFL Legend Shannon Sharpe Shares Massive Physique On 54th Birthday
There are many schools who have reached out to Parker already, including Arizona, Texas A&M, LSU, and Ole Miss. Parker also has lower-level offers from Portland State, Incarnate Word, and Virginia University of Lynchberg.
14 Year Old 31 Year Old
Tyler Parker Aaron Donald@PPIRecruits @BCollierPPI @MaxPreps @247Sports @SBLiveSports @Rivals @AaronDonald97 @SI_PHnews @barstoolsports @CFBONFOX pic.twitter.com/KEm9LNIyTb

— Tyler Parker (TP) (@iam_tylerparker) July 14, 2022
As a sophomore, Tyler Parker has not made a college decision just yet as more offers will undoubtedly roll in. As he continues on in his high school career, Parker will continue to get stronger and improve on the field — which is a scary thought for opponents.
For more news and updates, follow Generation Iron on Facebook, Twitter, and Instagram.