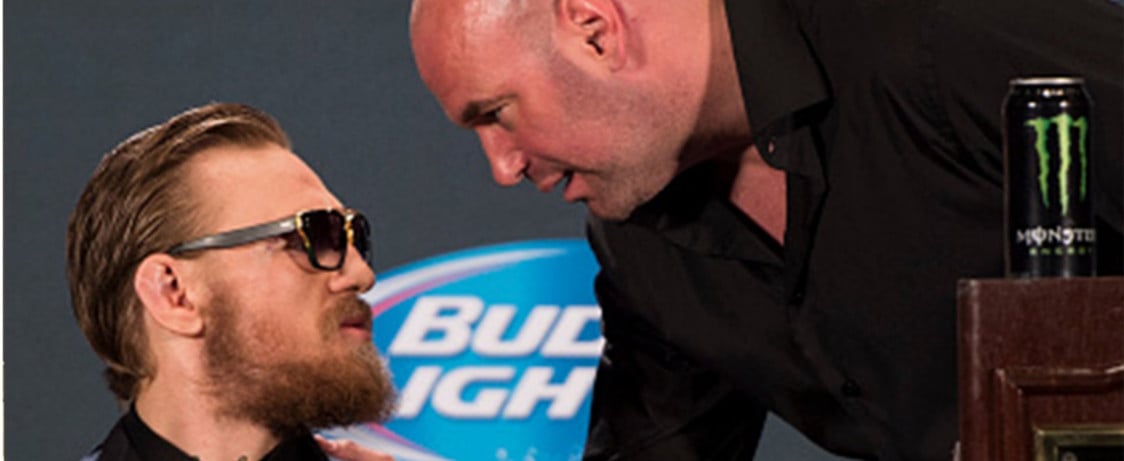 Tell me how you really feel… The debacle that is the UFC 200 card continues to thicken as Dana White keeps to his claim that "the fight is off!" We had questions before, but it seems Dana White rules with an iron fist and will not be backing down on his word. According to TMZ, Dana White has no idea why Conor McGregor would put out the tweet that he did stating he was back on the card.
"It's not true. We haven't talked to Conor or his manager since the press conference. I don't know why he would tweet that." He adds, "All the media keeps asking me that. I feel like the scene in 'Step Brothers' when they ask if they can build the bunk beds. I don't know how many more times I can say the fight is off or how many more press conferences I can have saying the fight is off for people to believe it's off."
In case you missed the whole shenanigans, it seems Conor Mcgregor is waging guerilla warfare on Dana White and the organization by putting out sensationalized information via social media to stir the hearts of the public. In his most recent stunt he thanks Dana White and Lorenzo Fertitta for letting him back on the UFC 200 card. Check out the previous post below.
Happy to announce that I am BACK on UFC 200! Shout out to @danawhite and @lorenzofertitta on getting this one done for the fans. #Respect

— Conor McGregor (@TheNotoriousMMA) April 25, 2016
 Does this mean he's actually back on the card? who knows. Dana White and the UFC have yet to release a statement. However it does look like Conor maybe back in the conversation…let's look at the clues shall we? Nate Diaz said in UFC 200 press conference that he would not fight anyone except for Conor McGregor. This is after Dana White said at the same press conference that he would find a new opponent for Nate Diaz. Dana also mentioned that Conor would not be put back on the UFC200 card because it wasn't fair to the other fighters, and that the organization had to set a precedent. While it's great that Dana's trying to put his foot down, it seems other fighters are actually supporting Conor and his demands. This really puts the leverage back on Conor's side putting the extra squeeze on Dana White. Conor McGregor was also tweeting responses to the press conference throughout the whole event, making his presence felt in spite of the empty chair next to Nate Diaz. With Dana putting out statements like "fairness" and "precedent", it's going to be pretty hard for him to back track, without eating some major humble pie. This is a real stalemate, but if Conor McGregor wins this war he might as well be the "C" in the company logo. This game of Texas hold'em is really heating up and it looks like Conor just drew a Queen – your move Dana. What do you guys think? Will Conor get back on the card or will Dana stand his ground?