Nathan De Asha wins Men's Open at the 2021 Yamamoto Pro Cup.
The 2021 Yamamoto Pro Cup took place over the weekend on Oct. 17th in Rome, Italy and Nathan De Asha took home the title in Men's Open. Other major competitors in the world like Brandon Hendrickson also won the Men's Physique division in San Marino for yet another championship.
Nathan De Asha has had difficulty getting back on stage on a consistent basis. He won the 2021 Europa Pro this year and this earned him a qualification for the 2021 Olympia. De Asha was forced to miss the biggest competition of the year due to issues with travel. Just one week later, De Asha took the stage in San Marino and was a huge name to watch entering the competition.
De Asha faced off with Roelly Winklaar once again. This is the duo that headlined the Europa Pro and it was De Asha who was able to come out on top. Winklaar will be back on stage after lacing 11th in the Olympia last week. He was forced to miss the Arnold Classic with an injury and he is still trying to get back on track. Tim Budesheim and Andrea Presti also entered the weekend as dark-horse contenders to win the title.
Budesheim finished third at the Europa Pro and went toe-to-toe with both De Asha and Winklaar. He does not have a victory this year but continues to be a strong competitor who has a lot of potential. Budesheim notched another top-three finish at the Mr. Big Evolution Pro.
Luca Biolo made an appearance in Orlando in the Men's Physique division. He quickly returned to stage as well in San Marino. He was viewed as a competitor who could make a huge impact in this division over the weekend.
The full results have now been announced. Check out our full breakdown of the 2021 Yamamoto Pro Cup results below.
2021 Yamamoto Pro Cup: All Division Winners
Men's Open: Nathan De Asha
Men's Physique: Brandon Hendrickson
2021 Yamamoto Pro Cup Breakdown
Men's Open
First Place –

Nathan De Asha

($20,000)
Second Place –

Roelly Winklaar

($10,000)
Third Place – Samson Dauda ($5,000)
Fourth Place – Andrea Presti ($4,000)
Fifth Place – Theo Leguerrier ($2,000)
Men's Physique
First Place –

Brandon Hendrickson

Second Place – Ricardo Croci
Third Place – Balint Nemeth
Fourth Place – Emile Walker
Fifth Place – Jeffrey Darko
2021 Yamamoto Pro Official Scorecards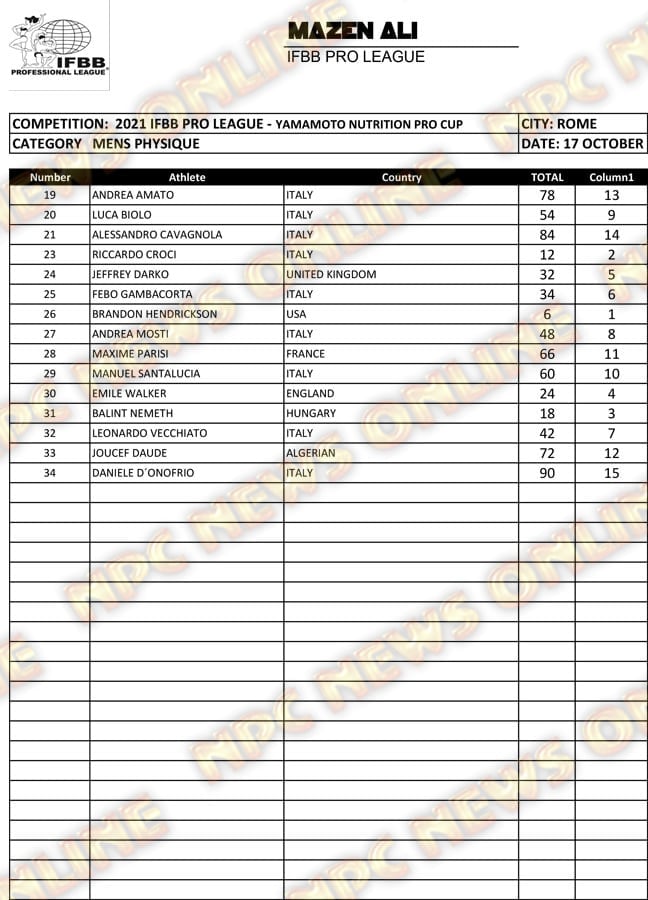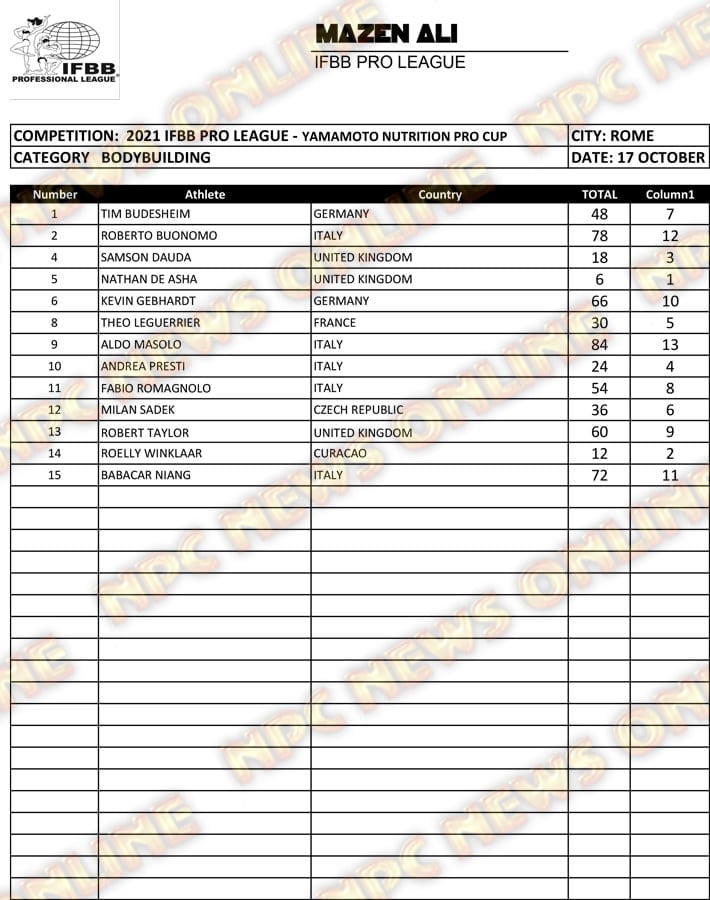 Congratulations to all of the winners at the 2021 Yamamoto Pro Cup. For more news and updates, follow Generation Iron on Facebook, Twitter, and Instagram.