Blessing Awodibu wins the 2022 Indy Pro!
The 2022 Indy Pro took place on Saturday, May 14, 2022 and featured some of the top competitors in bodybuilding. There were three divisions present at the Indiana Convention Center with hopes of earning qualification to the biggest show of the year. In the end, Blessing Awodibu was victorious in the Men's Open category.
The show was highlighted by the return of Awodibu. He finished third at this competition last year before appearing at the New York Pro the very next week. Awodibu decided to take the rest of 2021 off in hopes of putting on size and making improvements.
The battle between Awodibu and reigning champion Justin Rodriguez was the battle to watch coming in. Rodriguez continues to be an up-and-coming talent in Men's Open. He was looking to build off his performance at the Arnold Classic, where he took fifth place.
Maxx Charles and Charles Griffen were also viewed as dark-horse competitors entering Indianapolis. Bryan Balzano picked up a victory in Men's 212 while Theresa Ivancik was victorious in Women's Bodybuilding.
The results from the show on Saturday night have been announced. There were three divisions that saw winners earn qualification to the 2022 Olympia. Checkout which divisions have named winners and the official score cards below!
2022 Indy Pro: All Division Winners
Men's Open: 

Blessing Awodibu

Men's 212: Bryan Balzano
Women's Bodybuilding: Theresa Ivancik
2022 Indy Pro Breakdown 
Men's Open
First Place – Blessing Awodibu
Second Place – Charles Griffen
Third Place – Maxx Charles
Fourth Place – Justin Rodriguez
Fifth Place – Brent Swansen
Sixth Place – Dorian Haywood
Seventh Place – Walter Martin
Eighth Place – Slavoj Bednar
Ninth Place – Ross Flanigan
Tenth Place – Ray Short
Men's 212
First Place – Bryan Balzano
Second Place – Noel Adame
Third Place – Enmanuel Rodriguez
Fourth Place – Yumon Eaton
Fifth Place – Abdullah Alsaif
Sixth Place – LeLand DeVaughn
Seventh Place – Teddy Gray
Eighth Place – Boas Oliveira
Ninth Place – Broderick Credell
Tenth Place – Peter Castella
Women's Bodybuilding
First Place – Theresa Ivancik
Second Place – Stephanie Fisher
Third Place – Lisa Kudrey
Fourth Place – Donna Salib
Fifth Place – Jada Beverly
2022 Indy Pro Official Score Cards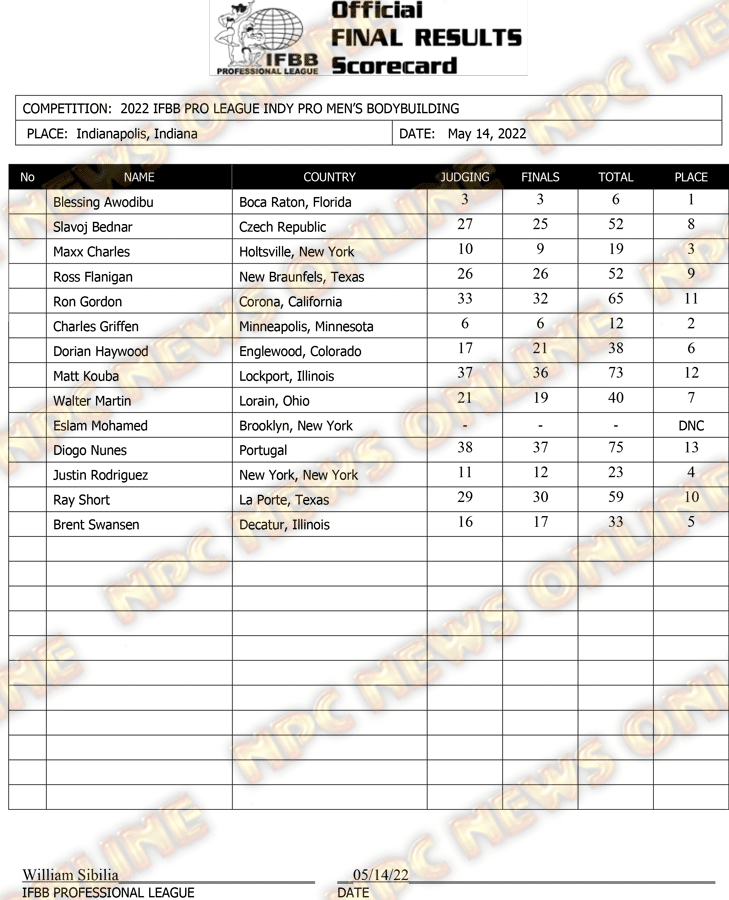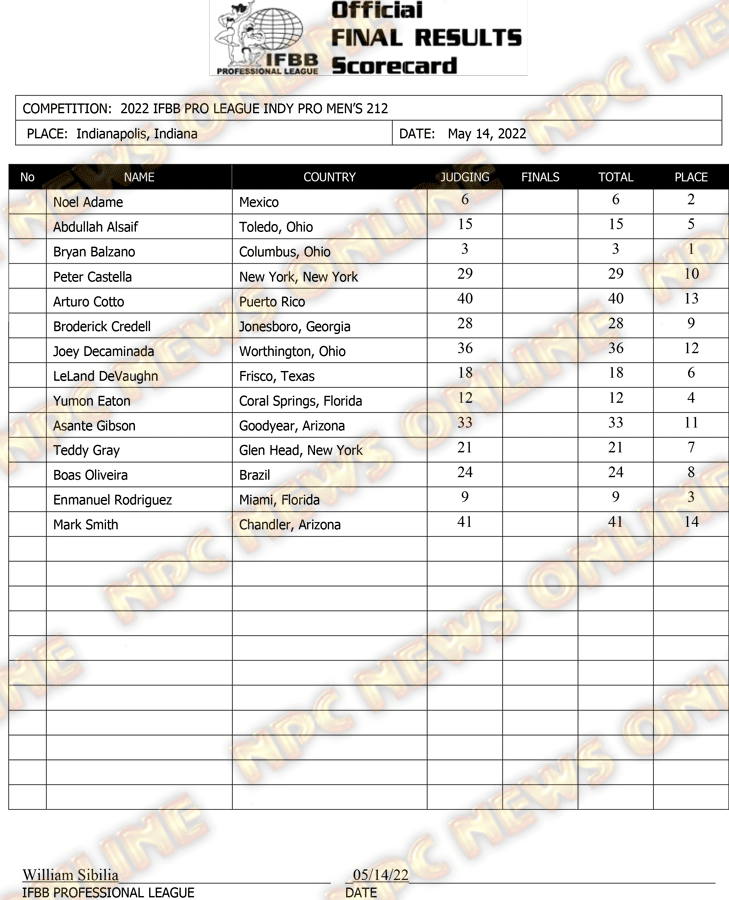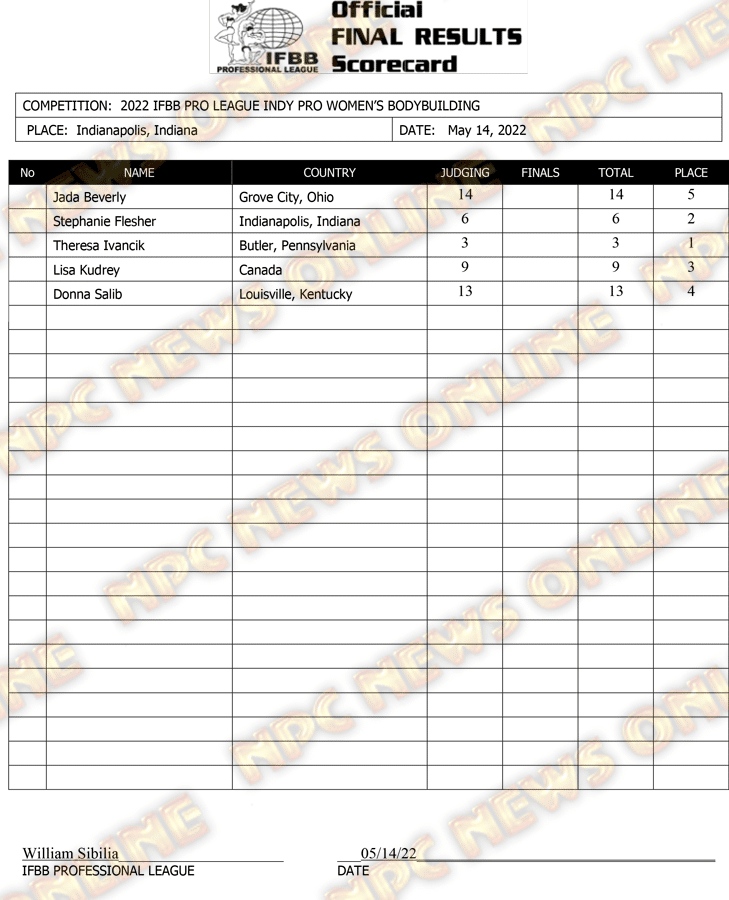 Generation Iron wishes to congratulate all the great athletes who earned a win at the 2022 IFBB Indy Pro. Make sure to check out our full IFBB Pro results page from this year and previous years right here to catch up on any action you may have missed!