Here are the full results of the 2023 Flex Weekend Pro!
The 2023 Flex Weekend Pro will take place on Sunday in Milan, Italy. Three divisions will be on display over the course of the day with the headline being the Men's Open final. Winners will earn qualification to the 2023 Olympia.
There will be many of the top competitors in the world spread out across Men's Open, Men's Physique, and Bikini. Regan Grimes and Nathan de Asha will make their returns to the stage after taking time off to make improvements. Blessing Awodibu will also take the stage looking to make an impact.
The Olympia qualification system has changed this year. If an athlete did not finish in the top three in the previous year, or top five in Men's Open, they will have to win a show to qualify. The points qualification system is no more. Also, former winners of an Olympia title have lifetime eligibility.
The full results from the show have been announced. Below, check out the full breakdown, along with an official scorecard. 
2023 Flex Weekend Pro: All Division Winners
Men's Open: Nathan De Asha
Men's Physique: Ali Bilal
Bikini: Lisa Reith
2023 Flex Weekend Pro Breakdown
Men's Open
First Place – Nathan De Asha
Second Place – Regan Grimes
Third Place – Roman Fritz
Fourth Place – Shouming Yan
Fifth Place – Blessing Awodibu
Sixth Place – Theo Leguerrier
Seventh Place – Tim Budesheim
Eighth Place – Jan Turek
Ninth Place – Maik Ciesla
Tenth Place – Dennis Reinhold
View this post on Instagram
Men's Physique
First Place – Ali Bilal
Second Place – Emile Walker
Third Place – Lenny Massouf
Fourth Place – Mohammad Ali
Fifth Place – Adeyami Awoyemi
Sixth Place – Chao Peng
Seventh Place – Febo Gambacorta
Eighth Place – Alessio Sbizzera
Ninth Place – Andrea Antonelli
Tenth Place – Luca Biolo
View this post on Instagram
Bikini
First Place – Lisa Reith
Second Place – Ottavia Mazza
Third Place – Kristina Brunauer
Fourth Place – Velerya Fedorenko
Fifth Place – Noemi Cosentino
Sixth Place – Jade Kelsie Wolfenden
Seventh Place – Marisa Woo
Eighth Place – Giuditta Taccani
Ninth Place – Sarah Neuheisel
Tenth Place – Patrizia Vaccaro
View this post on Instagram
2023 Flex Weekend Pro Official Scorecards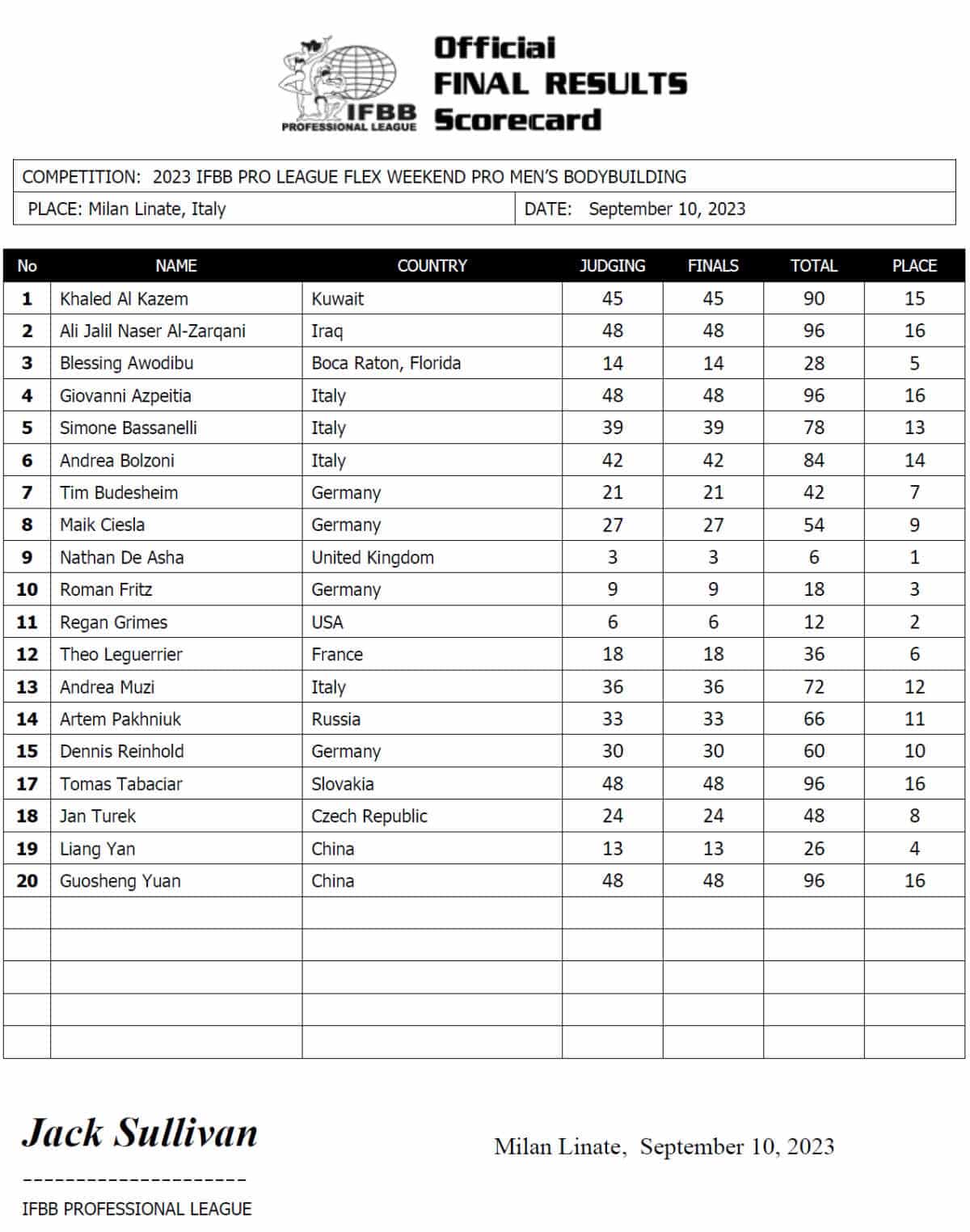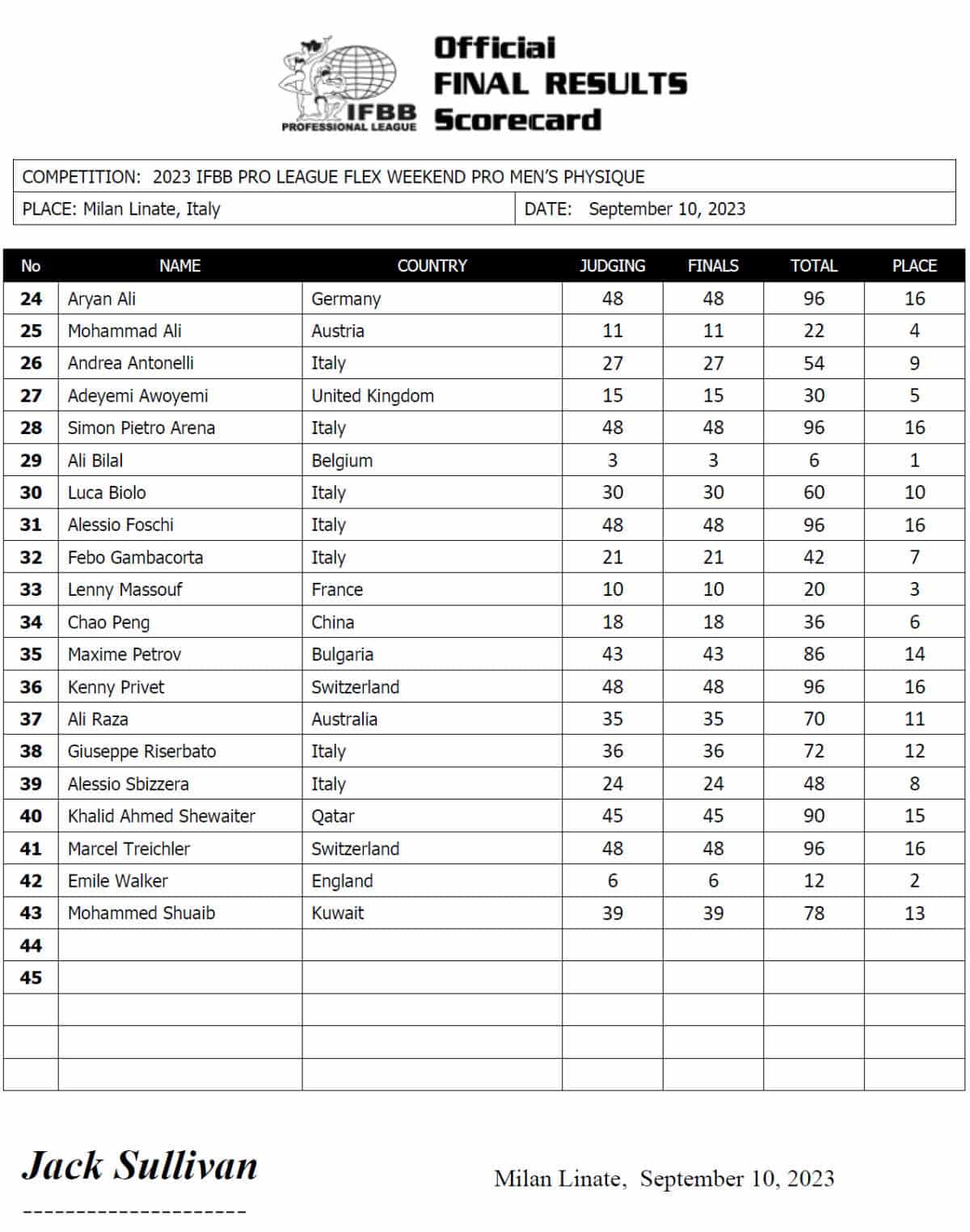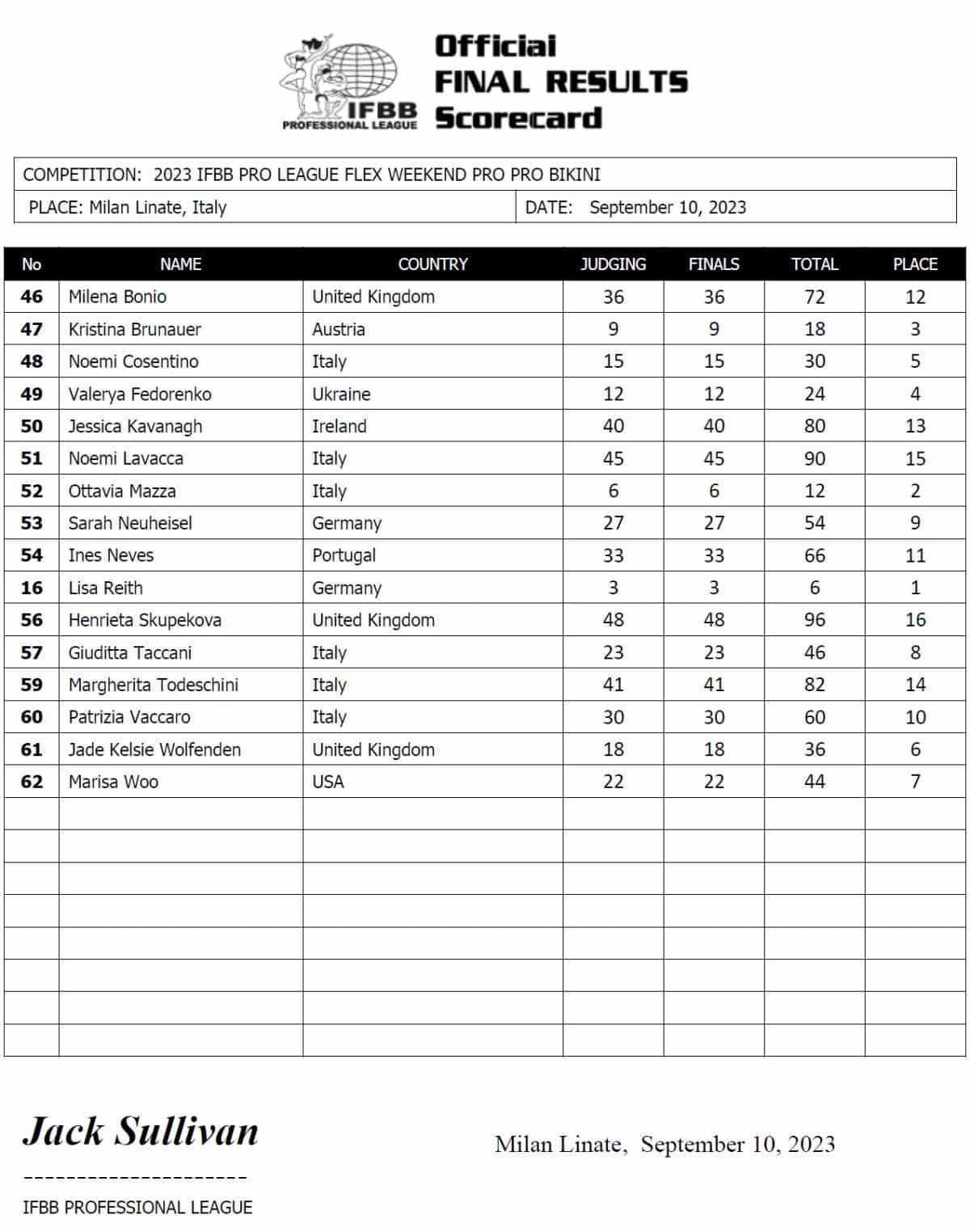 For more news and updates, follow Generation Iron on Facebook, Twitter, and Instagram.