Bodybuilder's Andre Ferguson, Cristobalina Pajares, and Tefani Sam Razhi were victorious during 2023 Miami Muscle Beach Pro!
The 2023 Miami Muscle Beach Pro took place Saturday, June 3rd 2023 with divisions in Men's Physique, Wellness and Bikini hoping to earn a spot in the 2023 Olympia. Andre Fergusonwas victorious in the Men's Physique division and will be back in the Olympia for the ninth consecutive year. Ferguson, who has logged multiple runner-up finishes, will look to remain near the top of the division this year.
Cristobalina Pajares finished third during the Budapest Pro and was able to come out on top this time around. Tefani Sam Razhi earned the top prize in Wellness and will also appear on the biggest stage in the sport.
The Olympia qualification system has changed this year. If an athlete did not finish in the top three in the previous year, or top five in Men's Open, they will have to win a show to qualify. The points qualification system is no more. Also, former winners of an Olympia title have lifetime eligibility.
The full results from the show have been announced. Below, check out the full breakdown, along with an official scorecard. 
2023 Miami Muscle Beach Pro: All Division Winners
Men's Physique: Andre Ferguson
Bikini: Cristobalina Pajares
Wellness: Tefani Sam Razhi
2023 Miami Muscle Beach Pro Breakdown
Men's Physique
First Place – Andre Ferguson
Second Place – Vitor Chaves
Third Place – Daniel Ammons
Fourth Place – Ramses Rams
Fifth Place – Deke Walker
Sixth Place – Juan Manuel Gochez
Seventh Place – Maxime Parisi
Eighth Place – Brett Mario Jackson
Ninth Place – Victor Manuel Ramirez Chavez
Tenth Place – Renato Menezes
View this post on Instagram
Bikini
First Place – Cristobalina Pajares
Second Place – Romina Basualdo
Third Place – Sierra Swann
Fourth Place – Marisa Woo
Fifth Place – Janine Herrera
Sixth Place – Alina Bogacheva
Seventh Place – Sandra Roxana Merlo
Eighth Place – Shey Webb
Ninth Place – Lauren Kralovec
Tenth Place – Laura Martinez Manrique
View this post on Instagram
Wellness
First Place – Tefani Sam Razhi
Second Place – Lili Dong
Third Place – Johanna Calcano
Fourth Place – Edna F. Souza
Fifth Place – Joanna Jean
Sixth Place – Simara Walter
Seventh Place – Tatiany Vaillant
Eighth Place – Vanina Alejandra Pikor
Ninth Place – Yami Patridge
Tenth Place – Anna Banks
View this post on Instagram
2023 Miami Muscle Beach Pro Official Scorecards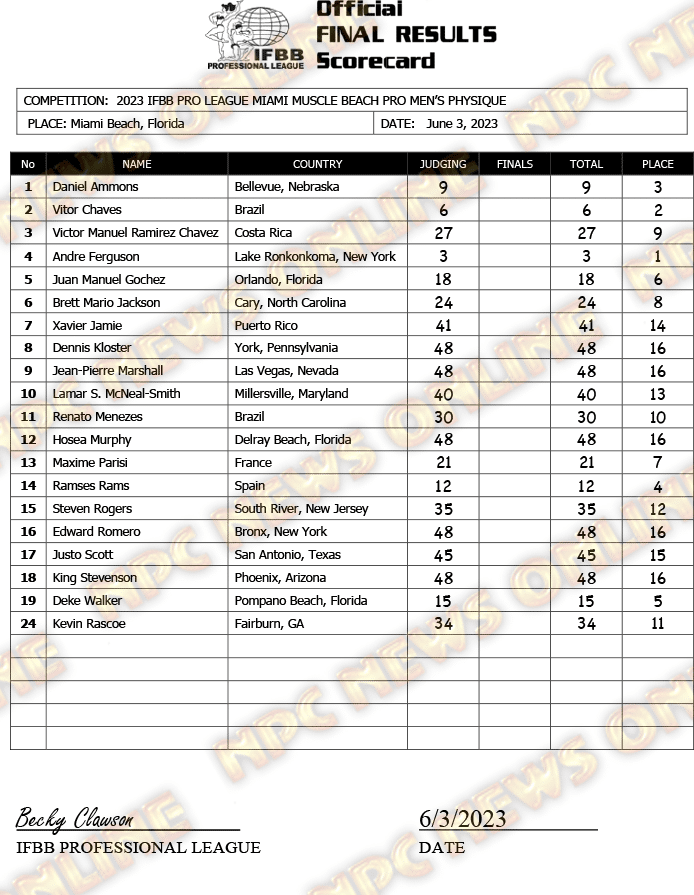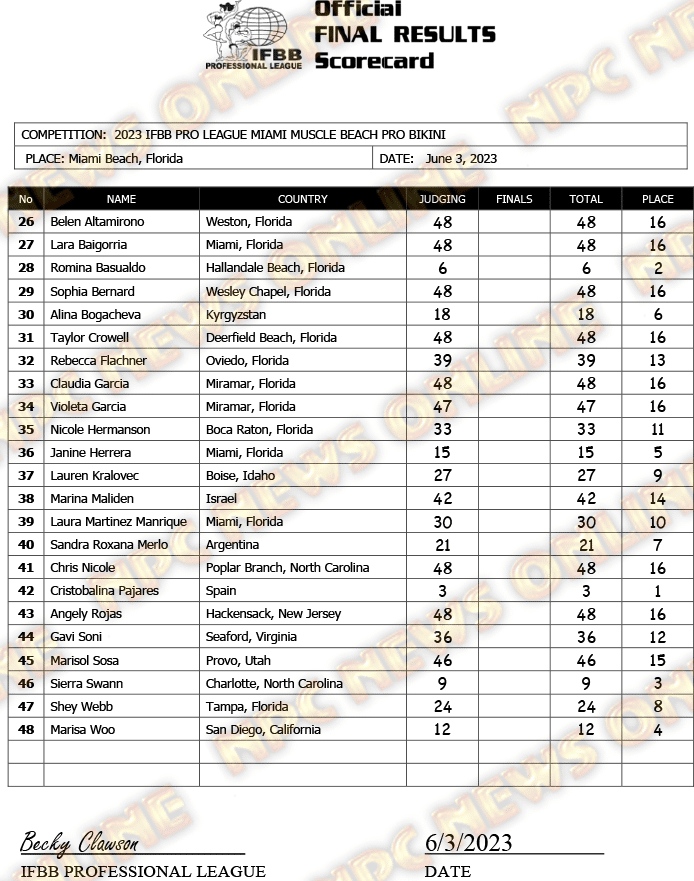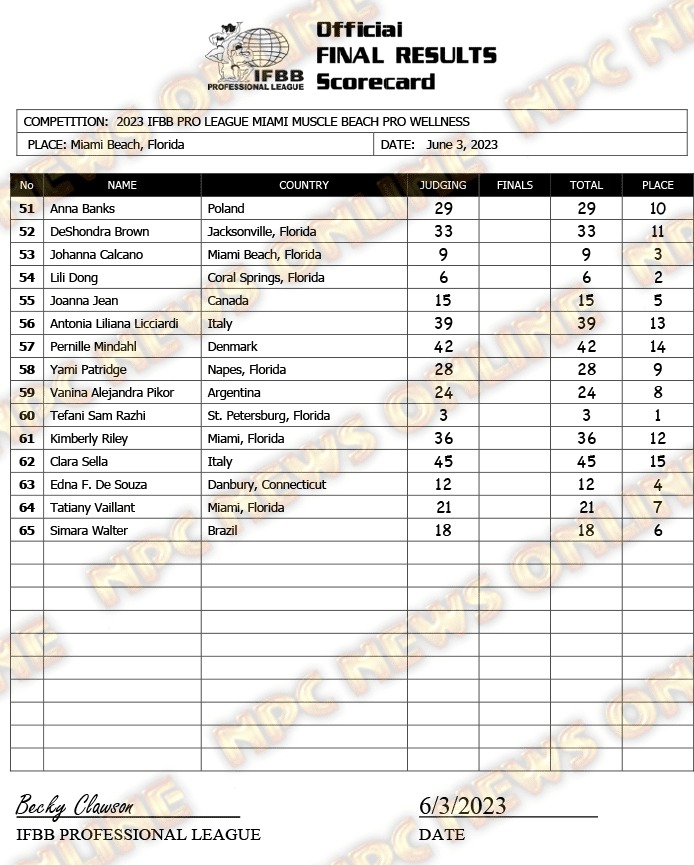 For more news and updates, follow Generation Iron on Facebook, Twitter, and Instagram.