Breanda Farias wins the 2023 Musclecontest Campinas Pro!
The 2023 Musclecontest Campinas Pro concluded on Saturday with the Bikini division being highlighted. There was a total of 12 competitors in the show looking for a qualification to the 2023 Olympia. In the end, it was Brenda Farias who was victorious in San Paulo, Brazil.
Farias punched her ticket early in the season and can now prepare for the biggest show of the year. This will be her first qualification. This year, there have been some changes to the process. Unlike other years, there is no point system being used to allow athletes to enter the Olympia. Now, they must win a pro show in order to qualify. Farias has now accomplished this goal early in the bodybuilding season.
The Bikini division continues to be a growing product with a lot of talent at the top. In March, Lauralie Chapados won her second consecutive Arnold Classic title. She defeated the two most recent Olympia champions in Maureen Blanquisco (2022) and Jennifer Dorie (2021). Also, Chapados topped Ashley Kaltwasser, who has many titles on her resume. The Olympia will be another thriller with many competitors who can come out on top.
Gessica Brun finished second in the event while Mirian Barbosa was third. They came up just short but will be favorites in certain events moving forward looking to punch their ticket to the Olympia. Below, check out the full breakdown of the event, along with an official score card.
2023 Musclecontest Campinas Pro Breakdown
Bikini
First Place – Brenda Farias
Second Place – Gessica Brun
Third Place – Mirian Barbosa
Fourth Place – Anna Paula Baggio
Fifth Place – Priscila Rodrigues
Sixth Place – Luciana de Souza Santos
Seventh Place – Mariana Tibirica Menezes
Eighth Place – Tais Silva
Ninth Place – Greice Fornazin
Tenth Place – Silvana Tagliati
2023 Musclecontest Campinas Pro Official Scorecard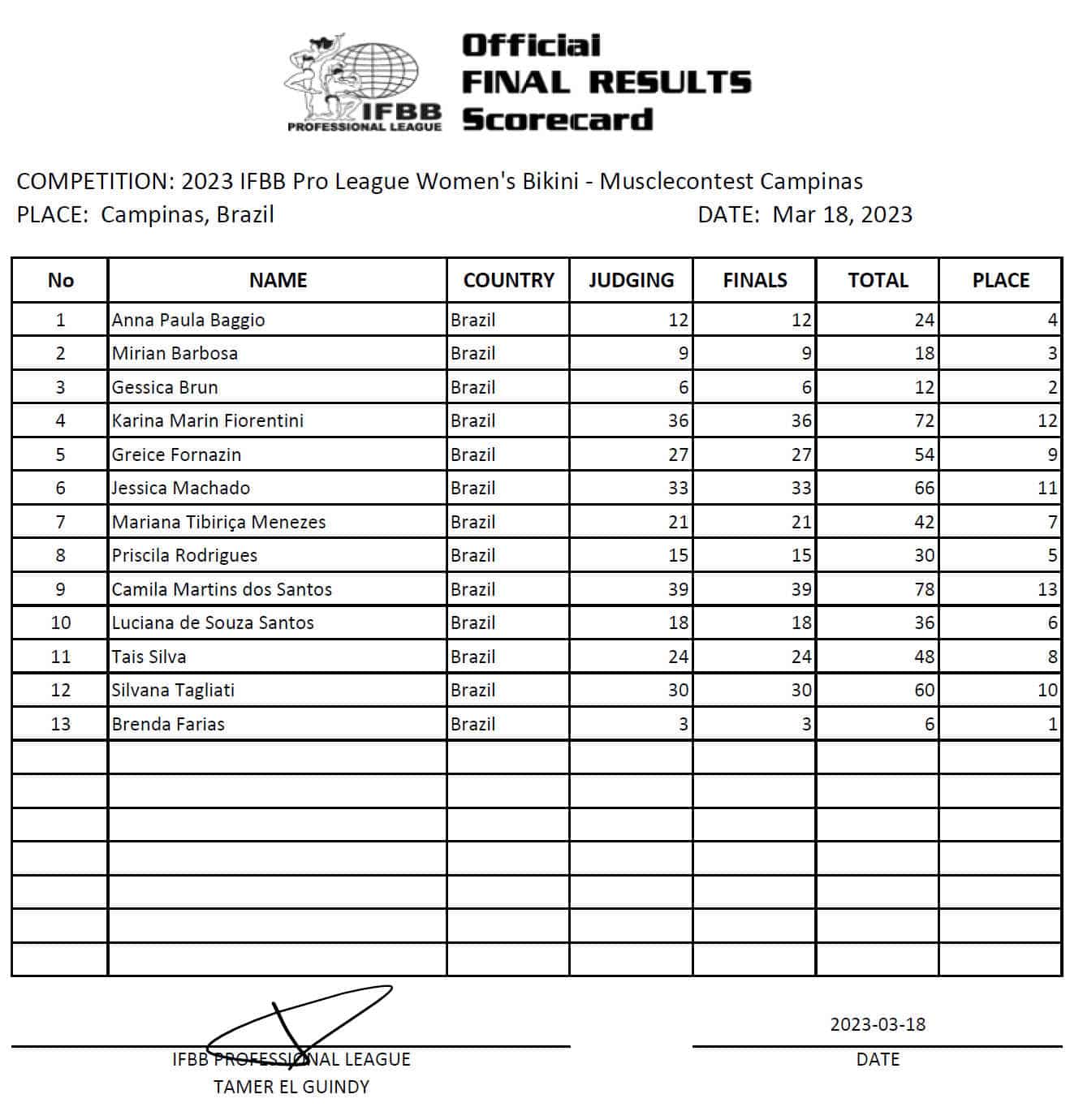 For more news and updates, follow Generation Iron on Facebook, Twitter, and Instagram.