Daniel Ammons wins the 2023 Palmetto Pro!
The 2023 Palmetto Pro took place on Saturday in Columbus, SC with the Men's Physique division on display. A talented group saw Daniel Ammons reign surprise and punch his ticket to the 2023 Olympia.
The qualification system for the Olympia has changed in 2023. The IFBB shared that it would do away with the points qualification system. This means that competitors who did not finish at the top of the scorecard in 2022 will have to win a show to qualify.
This marks the fourth consecutive year where Ammons has earned a victory on stage. Last year, he won the Texas and Tampa Pros in the Men's Physique division. Now, Ammons will return to the Olympia stage. He finished fourth at the New York Pro and was able to get to the top of the scorecard in Columbus.
The full results from the show have been announced. Below, check out a full breakdown along with an official scorecard.
2023 Palmetto Pro Breakdown
Men's Physique
First Place – Daniel Ammons
Second Place – Drew Cullen
Third Place – Chris Barr
Fourth Place – Charjo Grant
Fifth Place – Deke Walker
Sixth Place – Puwanat Putoya
Seventh Place – Brandon Elam
Eighth Place – Darriel Dorsey
Ninth Place – Darius Brooks
Tenth Place – Ephram Mike Lawhorne
2023 Palmetto Pro Official Scorecard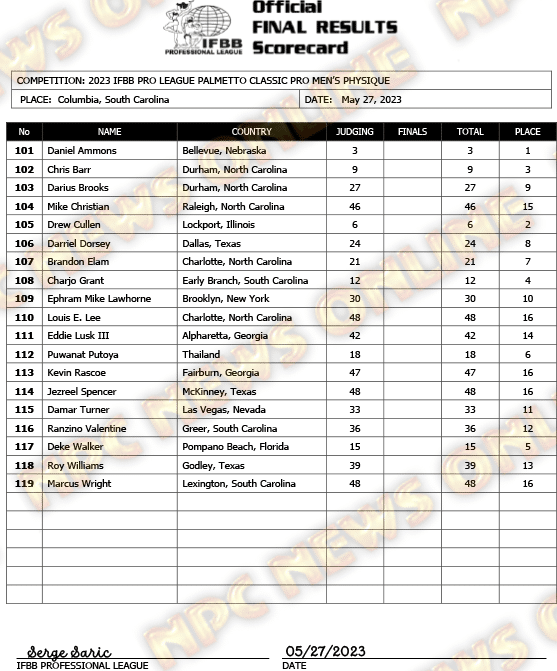 For more news and updates, follow Generation Iron on Facebook, Twitter, and Instagram.