Here are the full results from the 2023 Sheru Classic France Pro!
The 2023 Sheru Classic France Pro took place on Satuday in France with a total of four divisions taking the stage. The Men's Open division highlighted the event and Nathan De Asha earned another victory this year.
The Olympia qualification system has changed this year. If an athlete did not finish in the top three in the previous year, or top five in Men's Open, they will have to win a show to qualify. The points qualification system is no more. Also, former winners of an Olympia title have lifetime eligibility. The 2023 Mr. Olympia competition will take place in Orlando, Florida from November 2-5 inside the Orange County Convention Center. The 2023 Sheru Classic France Pro is another highly anticipated bodybuilding event, scheduled for Saturday, Sept. 30, 2023 in Lille, France. Emile Walker, on the other hand, used his shape and back poses to stand out from the rest. Emile Walker also competed recently, but he tested the waters in second at the 2023 Flex Weekend Pro in Milan, Italy won by Nathan De Asha after falling short of Regan Grimes. This time, gold belonged to Emile Walker. Alessandro Cavagnola and Lenny Massouf took second and third place.
The full results from the show have been announced. Below, check out the full breakdown, along with an official scorecard
2023 Sheru Classic France Pro: All Division Winners
Men's Open: Nathan De Asha
Classic Physique: Maxime Yedess
Men's Physique: Emile Walker
Bikini: Kristina Brunauer
2023 Sheru Classic France Pro Breakdown
Men's Open
First Place – Nathan De Asha
Second Place – Theo Leguerrier
Third Place – Tim Budesheim
Fourth Place – Roman Fritz
Fifth Place – Vlad Alfred Chiriac
Sixth Place – Leandro Peres
Seventh Place – Vitor Boff
Eighth Place – Khaled Al Kazem
Ninth Place – Maik Ciesla
Tenth Place – Gianluca Di Lorenzo
View this post on Instagram
Classic Physique
First Place – Maxime Yedess
Second Place – Alexander Westermeier
Third Place – German Pastor
Fourth Place – Siem Goossens
Fifth Place – Birica Anghel Georgian
Sixth Place – Roberto Martinez
Seventh Place – Zhivko Nikolaev Petkov
Eighth Place – Philipp Jendreiek
Ninth Place – Andreas Fotiadis
Tenth Place – Patrik Herczik
View this post on Instagram
Men's Physique
First Place – Emile Walker 
Second Place – Alessandro Cavagnola
Third Place – Lenny Massouf
Fourth Place – Mohammad Ali
Fifth Place – Furkan Er
Sixth Place – Abisai Pietersz
Seventh Place – Omer Bahamed
Eighth Place – Jessy Pigury
Ninth Place – Abel Sousa
Tenth Place – Alessio Foschi
View this post on Instagram
Bikini
First Place – Kristina Brunauer
Second Place – Vivienne Kahl
Third Place – Alice Marchisio
Fourth Place – Giuditta Taccani
Fifth Place – Noemi Cosentino
Sixth Place – Heather McDonald
Seventh Place – Irene Iravedra Cunarro
Eighth Place – Jade Kelsie Wolfenden
Ninth Place – Natasha Espin
Tenth Place – Babett Vongsanti
View this post on Instagram
2023 Sheru Classic France Pro Official Scorecards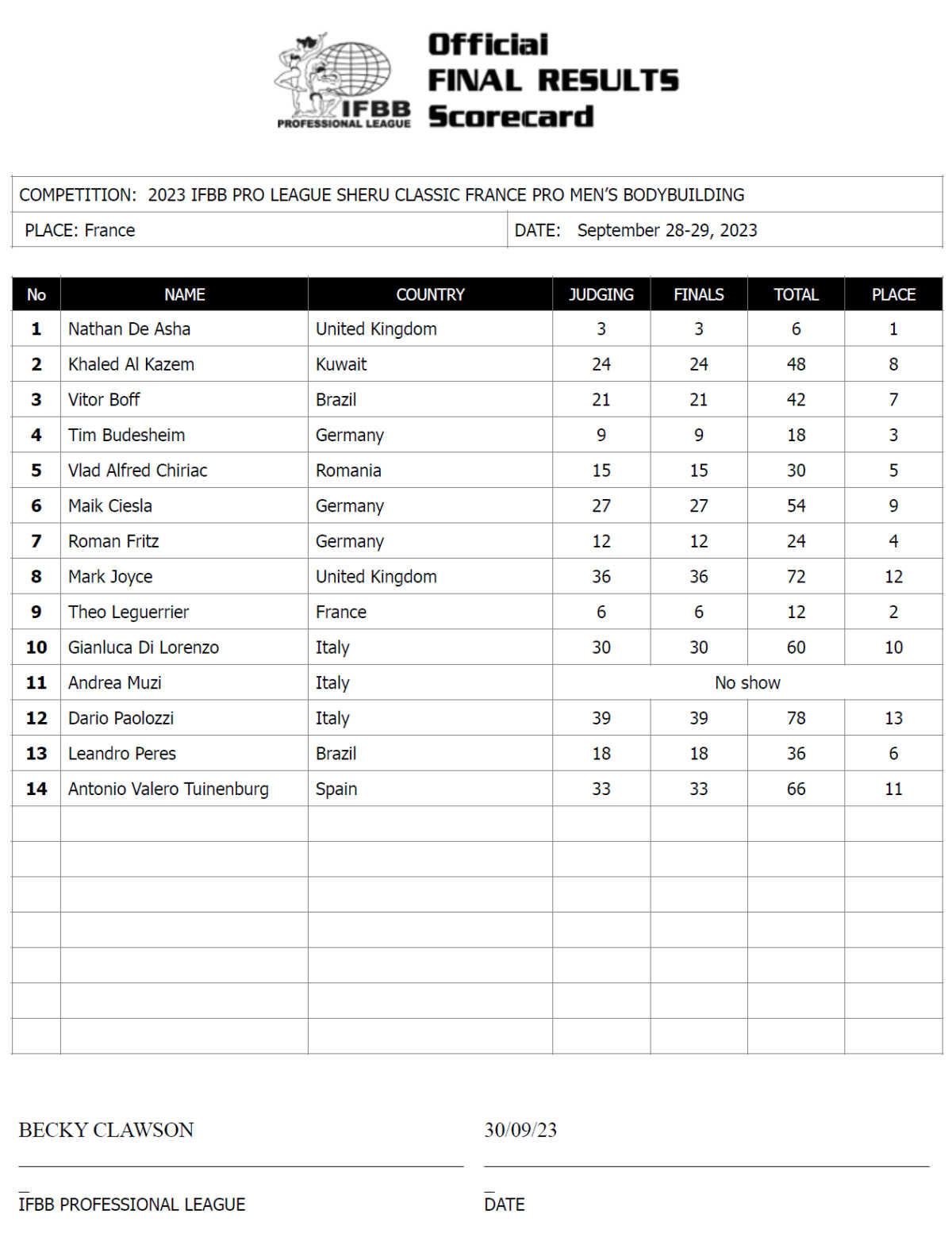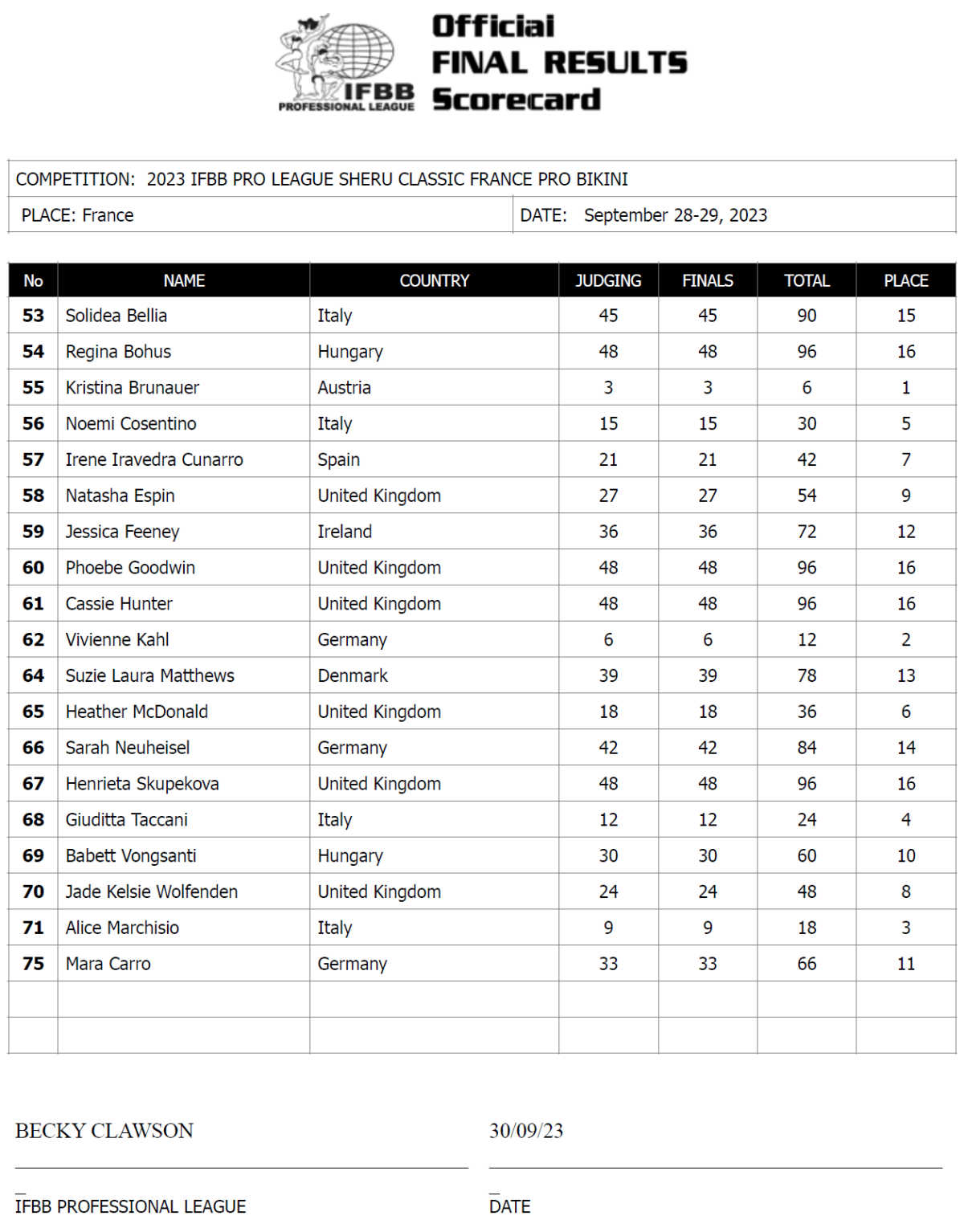 For more news and updates, follow Generation Iron on Facebook, Twitter, and Instagram.