The biography, life, and accomplishments of Andreas Munzer
Austria did not only produce the Godfather of bodybuilding, Arnold Schwarzenegger, it also gave us Andreas Munzer. The late bodybuilder was nothing shy of unique, coming in unnaturally shredded and massive at every show, dominating the stage.
In this piece, we are diving into all things Andreas Munzer.
Full Name: Andreas Munzer (IFBB Bodybuilder)

Weight
Height
Date Of Birth
235-245 lbs
5'7″
10/25/1964
Division
Era
Nationality
Bodybuilding
1980s-1990s
Austrian
---
Biography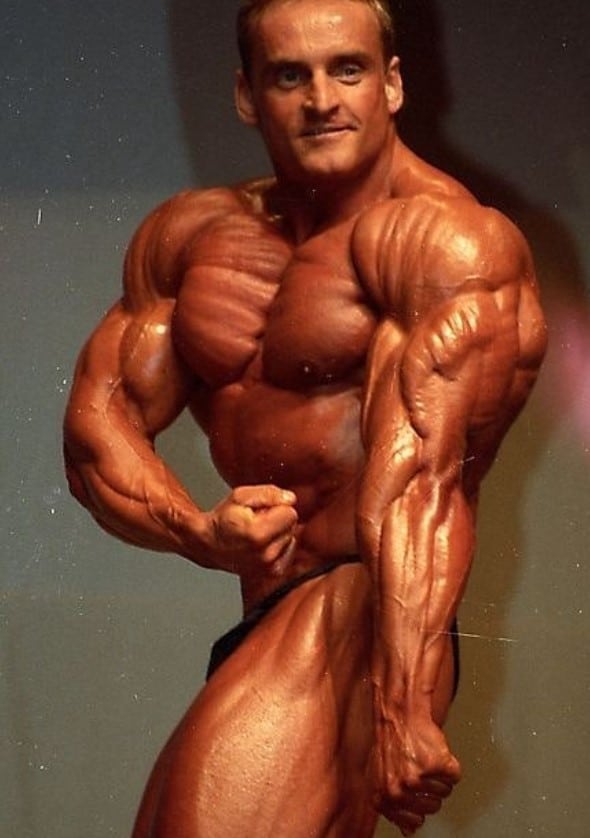 Beginning with his birth on October 25, 1964 in Austria, Andreas Munzer was only in his early 20s when he first took to the stage in 1986 European Amateur Championships, taking 6th in the middleweight class. From there, it took only two years for Munzer to qualify for his IFBB Pro status by taking 3rd at the 1988 World Amateur Championships.
From there, Munzer made his pro debut in 1989, at the Mr. Olympia contest. He unfortunately only took 13th, but this was a good placing for someone that came in with little experience. Keep in mind, he was basically a rookie at this point.
However, Andreas Munzer achieved his first pro victory just a few months after the Olympia, at the 1989 World Games contest. He took first in this contest. Munzer also competed at the 1990 Arnold Classic, where he finished top 3.
It does not stop there, Munzer has a long track record of competitions throughout his lifespan.
Andreas Munzer Competition History
Andreas Munzer has a long list of competitions that he participated in. Those competitions are as follows:
1986 European Amateur Championships (MiddleWeight) – 6th
1987 World Amateur Championships (Light-HeavyWeight) – 3rd
1988 World Amateur Championships (Light-HeavyWeight) – 3rd.                            1989 Mr. Olympia – 13th
1989 World Games (HeavyWeight) – 1st
1990 Arnold Classic – 3rd
1990 Grand Prix Germany – 3rd
1990 Mr. Olympia – 9th
1991 Arnold Classic – 9th
1991 Ironman Pro Invitational – 3rd
1991 Mr. Olympia – 16th
1991 Pittsburgh Pro Invitational – 4th
1993 Arnold Classic – 7th
1993 Grand Prix Germany (2) – 2nd
1993 Grand Prix Germany – 4th
1993 Night of Champions – 2nd
1993 Mr. Olympia – 9th
1994 Arnold Classic – 5th
1994 Grand Prix France – 8th
1994 Grand Prix Germany (2) – 5th
1994 Mr. Olympia – 9th
1995 Arnold Classic – 4th
1996 Arnold Classic – 6th
1996 San Jose Pro Invitational – 7th
Training
When he was two years into bodybuilding, Andreas Munzer realized that his legs were not up to par with the rest of his body, so he trained them with the utmost intensity. His workouts were no joke. He would train heavy, typically doing sets of 6-8 and really pushing on those reps, forcing the muscles to grow. He also would push more reps out if he was training with his partner, doing as many reps as possible (AMRAP).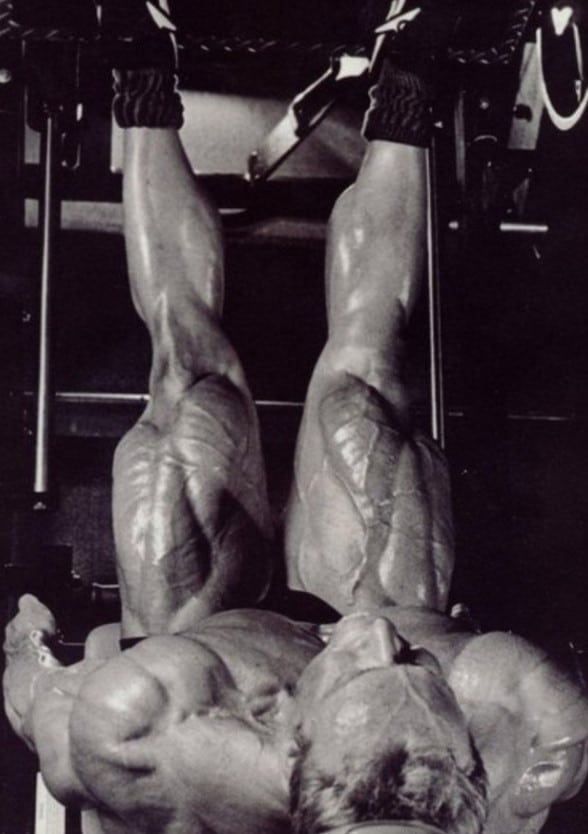 Munzer's intensity with his leg training mimics that of the Quadfather, Tom Platz. Honestly, his leg training really paid off too, as he had some great legs.
Here is Munzer's leg workout:
Squats: 4 sets of 8-12 reps
Hack squats: 4 sets of 8-12 reps
Leg extensions: 4 sets of 8-12* reps
Lunges: 4 sets of 8-12 reps
Lying leg curls: 4 sets of 8-12* reps
Seated leg curls: 4 sets of 8-12* reps
Standing leg curls: 4 sets of 8-12* reps
The approach Munzer took when it came to legs is certainly unique. Today, many bodybuilders separate glutes and hamstrings from quads. Those that throw everything together typically do not do this amount of exercises on their leg day.
Unlike many bodybuilders of today, Munzer brutalized his legs all together; quads, hamstrings, whatever, no part of his lower half was safe on leg day. Many will look at this as overtraining, or "junk volume", but in reality training is very subjective.
Nutrition
Andreas Munzer certainly did not look the way he did without a crazy diet. Munzer had some of the lowest body fat levels of anyone on stage, many say this contributed to his death but that's besides the point.
Anyway, Andreas ate the leanest foods to keep his body fat low. This includes things like turkey, chicken, rice, potatoes, things like that. He did not really go off-diet, staying ripped year round. But if Munzer was staying on diet year round, how did he add any mass?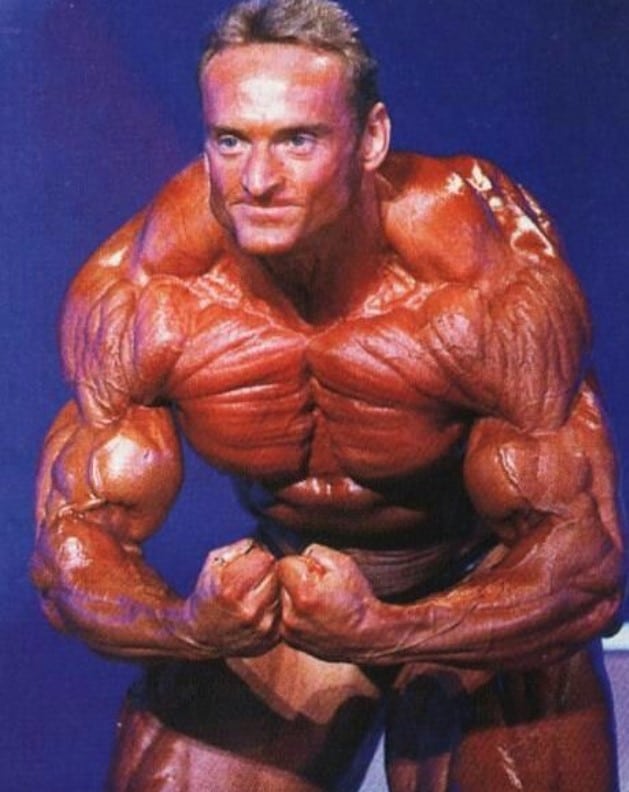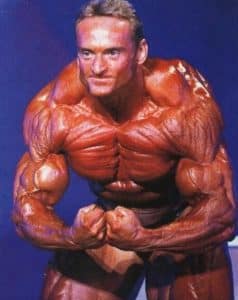 Bulking
In the off-season, on a bulk, Andreas would increase his daily caloric intake to 6,000. That is more than triple the recommended average of 2,000 calories a day. However, Munzer kept these calories clean too, to maintain his lean physique.
Cutting
While Andreas Munzer ate 6,000 calories in the off-season, he cut that down to about 2,000 calories a day when prepping for the show. He would get down to extremely low levels of body fat when it came time to step on stage. He was one of the most ripped bodybuilders on the stage.
Who Influenced Andreas Munzer?
Next, the people who influenced Andreas Munzer, his place of origin plays a big role in this. Andreas Munzer's life was very bodybuilding focused. It is no surprise that he looked up to fellow Austrian bodybuilder, Arnold Schwarzenegger. He actually got to meet his idol at the 1996 Arnold Classic.
Andreas Munzer's Death
The death of Andreas Munzer was nothing short of tragic. For the months leading up to his death, Munzer was having stomach pains. He was eventually rushed to the hospital on the morning of March 12, 1996. From there, at about 7PM the doctors decided to operate, as he was bleeding internally and they were going to attempt to stop it.
When they opened up Munzer, his liver and kidneys failed shortly after. His condition was ruled too severe to treat, and sadly Andreas Munzer passed away on March 14, 1996 of multiple liver failure.
Autopsies revealed that Munzer's heart weighed 636 grams, while the average human heart weights between 300-350 grams. He also had "tennis ball sized" tumors on his liver. It is no secret that pro bodybuilders may use anabolic steroids, but at his time of death Munzer had traces of 20 different drugs in his system at the time.
For more on the death of Andreas Munzer, check this video out from Dr. Thomas O'Connor!
Key Takeaways From Andreas Munzer
All in all, Andreas Munzer was nothing short of unique, and he stood out every time he stepped on stage. Munzer was always bringing an absolutely shredded physique, with unreal mass, and he truly was a phenomenon. He stayed lean year round, dieting nonstop. That requires true dedication.
While Munzer was truly committed to his craft, it ultimately contributed to his loss of life. He stayed focused on his extreme training and dieting year round, but unfortunately gave up health as a result.
In conclusion, this is the reason to always have balance in life, that is the main takeaway. We are not saying to do things half-hearted, that is not ideal at all. Do everything 100%, work hard and devote yourself, but sometimes you need realize you have to take a break from you work.
Overall, if you liked this athlete profile, check out our other athlete profiles here!