Boost antioxidant support, energy, and more with key vitamins and minerals in PRIZM.
Product Overview
As athletes constantly pushing our bodies to the limit, we often neglect the fact that our bodies take more of a beating than we think. Even with a good workout and lifestyle routine, our bodies still suffer deficiencies of vital nutrients and constant wear and tear given our work load. Multivitamin supplements are packed with vitamins and minerals in efforts to restore those lost nutrients while also keeping your levels as high as possible for optimal health and wellness. PRIZM is a super spectrum multivitamin designed to give you all those vitamins and minerals you need with a clean and effective formula.
PRIZM comes from BELDT Labs, a company creating supplements of all kinds to give athletes the chance to maximize their goals and potential. On top of individual products, BELDT Labs also specializes in supplement stacks to pair the right supplements. They also have a clothing and apparel line as well.
Beldt Labs PRIZM is a super spectrum multivitamin complex with 42 different fruits and vegetables to provide the best benefits.
Main Takeaways
Super spectrum multivitamin with powerful health boosting compounds

Packed with the nutrition of 42 different fruits and vegetables that are highly nutritious

Designed for athletes and everyday folks at an affordable price
PRIZM Highlights
PRIZM is a super spectrum multivitamin with a unique design and formulation to answer all your demands. Packed with nutrition of 42 different fruits and vegetables, what you will find is a highly nutritious supplement with powerful health boosting compounds great for athletes, general fitness folks, or those who never step foot in a gym. Benefits of taking this multivitamin include things like better immunity, enhanced cognitive function, potential weight loss, and a healthier lifestyle overall.
With 30 servings per container, and 2 capsules as a serving size, each serving comes out to be $0.99, an affordable price and one that is competitive on the market. With key vitamins and minerals, and a non-GMO formula, this multivitamin has potential to make you feel fantastic overall.
Ingredients
Vitamin A: Works to improve eyesight, cell growth, and can improve immunity (1).
Vitamin C: Best known for enhancing your immune system and can be helpful for stress and anxiety (2).
Vitamin D-3: Great for strengthening bones, boosting immunity, and acting as an anti-inflammatory aid (3).
Vitamin E: Also helpful for vision, but can improve blood, brain, and skin health (4).
Calcium: Important for maintaining healthy bones and works to improve muscle movements (5).
Iron: Helps with hemoglobin formation, body temperature and the proper regulation, and is an oxygen carrier (6).
Zinc: Known for its role in boosting immunity but can also help with hormone production, wound healing, and digestive help (7).
Coenzyme Q10: May help with brain and lung health, may help with infertility, and can regulate blood sugar levels while boosting athletic performance (8).
Inositol: May have great benefits to improving mental health by controlling anxiety and depression (9).
Rutin: Can help strengthen blood vessels and will work to improve circulation (10).
Other Ingredients
Vitamin B-1, Vitamin B-2, Niacin, Vitamin B-6, Folate, Vitamin B-12, Biotin, Pantothenic Acid, Iodine, Magnesium, Selenium, Copper, Manganese, Chromium, Potassium, Choline Bitartrate, Citrus Bioflavonoids 50% Complex, Panax ginseng Powder, Boron, Fruits and Vegetables Blend (see label for complete list), Rice bran oil, gelatin, chlorophyll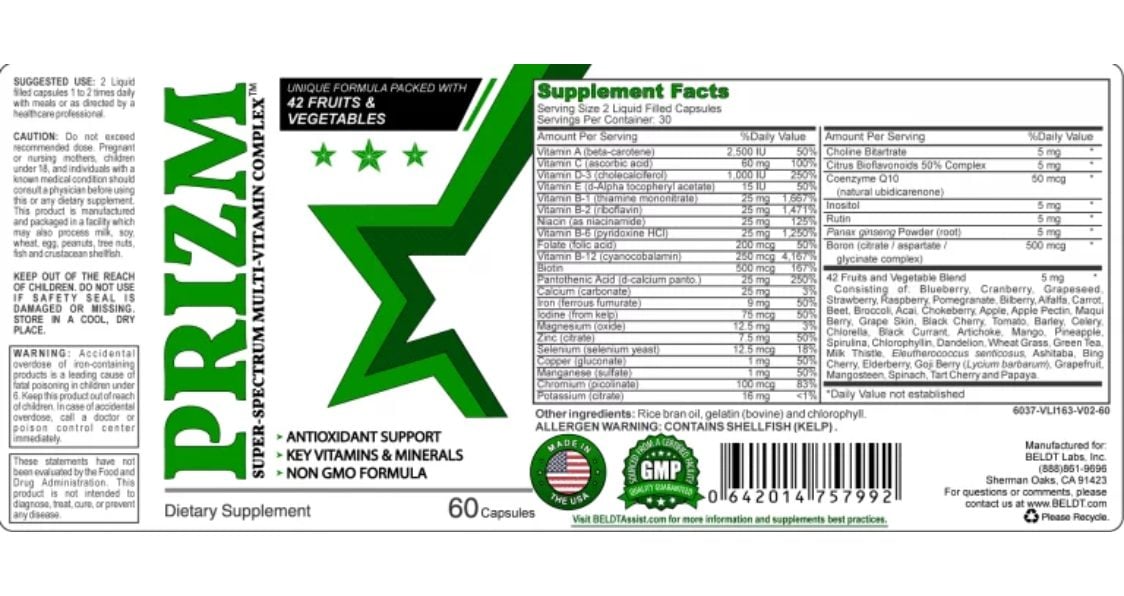 | | |
| --- | --- |
| Number Of Ingredients | 30+ |
| Number of Servings | 30 |
| Serving Size | 2 Liquid Filled Capsules |
| Best Way To Take | Take 2 liquid filled capsules 1 to 2 times daily with meals. |
Price & Effectiveness
PRIZM is a highly nutritious and effective multivitamin supplement designed to give you the best results when it comes to optimizing your overall health and wellness. With 60 capsules per bottle and 2 capsules as a serving size, this supplement will give you 30 servings overall.
Pros
Highly nutritious with nutrition of 42 fruits and vegetables
Non-GMO formula
Great benefits for things like immunity, cognitive function, and overall wellness
Great for athletes and non-athletes
Cons
Price: $29.00
What To Consider Before Buying
Before buying any multivitamin supplement there are some key factors to consider. In our minds, PRIZM covers these bases below:
Ingredients: When it comes to the key vitamins and minerals you need, your multivitamin should include all of them and then some. Our bodies need plenty of nutrients to thrive and without certain key ones, it can lead to a deficiency and hurt overall gains.
Results: You want any supplement you take to yield results. This comes from a well-researched formula and top of the line ingredients. Judging by PRIZM's customer reviews, the results speak for themselves.
Price: Supplements can get expensive, but it is possible to find a quality product at a reasonable price. The price per serving is a key number to compare to for this is really what you are paying for.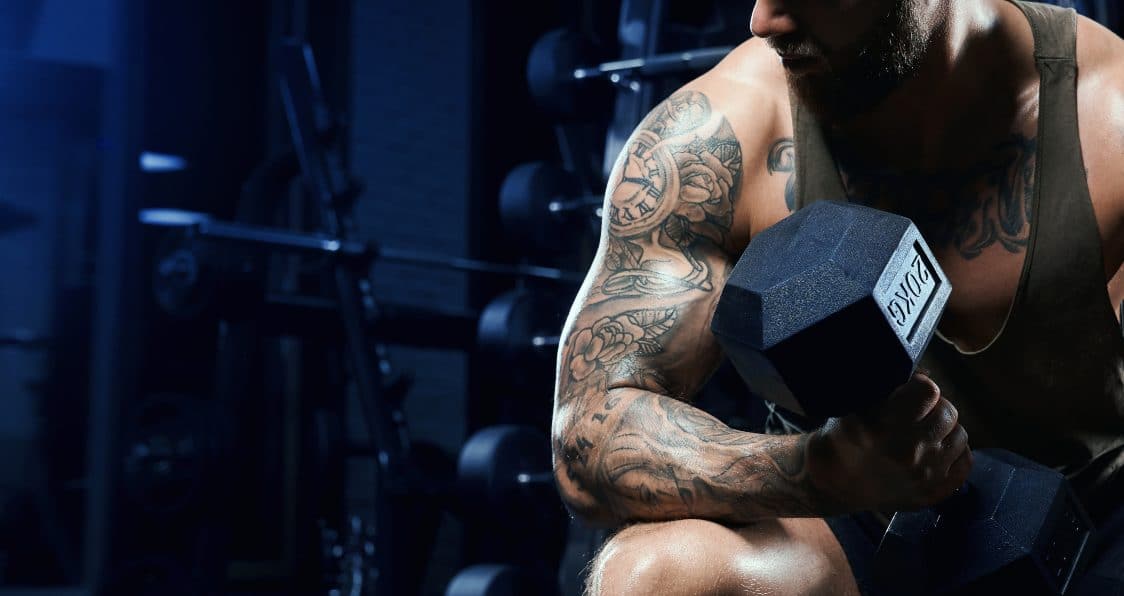 Who Should Buy & Who Shouldn't Buy
Who Should Buy: Anyone looking for a highly nutritious and unique multivitamin to support their daily needs. Everyone from athletes to general fitness folks can benefit from PRIZM.
Who Shouldn't Buy: Anyone stuck in their ways and forever tied to their favorite supplement company.
How Best To Use PRIZM
It is best to use PRIZM by taking 2 liquid filled capsules 1 to 2 times daily with meals. With further questions on taking supplements, it is also advised to talk with a healthcare professional for more in-depth information.
---
Check out our list of the Best Multivitamins for more great health and wellness products!
---
Overall Value
PRIZM is that multivitamin supplement that may yield great results and give you what you want most when it comes to improving your overall health and wellness. BELDT Labs is used to creating premium supplements to improve the lives of both athletes and non-athletes and knows what it takes to succeed. What you are really getting is a high-quality multivitamin supplement with nutrition of 42 fruits and vegetables, a unique formula, and a great price. Try PRIZM today and enhance your health, and ultimately, your performance.
---
Generation Iron may receive commissions on purchases made through our links. See our disclosure page for more information.
Let us know what you think in the comments below. Also, be sure to follow Generation Iron on Facebook, Twitter, and Instagram. 
*Images courtesy of BELDT Labs and Envato
References