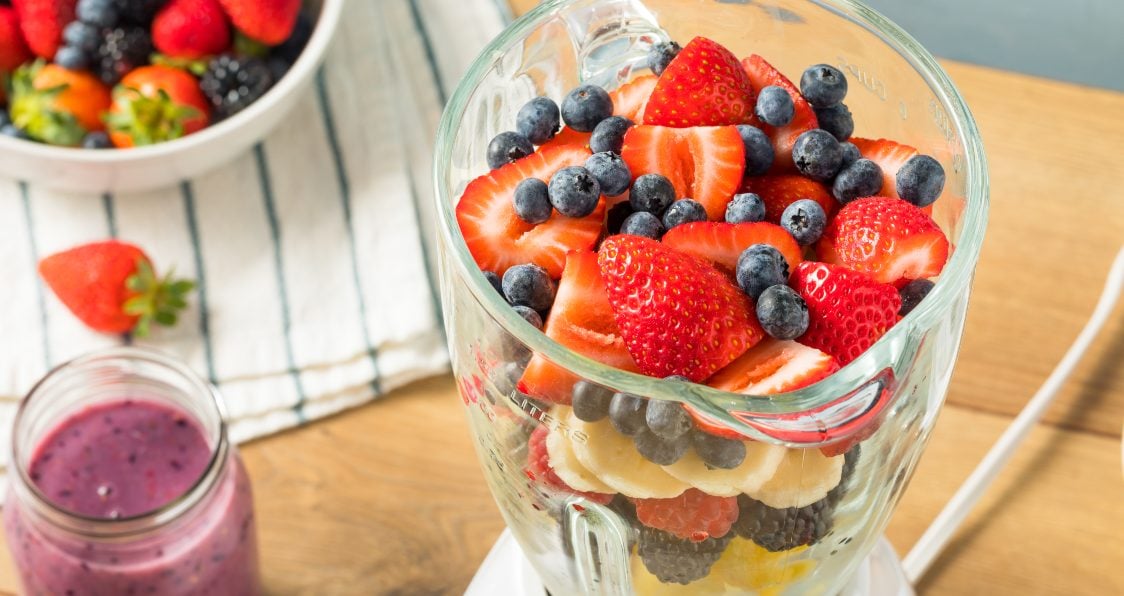 The best personal blender for protein shakes can influence your bodybuilding goals for the better as you look for the best bodybuilding blender to maximize your gains.
Choosing the right blender can be extremely difficult for many reasons. Cheap blenders can be $20 while high-end models run anywhere from $2,000 to $4,000. But not every blender has the same features, or is as good at the same thing. Blenders vary on everything from height and weight to controls, to engine power to type of rotary blade. There's an overwhelming amount of factors to consider, so, if you're having trouble, let us break it down for you so you can maximize growth and recovery.
We've put together a list of the Best Personal Blenders for 2021 so you can make the best protein shake and get the most out of your bodybuilding goals. The right blender will allow for serious gains and the right nutrients to hit your body as best they can.
Best Personal Blenders For 2021
---
Best Blender Overall
The best blender overall will work to create the best smoothies or desired beverage with power and quality while being at an affordable price to not totally break the bank.
Ninja Personal Blender
Ninja Personal Blender is a powerful 700-watt blender with pulse technology designed to extract all nutrients from whole fruits and vegetables. For those frozen blending needs, this can crush through ice and frozen fruit with ease to add a nice chill to your smoothie or desired beverage. This blender set comes with 2 16-oz. cups, 2 sip and seal lids, and a 30 recipe inspiration guide so you can experiment and try many smoothies that you may thoroughly enjoy. Dishwasher and a high-quality blender, this is perfect for all your needs.
Ninja Personal Blender is a powerful 700-watt blender perfect for blending your desired beverage while extracting all those key nutrients.
Pros
700 watt provides for great power and blending
Dishwasher safe and easy to clean and use
Plastic cups it comes with are durable and perfect additions to this blender
Cons
If overused, may need new blades sooner than expected
Price: $49.99
---
Best Bodybuilding Blender
Bodybuilders need a quality blender for those post-workout routines as they seek the best nutrients possible to build that shredded and desired physique.
Cincred Personal Countertop Blender
The Cincred is an affordable option that is just as portable and easy-to-use despite being available at a much lower price point. This is definitely the most budget-friendly option for those of you who aren't looking to spend too much money on a personal blender for protein shakes. This protein shake blender has high consumer reviews and is widely praised for its ability to chop ice, coffee beans, and recently thawed frozen veggies and ingredients without stalling or breaking down like cheaper models which suffer from too much blending. It's the most effective blender for protein shakes in the most affordable bracket.
Cincred Personal Countertop Blender is affordable and portable able to blend any ingredients into a great shake.
Pros
Offers a big serving of smoothies perfect for snacks or meals
Very convenient to use and take on the go
Easy to clean for hassle free clean-up
Cons
May not be great at blending very dense things at once
May leak if the lid is not properly adjusted and it can be hard to adjust
Price: $29.99
---
Best Portable Blender For Protein Shakes
A portable blender can be taken anywhere so you can have accessible protein shakes to maximize growth and recovery without the fear of missing out on key nutrients.
La Reveuse Personal Size Blender
The La Reveuse is a 250-watt personal blender that has the horsepower and level of blades necessary to chop, blend, mix, grate, grind, and even purée making this a top choice for best blender. It's great for blending smoothies, shakes, and protein mixes with other ingredients. The design of the La Reveuse is extremely easy to use and the bowl easily detaches to become a cup. It comes with an extra mug for those of you looking to drink your protein shake or smoothie around the house.
La Reveuse Personal Size Blender is a 250-watt blender with great blades able to chop, blend, grind, and puree anything you want with ease.
Pros
Powerful and compact while being easy to use
Decent amount of watts for certain beverages
Durable and reasonably priced
Cons
It could have more watts compared to others on the market
Price: $29.99
---
Best Personal Shake Blender
A personal shake can greatly influence gains and having a great grab-and-go option will most certainly help with all those bodybuilding and other sport performance needs.
NOW Sports Nutrition Personal Blender
NOW Sports is known for supplying some high quality supplements in the bodybuilding industry, but their domain also includes equipment like personal blenders. The NOW Sports Personal blender is GMP-quality assured, meaning the blender has excellent durability and material for high quality and is unlikely to break or stall even during heavy use making this a top choice for best blender. It has three speeds and a powerful 300-watt motor — one of the highest levels of horsepower on this list to make the best protein shake with great blending.
NOW Sports Nutrition Personal Blender is a high-quality and durable blender great for heavy use and protein blending.
Pros
Works well for blending and is reasonably powerful
Good durability and can handle heavy use
Easy to use and easy to clean
Cons
300 watts could be more compared to others for blending capabilities
The rubber gasket/seal may not be as secure as it should be
Price: $24.95
---
Best Protein Blender
A blender to pump you with protein for whatever beverage you choose will help keep you full and aid in growth and recovery, vital components to increased gains and weight loss.
La Reveuse Smoothies Blender
The larger model of the La Reveuse has a 300-watt motor and 4-pronged stainless steel blades. It's a great choice for those of you who tend to gulp down massive protein shakes in the morning or a protein shake before bed. It's also 3 pounds, which is on the heavy side for a smaller blender designed to be carried with you. However, it's extremely efficient, has high horse power, and can easily blend and purée tough materials like ice and coffee beans to save you time and make a large and simple shake for performance.
La Reveuse Smoothies Blender is a 300-watt motor with 4-pronged stainless steel blades for easy blending and great shakes.
Pros
Decent power and 4-pronged blades are perfect for easy blending
Good size and doesn't take up too much space
Great for blending protein and those who make protein shakes often
Cons
Some durability concerns with the twist and locking in portion before use
Price: $23.99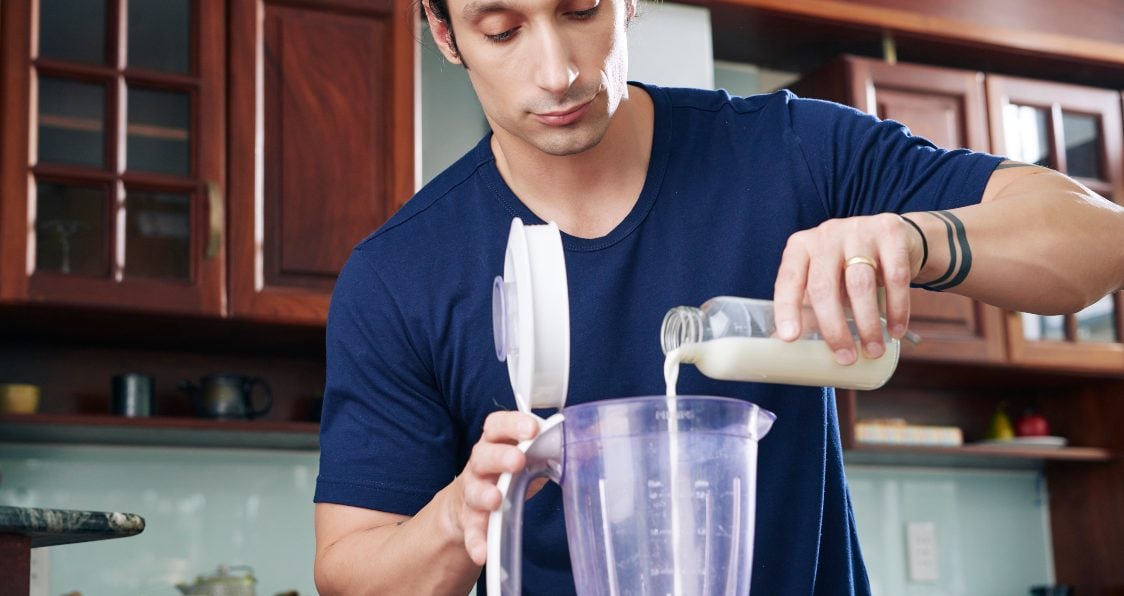 Benefits Of Personal Blenders
The benefits of the best portable blender for protein shakes can greatly affect your bodybuilding goals and allow for those vital nutrients to hit you easier with a great smoothie or shake. The benefits of a personal blender include:
Makes great smoothies and shakes: With awesome blending abilities, these can mix a great shake in no time for a delicious meal or snack.
Maintains nutrients: This won't get rid of any of the vital nutrients you add. It will only blend them together in a tasty way.
Easy to use: Blenders are easy to use and easy to clean to make your life and simple as possible.
Quick and efficient blending: The right blender will work to mix all of your ingredients well to avoid clumping.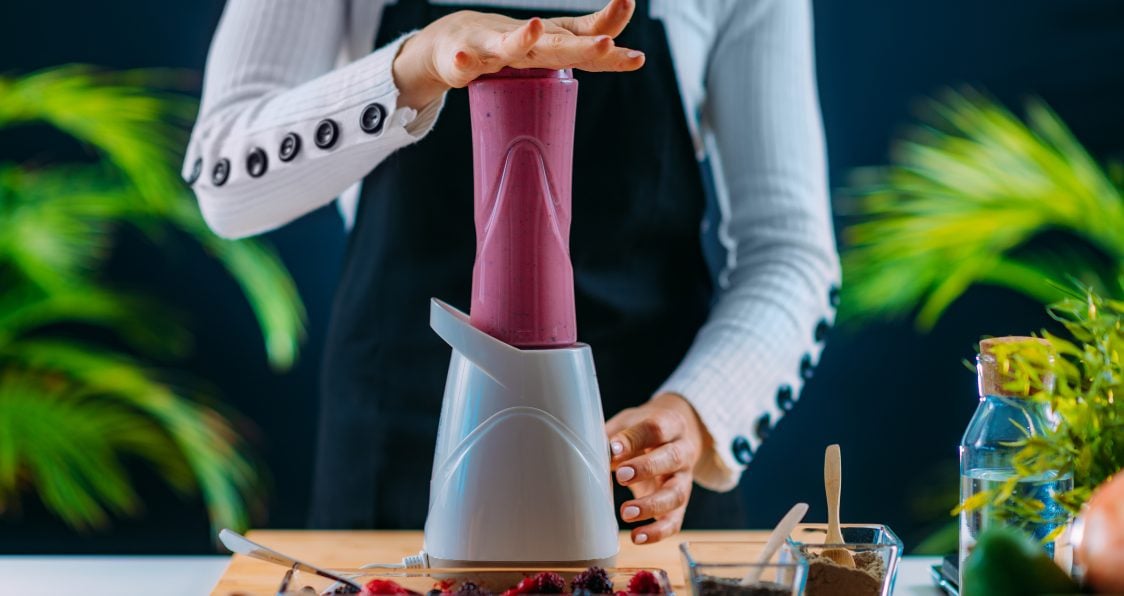 How We Choose The Best Bodybuilding Blender
Our editorial team used five key factors to help determine which blender works best for athletes, or even just anyone looking to have a high-powered blender that gets the job done in the kitchen. Our lineup of blenders was evaluated on the basis of value, durability, horsepower, variety of function, and design. Here's how we applied those terms:
Value: We determined the value of the best protein blenders by weighing its price against its variety of features. This means that the cheapest blender won't outrank the most expensive blender just because it technically costs the least so for those on a budget, that is something to consider. Each blender's price is carefully weighed against the number of features it has and how well people who own the blender say it works.
Durability: A common complaint about the best protein blenders, especially cheap models, is that they break easily. Blenders were also ranked on their durability because you don't just want a product that works, you want a product that lasts.
Horsepower: Probably the most obvious factor in your blender decision is the horsepower, which is the literal power the blender engine has to do things like crush, cream, mix, and purée. Obviously, having a higher horsepower is more desirable in a blender for convenience and time.
Variety of Function: How many things can your blender do? Basic models can probably crush ice and make a lumpy smoothie. But there are lots of blenders that have many functions and can do incredible things, like mill grains to your exact specifications, or create homemade butters, jams, and sauces.
Design: Finally, how easy is it to use your blender? Does the lid stay firmly on while you're using it? Is it easy to empty the bowl when you're done? The physical design of a blender is obviously important because using a poorly designed blender is extremely frustrating.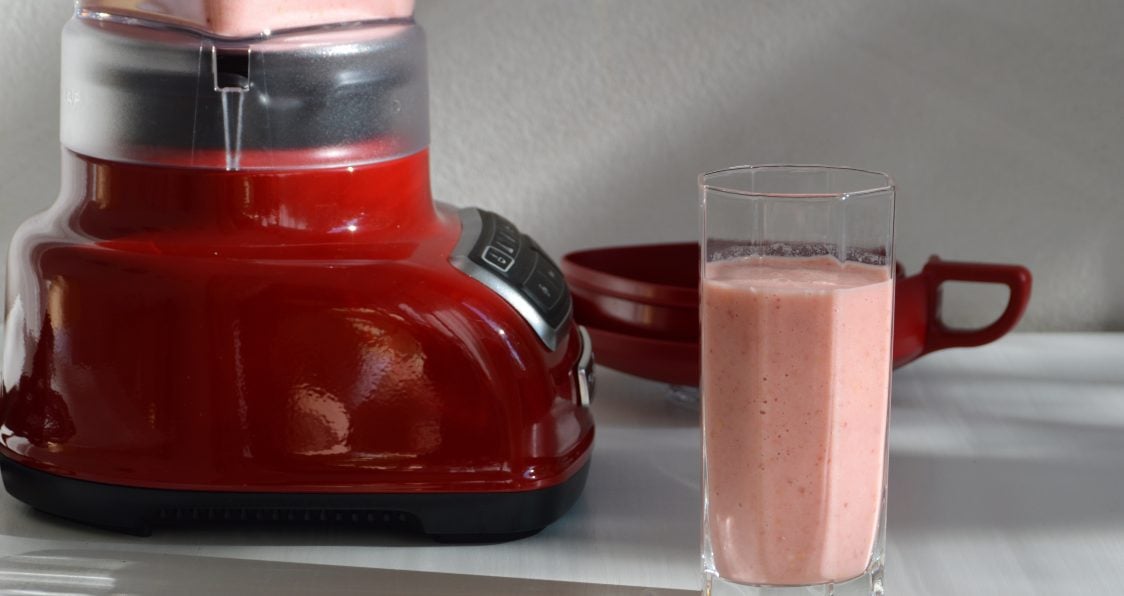 FAQ Section
What is the best blender?
Ninja Personal Blender. This is a powerful 700-watt blender with pulse technology designed to extract all nutrients from whole fruits and vegetables. For those frozen blending needs, this can crush through ice and frozen fruit with ease to add a nice chill to your smoothie or desired beverage making this the best protein blender and most powerful personal blender.
What is the difference between a personal blender and a shaker bottle?
A shaker bottle is great for those on-the-go needs to quickly mix a protein shake or other supplements for easy nutrient access. A personal blender allows you to add fruit and other foods so you get a smooth and creamy shake for any occasion.
Are blenders easy to clean?
Blenders are relatively easy to clean, but it is important to make sure the blade comes off easily. Also, some blenders are dishwasher safe to make cleaning as easy as possible.
Wrap Up
The best personal blender for bodybuilding and protein shakes can greatly influence your gains and work to give you all those vital nutrients in a delicious way. By working with the most powerful personal blender, and one that you can easily use and clean, your gains are sure to happen in no time with a quality smoothie or shake. Check out our list of the best blenders above and see what these amazing products can do for you.
---
Generation Iron may receive commissions on purchases made through our links. See our disclosure page for more information.
Let us know what you think in the comments below. Also, be sure to follow Generation Iron on Facebook, Twitter, and Instagram.