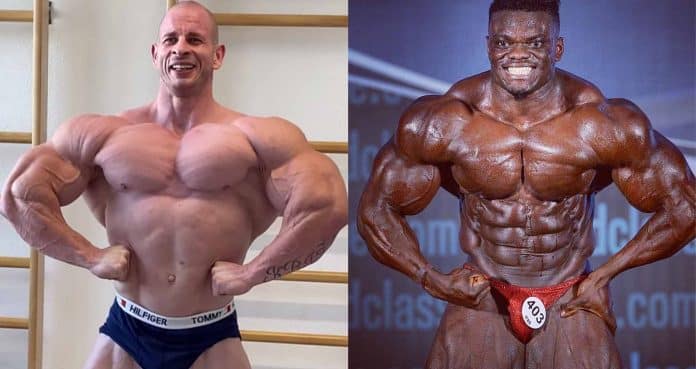 Blessing Awodibu fires up another rivalry. This time with hyped competitor Michal Krizo… and he has no qualms firing back.
Michal Krizo is days away from his first NPC Amateur competition where he aims to earn his IFBB Pro card. After this, he hopes to fast track his way into Olympia qualification in time for this December. But it looks like pro bodybuilder Blessing Awodibu is willing to get under Krizo's skin just before he finally competes. Awodibu, who is no stranger of creating excitement through rivalries, has taken shots to Krizo's original statements. Michal Krizo quickly fired back – calling Awodibu a clown.
Micahl Krizo's rise in popularity is truly an interesting one. Rarely have we seen an amateur bodybuilder build this much attention before going pro – let alone before stepping on stage at a major show such as the New York Pro, Arnold Classic, or Mr. Olympia. Krizo's physique first started turning heads while he was still competing in the IFBB Elite Pro bodybuilding league. Quickly comparisons were made to IFBB Pro competitors. Many wondered – how will Krizo stack up against the best of the best at a show like Mr. Olympia?
Now bodybuilding fans will no longer have to wonder – as it seems Michal Krizo is set on making his way into the IFBB Pro league after dropping from the IFBB Elite Pro. Not only that – but he is dead set on making it into this year's Mr. Olympia. If that fails, we shall certainly see him on the Olympia stage in 2023.
However, often outspoken pro bodybuilder Blessing Awodibu doesn't want Krizo to get ahead of himself. While he thinks Michal Krizo is "awesome," Awodibu still believes Krizo has work to do before he can earn the hype that is being placed on him.
After an initial video where Michal Krizo reflected on a time he competed against Blessing Awodibu in 2017, it now seems like the gloves are off and a new rivalry is being born.
Blessing Awodibu and Michal Krizo trade barbs as a rivarly takes shape
After Michal Krizo spoke bluntly about his experience competing against Blessing Awodibu, it appears that Awodibu saw the video himself. He had no qualms commenting directly on the situation – in the comments of the video itself. You can see his full comment here:
"Haha good memory but don't start talking smack, you didn't beat me and you will never beat me lol . I'll give you some advice though, for you to win or place top 3 in any big IFBB pro League shows, you will win small europeans shows no problem but to do well here in the US,

you need a better midsection, better back & crazy condition, big arms n round shoulders isn't enough. You awesome though n hopefully one day we'll be on that stage again together. "

– Blessing Awodibu
While Awodibu didnt get too harsh in his comment, he does claim that Michal Krizo has some work to do if he really wants to place top 3 at a major IFBB Pro show. It seems Krizo has no issue being blunt in his comments as well. In a recent training and posing video, Krizo reacted directly to Awodibu's comment:
"He's gotta be watching then. He's afraid I'll whoop his ass. What a clown with those pencil legs. He might be up for a surprise… Tell Blessing that while he was making a clown of himself on the internet, I won the Arnold Classic five times."

– Michal Krizo
Clearly, Michal Krizo is more than willing to crank up the heat on this rivalry. He claims here that Awodibu's comments come from him being afraid to compete and lose against Krizo. He also insults Awodibu's leg development and throws in a few insulting "clown" comments for good measure.
Krizo also wants to make it clear that he can back up his words with a physique that will impress:
"They're all only seeing photos. They haven't seen the real me. Cutler and Sarcev have seen it. It's something else. Even when I take a picture and post it and then while I look in the mirror, the picture isn't even 50 percent. I look fat in those pictures."

– Michal Krizo
Michal Krizo is referring to recent comments Jay Cutler has made after meeting and watching Krizo pose in person. Krizo is right that photos are vastly different than seeing a physique up close and in person. However, Blessing Awodibu also has a point. Krizo has yet to compete in an IFBB Pro competition. We have not seen him stand side by side with the best the IFBB Pro has to offer. That also makes a world of difference.
While Michal Krizo and Blessing Awodibu have specifically faced against each other in the past, that was nearly five years ago in 2022. A lot has changed. We hope to one day see these two athletes face off side by side. With the rising heat solidifying into a rivalry – it bodybuilding pose down clash will be truly exciting indeed.
You can watch Michal Krizo's latest video, where he responds to Blessing Awodibu's comments, right here:
Make sure to stay tuned to the Generation Iron Fitness Network for more updates on this budding rivalry as well as other news and updates for all things bodybuilding, fitness, and strength sports.