Calum Von Moger competes at NPC Universe 2020 and wins. Earns IFBB pro card.
For bodybuilder Calum Von Moger, the journey to becoming an IFBB Pro has been a long journey filled with hurdles and setbacks. But now, finally, Calum von Moger has entered the ranks of the IFBB with a big win at the NPC Universe 2020 in the Classic Physique division. Known for his incredible physique and often called Arnold 2.0 – this can be a huge shake up for the future of the Classic Physique division.
The Australian bodybuilder and actor previously won the WFF Mr. Universe title in 2015 and began his competitive journey in the NPC in 2016. He won the 2016 NPC Irongames Championships and later faced two serious injuries that took him off the competitive stage for some time. First a bicep tear in 2017 due to a lift gone wrong, followed by a rock climbing accident which ruptured his quadricep tendon injuring his knee. He detailed the extent of his injuries to Generation Iron after the accident.
This left Calum Von Moger off of the bodybuilding stage for quite a while. His comeback was well documented in his life story film Calum Von Moger: Unbroken. After the film's release, he continued to show improvements and recover while he played roles in film's like 'Bigger' and participated in a Gucci PreFall Campaign.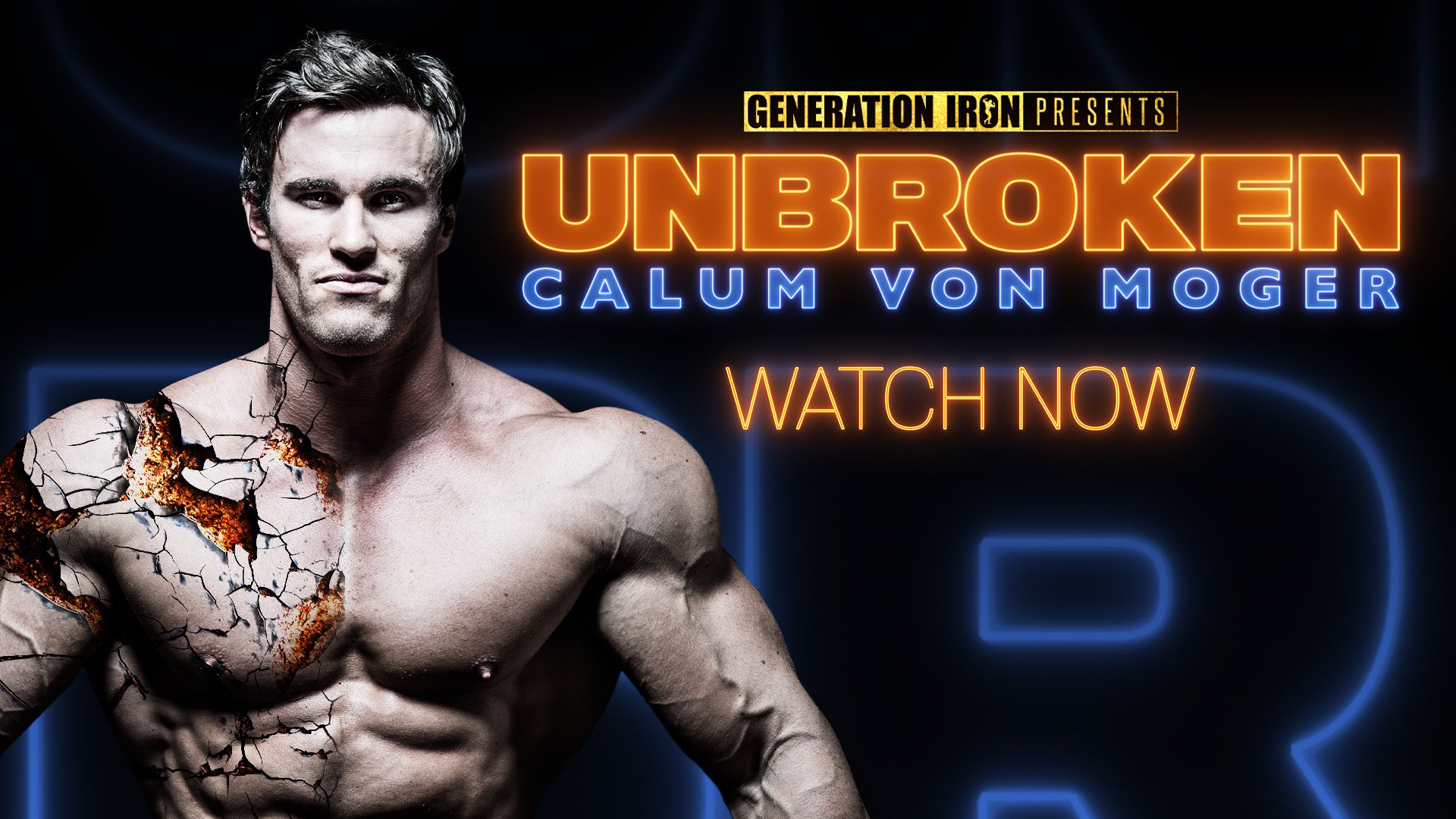 Then the pandemic happened. This caused many bodybuilding events to be cancelled or postponed. On top of that, gyms were closed leaving many athletes no place to train and prep for competitions.
Eventually the bodybuilding world started to learn how to move forward with bodybuilding and strength sports events in a safe manner during the pandemic. Calum Von Moger confirmed exclusively with Generation Iron he was preparing to compete at the NPC Universe November 12-14, 2020 in Charleston, South Carolina.
That takes us to today, where Calum Von Moger looked impressive in early call outs and earned a first place victory in the Classic Physique division. This earned him his pro card, bringing him into the ranks of the IFBB. Under trainer Eric DiLauro, Calum tells Generation Iron that he has been able to get his diet right and learn as much as possible about his body throughout the course of the last 4 years. Calum von Moger's training program has kept him in the best shape possible and ready for the next level to compete on the IFBB Pro bodybuilding stage.
What kind of implications this will have for the Classic Physique division as a whole is currently unknown. But Calum Von Moger has informed us that he is intent on competing again in the near future. He is an athlete that has been known for his classic physique well before the division even existed. Von Moger was, in fact, part of a collection of athletes used as an example of what many fans wanted to see in physiques on the stage. This eventually led to the creation of the Classic Physique division as we know it.
Will we one day see Calum Von Moger as the Classic Physique Olympia champion? Only time will tell. But he is certainly a fan favorite. From what we've seen from Calum in years past even off the stage – we can expect him to be a true threat to the top athletes such as Chris Bumstead and Breon Ansley.
For now we'll simply have to wait to see what his first pro show will be. Management confirms Calum will compete in 2021. Will we see him on the Olympia stage? Until then, we'll continue to give you updates and coverage on Calum's progress moving forward.