Is this Dexter Jackson's final chance to win a major title?
Former Olympia champion, Dexter Jackson, is truly an enigma. Compared to his contemporaries he's a bit up there in age. It's not every day that you see 45 year old bodybuilder's ranking in the top ten of the major events. But despite his age, his physique is still admired by many fans and athletes alike. Perhaps he has only one Olympia championship under his belt, but Jackson is still considered a legend in the sport and one of the greatest bodybuilders to ever grace the posing stage. If you look at his current run of competitions throughout 2014 – you'll find that time has had no effect on his ability to land in the top tier at many all star competitions.
His genetic potential and natural talent all came together in 2008 when he wrested the title from then champ Jay Cutler. Jackson's shredded physique couldn't be ignored by the judges that year and he was awarded the biggest win of his career. Cutler would go on to reclaim the title in the following year, but that was more a testament to Cutler's will to get back into top form, than Jackson falling off his game.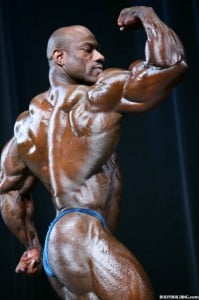 Nevertheless, the Blade also won other big competitions other than the Olympia, namely the Arnold Classic. The competitors listing for the 2015 Arnold Classic was just recently released and from the looks of things, Jackson has a good chance at taking home the gold. Winning four Arnold Classic titles in his career has tied him with bodybuilding great Flex Wheeler for the most wins at the prestigious event. With talk of retirement looming in his recent interviews you have to wonder – will this be Jackson's final chance to make history? Surely Flex Wheeler won't be taking home an Arnold Classic trophy again, so the only battle that Dexter Jackson has to face is between himself and a slew of the younger competitors (who won't be breaking the record – but have a chance of taking it away from "The Blade").
At this point, winning the Olympia seems like a pipe dream, though that doesn't mean he won't try. With many notables missing from the Arnold Classic competitors list, it means Jackson has a real chance to take first place and go down in history as the only five time winner. From how things sound Dexter is fired up and is looking to take out the competition. He's looking to make history and break records and after all, isn't that why we're fans of the sport in the first place?
But then again, who knows – Dexter Jackson seems to have found the fountain of youth. Even if he can't find victory in 2015, who's to say he won't come back in 2016 even stronger?
.
Do you think Dexter will win his fifth Arnold Classic title? Let us know in the comments below and be sure to follow us on Facebook and Twitter.