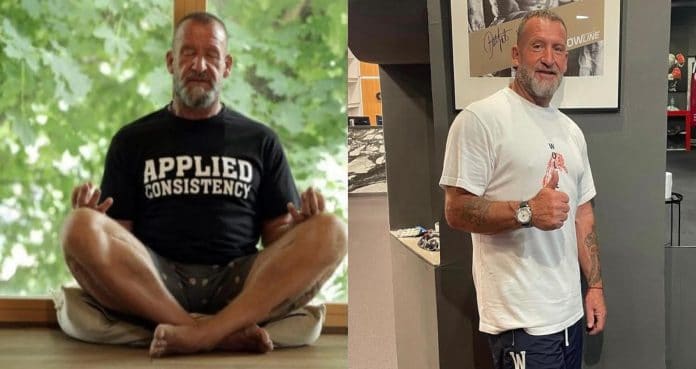 Dorian Yates admits that his psychedelic experience on DMT was "life-changing."
Dorian Yates is a pioneer in bodybuilding for creating a new meaning for the term "mass monster." Today, there is size all over Men's Open but Yates was one of the first to bring that different level of size and conditioning. He remains influential in the sport but recently shared a post on social media in a different avenue. Yates explained his "life-changing" experiences while using Dimethyltryptamine.
Yates decided to share what he felt, along with a picture of a picture of his intense back tattoo. In a recent Instagram post, Yates explained his psychedelic experiences while on DMT. He claims that he has "a new perspective on life."
"My first time taking DMT gave me a new perspective on life.

I felt like I had all the answers, that there was nothing to stress about.

That there was no death, no end and no beginning, that life is just a game that we're all playing."
View this post on Instagram
Dorian Yates continued in his caption discussing how this experience changed his views on life and what he saw during this time.
"No need to take it so seriously.

I was able to see through the machine of reality.

It's like seeing through a computer's code and you see all these numbers.

I saw numbers and geometric shapes, like I was seeing the construct of what's behind our reality.

Psychedelics can be powerful, life changing medicines but of course, must be taken under supervision."
Dorian Yates: The Original Mass Monster
Dorian Yates was the topic of the Generation Iron film Dorian Yates: The Original Mass Monster. He was able to achieve the highest level of success during his time on the bodybuilding stage because of this mass.
There are only four competitors ahead of Yates when discussing the most Olympia victories of all-time. He was able to win six consecutive titles from 1992-1997 and completely dominate the sport. While the entire package was elite, Yates became known for his massive back at his peak.
What we have seen from this Instagram post is that Dorian Yates is enjoying his retirement in many ways. He has taken on psychedelics and believes that they can be used to clear your mind and give a new outlook on life.
For more news and updates, follow Generation Iron on Facebook, Twitter, and Instagram.