Eddie Hall and Hafthor Bjornsson have both gone through serious physique transformations.
Hafthor Bjornsson and Eddie Hall have a long history that could finally come to a head in 2022. Both athletes made a name for themselves as powerlifters and saw plenty of each other during their peak. Now, Hall and Bjornsson have made the transition to boxing but have been unable to face each other. That could change in 2022 if both fighters remain healthy.
This was the problem in September. The two were set to meet but Hall suffered a triceps injury that forced him to back out. Now, the two sides are negotiating to fight sometime early next year.
This is a feud that has been present for years. Hall won the 2017 World's Strongest Man competition with Bjornsson finishing second. The very next year, after three runner-up finishes, Bjornsson was able to take the title from Hall. In 2016, Hall became the first person ever to deadlift 500kg (1,102lb). None other than Hafthor Bjornsson topped this world record by a single kilogram in 2020.
To go from strongman rivals to boxing rivals was an easy transition. The overall physique transformations that both athletes have gone through took a bit more work. They are eye-opening and impressive in their own ways. The question is — who has gone through the better transformation in 2021?
Eddie Hall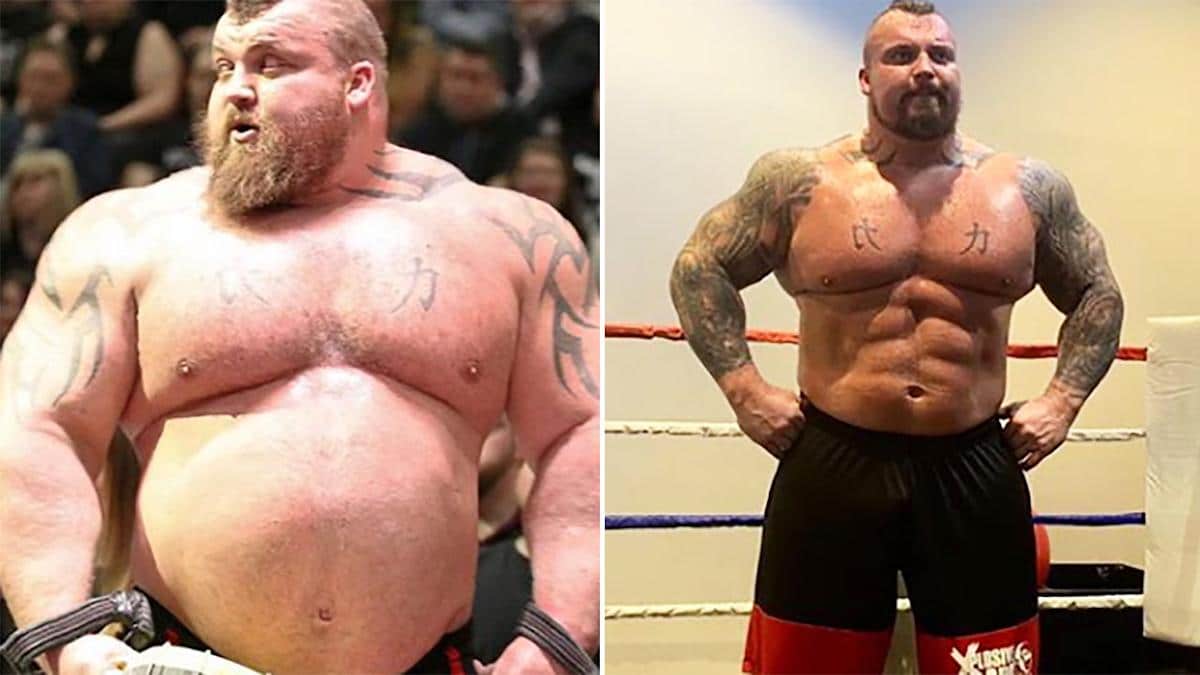 Strongman athletes are a different breed. The strength they display is other worldly and this is why they must keep on the weight and take in a hefty amount of calories. For Eddie Hall, his meals would total around 12,000 calories when he was lifting competitively.
Hall admits to eating many times throughout the day and even adding some extra at night to make the calorie intake necessary to obtain strength. This is the biggest difference since transitioning to boxing. Hall now consumes around 6,000 calories, which is half of what he used to do. This includes anywhere from five or more protein shakes per day.
Hall has lost nearly 100 pounds since focusing on his boxing career. His tricep injury did not help but he quickly returned to training with his other arm. Hall begins his day with a mile and a half, run or walk, in the morning before he hits the ring for training. His overall passion for boxing and dedication to get in the ring has been incredible and makes for an exciting year in 2022.
Unlike Bjornsson, Eddie Hall has not stepped in the ring just yet. He has not appeared in any exhibition bouts and does not plan to at the moment. His September fight with Bjornsson was set to be the first of his career. It still will be but just a few months later. The work and overall transformation that Hall has made is as impressive as it gets.
Hafthor Bjornsson
Hafthor Bjornsson is called "The Mountain" and for good reason. He is a former World's Strongest Man champion who also has three Arnold Strongman Classic victories. Bjornsson even appeared on "Game Of Thrones" starring as big beast because of his incredible size. Since moving to the boxing ring, Bjornsson has slimmed down significantly and is as shredded as ever.
Bjornsson's most recent fight came against Devon Larratt, who stepped in for Hall following his injury. The 6-foot-9 athlete entered the fight around 328 pounds. This was significantly less than the 450-pound mark that Bjornsson would remain at when lifting competitively.
While lifting, Bjornsson would eat up to seven meals a day that totaled around 10,000 calories. Since making the transition to boxing, Bjornsson has cut down to about 3,000 calories and four or five meals. Training has also changed as he was lifting heavy for fewer reps leading up to a competition. In the offseason, Bjornsson would add more reps to his sets.
Now, Hafthor Bjornsson has been focusing on boxing technique and endurance. This is necessary to last in the ring for the duration of a fight. This includes little to no weight training. Bjornsson focuses on his work in the ring while still performing push-ups and sit-ups.
Hafthor Bjornsson completed two exhibition fights against Steven Ward and Simon Vallily before taking on Larratt in his first professional fight. Bjornsson is now 1-0 in his career with his next fight looking like it will be against Hall in 2022.
Who is the winner?
So who has had the best transformation in 2021?
Both Eddie Hall and Hafthor Bjornsson have made incredible progress and looking shredded in preparation for their boxing match. What we do know is that both fighters will be ready after months of tension building up.
View this post on Instagram
View this post on Instagram
For more news and updates, follow Generation Iron on Facebook, Twitter, and Instagram.