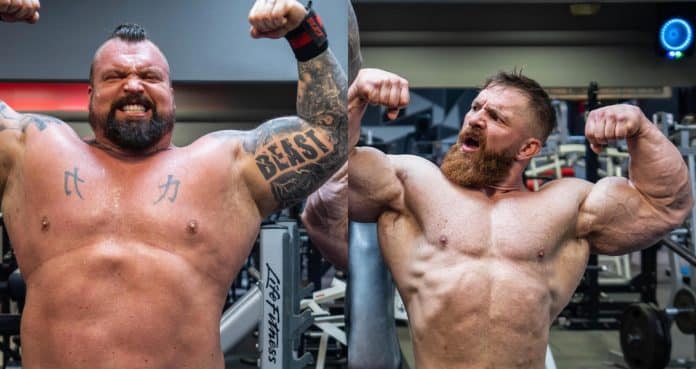 Flex Lewis shared many tricks of the trade during an arm workout with Eddie Hall.
Eddie Hall is a legend in Strongman and has his sights set on making a switch to bodybuilding. The overall training is very different when the crossover is made. During a recent arm workout, Eddie Hall joined 212 bodybuilding legend Flex Lewis.
This would not be the first jump that Hall has made. He also transitioned into boxing with an epic rivalry face-off against Hafthor Bjornsson. As he trained to take on Bjornsson, Hall went through a complete physique transformation and was able to lose a significant amount of weight. Now, that will be the goal once again as Hall wants to hit the bodybuilding stage.
Lewis enjoyed great success on stage during his career that spanned over a decade. He was at the top of 212, winning seven consecutive titles before calling it a career. In retirement, Lewis remains active in the fitness world. He opened Dragon's Lair Gym in Las Vegas and has a successful podcast.
READ MORE: Flex Lewis Hints At Return If Price Is Right: "It Has To Be A Seven-Figure Draw"
Lewis hinted at a comeback to the stage if the pice is right but there are no plans as of now. On the other hand, Hall has made his goals clear moving forward and recently joined a legend for a bodybuilding workout.
View this post on Instagram
Flex Lewis & Eddie Hall Arm Workout
Cable Triceps Pushdown
The workout began with cable triceps pushdowns. This was a mix of biceps and triceps over the course of four exercises. Throughout the video, Flex Lewis would give tips to both Eddie Hall and the viewers.
"Whatever you go from there, you already for 300-400 reps. F**k, I don't care who it is. I've trained with Brian Shaw, a lot of strongmen. It's just a different style of training," Lewis said.
RELATED: Eddie Hall Hints At First Bodybuilding Show
Incline Dumbbell Skull Crushers
The second exercise of the day was incline dumbbell skull crushers. The use of dumbbells will work different parts of the upper body during the workout as opposed to a barbell. Lewis wanted Hall to focus on the stretch while in a neutral grip.
"Try and get your neutral grip and fire in a really good stretch. I come off my shoulders but start off with the front delts but then gradually take it as far back as you can."
View this post on Instagram
Machine Tricep Extension
There was one final tricep workout in the exercise and it was machine tricep extensions. Hall admitted that he has not taken on many arm workouts in bodybuilding and was excited to get it going.
"I think we're going to smash arms. I've actually not done an arms session in a bodybuilding format yet so this will be a good one," Hall said.
Dumbbell Biceps Curl
The final movement of the day was dumbbell bicep curls. During this workout, Flex Lewis urged Eddie Hall to focus on squeezing at the top.
"What you're trying to do is just neutral to the side, pinky up as much as you can, and squeeze and just think of cupping like you've got nothing there right now. You're just trying to squeeze like a nut in between, squeeze that gap. You're trying to squeeze that bicep as much as you can."
For more news and updates, follow Generation Iron on Facebook, Twitter, and Instagram.