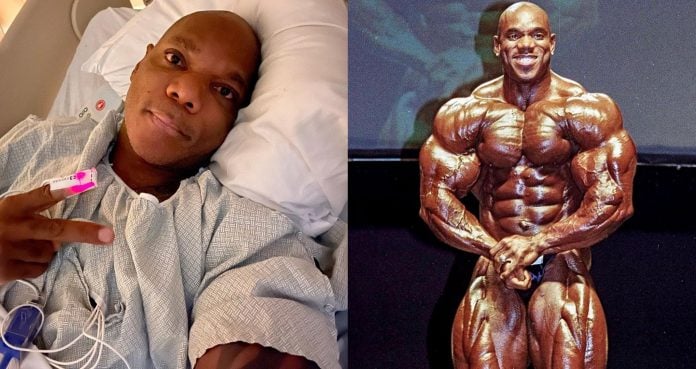 Flex Wheeler admitted to the hospital after being diagnosed with COVID-19 ahead of the 2021 Mr. Olympia
Pro bodybuilding legend Flex Wheeler has been diagnosed with COVID-19. He revealed he will miss the 2021 Olympia. The Mr. Olympia event has been filled with excitement and is far more back to normal than it was in 2020. That being said, the pandemic is certainly still affecting the world – and it seems that a legendary bodybuilder is the latest to become ill with the virus.
Flex Wheeler was set to be a part of the Olympia 2021 events in some capacity – but has been noticeably absent so far. Now we know why, Flex Wheeler took to Instagram, showing him in what looks to be a hospital bed. He stated that he had been diagnosed with COVID-19 and is determined to recover smoothly.
I deeply apologize to Jake @jake_wood_media The entire Olympia staff @mrolympiallc the competitors and all my fans for not being able to be there physically. But I am with you all in spirit.

This covid virus is nothing to smirk 😩 at!

but it truly picked the wrong guy to try in victimize. I am steadfast and I will defeat this virus.

Bank on it‼️
View this post on Instagram
Flex Wheeler is known across the bodybuilding community as one of the greatest pro bodybuilders to ever live. Wheeler retired from bodybuilding competition in 2003. While he does not hold an Olympia title under his belt, is often seen by both fans and athletes like to have one of the greatest physiques of all time. He was a competitor during the 90s era of the sport – which has become more and more known as a second Golden Era.
In 2017, Flex Wheeler made a comeback in the Classic Physique division to much fanfare. He received a standing ovation during his last posing routine at the Olympia 2017. Two years later, in 2019, tragedy struck. His leg was amputated due to a life threatening medical situation. It was a very emotional time – but Wheeler maintained his strength and has recovered gracefully and adapted to a new future with only one leg.
Now it seems Flex Wheeler will face another medical challenge. While it seems so far that Wheeler is in good health. He states in his comments that the COVID-19 virus "is nothing to smirk at!" Despite this, Wheeler has always been a man who faces challenges head on. He has an athlete's willpower – and that may help him stay strong should his health turn for the worse.
For now, we simply hope that the virus remains mild and that Flex Wheeler recovers without issue. This story is still developing and Generation Iron will continue to provide updates as they become available.