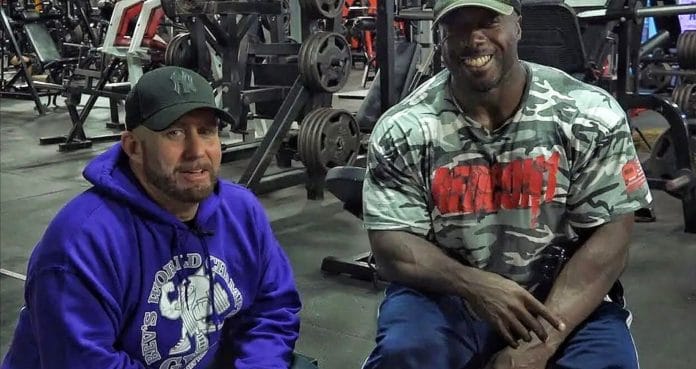 Justin Miller, George Peterson's coach, shares statement and update on Peterson's death.
The bodybuilding world is in mourning after hearing of the tragic passing of pro bodybuilder George Peterson. A beloved, talented, and passionate competitor – he was set to compete at the Mr. Olympia 2021 just days away. There has been very little information about his sudden death. In a recent social media post, George Peterson's coach, Justin Miller, has issued a statement providing his reaction, tribute, and more information about his passing.
Coach Justin Miller was working closely and preparing George Peterson for the Men's 212 Olympia – which is happening this weekend Oct. 8-10th. Peterson and Miller had already traveled to Orlando, Florida earlier this week in order to get settled and make final preparations for the show. It came as a complete shock to the bodybuilding world that Peterson is now no longer with us.
This shock seems to be shared with Justin Miller himself – who was not with George Peterson at the moment of his death but was the first to find him after he had passed away. Peterson was in his hotel room and not responding to calls or messages. After some time of radio silence, Miller became worried and was able to get security to open Peterson's room. Upon entering his hotel room, Miller found Peterson face down on the ground and unresponsive. His body was cold – so Miller called 911.
There was some initial confusion and lack of information about George Peterson's passing. But now Justin Miller has made an Instagram post sharing his emotional reaction to the news as well as giving a beat by beat breakdown of the passing in question. There is still much we do not know – such as the cause of death. But now more of the details have come to light in Miller's very raw, emotional, and candid social media post.
View this post on Instagram
Justin Miller, still in shock, took time to share with the bodybuilding community his experience – and what information we do know about George Peterson's passing:
"I'm in shock. I'm scared. I'm sad. I'm in disbelief. Freaked out. I'm completely devasted [sic]. My hands are trembling as I type this. It feels like a nightmare…but at the same time I know its real."
Miller then went on to give us a detailed break down of the facts – as he knows them so far. First, he expressed that there were no known health issues or warning signs as far as Miller was aware of:
"Here is what we know. George looked amazing! Felt amazing! He was so inspiring last night. Said things both on and off camera that gave Ricky and I chills. He was so on point mentally and physically. George was energetic, strong lifting the whole gym last night. Inspired. Passionate. Focused. The best version of George at any contest both mentally and physically I have ever seen."
Justin Miller then details that he left George Peterson to go check out the Amateur pre-judging early. When he came back – something was off and Miller was unable to get a hold of Peterson:
"I arrived back at noon and couldn't reach George. He wouldn't answer his door. We got a security guard to open his room and we found him face down mostly cold. Called 911 and followed their instructions did chest compressions until more security came and took over CPR, followed minutes later by the EMT's. They couldn't save him….apparently it had been several hours he was gone."
Miller then ended his message with a moment of love and tribute for the late George Peterson:
"I wish I knew what to say.
Please keep his soul and his family in your prayers. 🙏
I love you George! ❤
I'll live with you in my heart for the rest of my days on this Earth."
This is truly an emotional time for not only Justin Miller – but the family, loved ones, and friends who were close to George Peterson. It cannot be overstated just how tragic this loss is. Peterson was a bodybuilder just hitting the prime of his career. More importantly than that – he was a kind, generous individual. At only 37 years old – he had much more life to live and left us too soon.
Generation Iron once again sends out condolences to friends and family during this trying time. As more information becomes available, Generation Iron will continue to report. Stay tuned.