This energy drink is packed with B vitamins, BCAAs and creatine HCL to give you absolutely everything you need to boost your performance.
Product Overview
You may be conflicted when it comes to consuming energy drinks. When it comes to energy drinks and performance beverages, many preconceived ideas and much debate is had surrounding these energy boosting products. Whether the argument be that they have too much caffeine, are loaded with sugar, you won't sleep well, or at all, or just take a pre-workout supplement instead, the list of reasons can go on and on. And its exhausting. Thankfully, there are companies seeking to bring high quality energy drinks to the table and Gym Molly Energy Drink is one such product to change the performance enhancing game.
That extra boost of energy is crucial to our gains in the gym, for even after a long day of whatever life threw our way, we know we need that workout. But these energy drinks don't just pump us with energy. In fact, Gym Molly has created a drink with performance enhancing ingredients to improve exercise performance, reduce muscle fatigue and damage, and keep our energy high for your body and mind.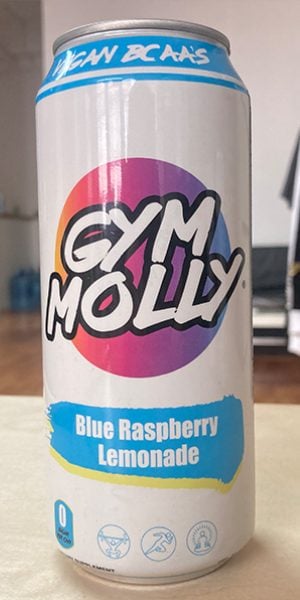 Gym Molly is a supplement producing company with the mission of providing high quality products to all consumers. Gym Molly and their attention to detail and passion for creating innovative and incredibly effective products has produced some great outcomes for bodybuilders and athletes looking to enhance all aspects of their health, fitness, and performance.
Gym Molly Energy Drink Highlights
Gym Molly Energy Drink is the exact product you need to pump yourself with clean energy to keep you working harder and for longer in the gym with a Gym Molly pre workout boost. Packed with essential B-vitamins in their Pure Energy B Complex, you get all of the benefits as to what these vitamins can offer. Their BCAA Ultra Endurance with Hydro Creatine Complex is a mix of vegan branched chain amino acids naturally made from sunflowers combined with creatine to pack a punch on all of your goals. The Gym Molly Matrix is loaded with known ingredients to boost exercise performance and really see gains occur in workouts and recover faster.

Available in either a six pack of cans or a twelve pack with the great flavor of Blue Raspberry Lemonade, this product sits at a great price and will surely work for your benefit. With just 20 calories and zero sugar, you are looking at a high quality energy drink that will break those negative views surrounding these performance enhancing beverages. From boosting your energy levels, improving exercise performance, and reducing muscle damage and fatigue, this product is a great way to make those gains a reality and uses the best ingredients to help you feel great and help push your body to perform at maximum capacity to maximize your workouts.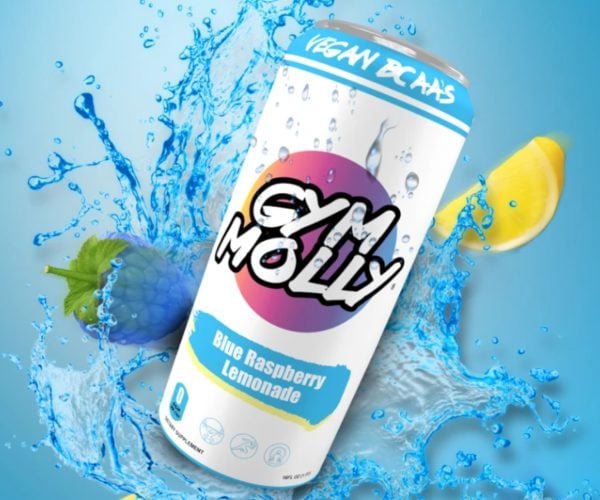 Ingredients
Pure Energy B Complex
Vitamin B6: Can improve mood and reduce symptoms of anxiety and depression to keep you motivated and thriving in the gym. It will also aid in inflammation and hemoglobin production.
Vitamin B12: A great energy booster, vitamin B12 will keep you training for longer and is highly beneficial on the metabolic processes of the body (1).
Others: Vitamin B3, vitamin B9
BCAA Ultra Endurance with Hydro Creatine
Creatine Hydrochloride: Absorbs really well into your body and is gentle on your stomach for no side effects. It will help improve blood sugar levels and muscle function (2).
BCAAs: Made up of leucine, isoleucine, valine, these BCAAs can increase muscle growth, enhance performance, decrease muscle soreness and inflammation, and reduce fatigue (3).
The Gym Molly Matrix
Beta-Alanine: Aids in carnosine production which will act as a buffer for your pH levels in your muscles. This allows you to push past any unwanted fatigue.
Caffeine: Elevate energy levels to tackle any sluggish feeling and will increase focus, offer better reaction time, and raise your level of alertness (4).
Citrulline Malate: Can boost nitric oxide by changing to L-arginine which maintains good blood flow and provides for increased muscle pumps. It will also help with anaerobic performance and can help alleviate any unwanted muscle soreness (5).
Others: Betaine Anhydrous, N-Acetyl L-Carnitine HCL, N-Acetyl L-Tyrosine
Other Ingredients
Carbonated filtered water, natural & artificial flavors, sucralose, sodium citrate, sodium benzoate, potassium sorbate, citric acid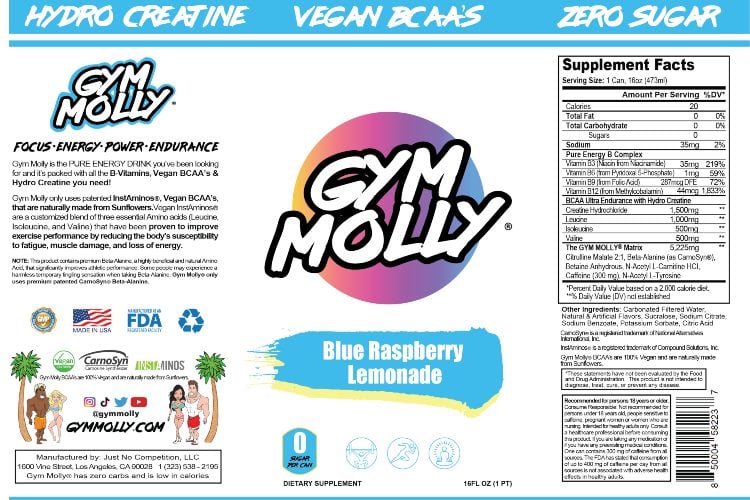 Price & Flavors
For Gym Molly Energy Drink, there is a really amazing flavor of Blue Raspberry Lemonade. You can purchase this product in a pack of 12 cans or a pack of 24 cans, both with at a nice price point given all of the benefits of this energy drink.
Price: 12 cans for $19.99 or 24 cans for $36.99
Pros & Cons
Pros: Loaded with great ingredients that have proven results. Tastes great and comes at a really nice price from a reputable and trusted company.
Cons: It does contain artificial flavors and sucralose so depending on your diet or goals, you may need a more natural workout product.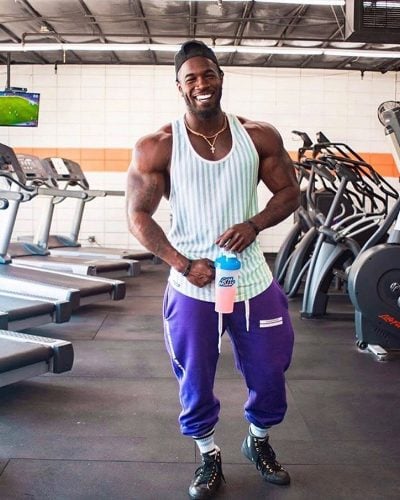 Gym Molly Athlete
Feddy Moe is an IFBB pro who works with Gym Molly as one of their athletes to keep him operating at a high level for competition while also promoting all of their products to better peoples' lives. A 2-time Olympian with appearances at the Arnold Classic, Moe seeks to help others achieve their goals as a prep and fitness coach. Working with Gym Molly, they both seek to bring the best quality products to consumers to fuel powerful workouts like Moe's monster chest workout, or his Olympia prep back workout, while also promoting a healthy lifestyle overall.
Wrap Up
Gym Molly Energy Drink is the perfect performance beverage to keep those energy levels high while also providing incredible extra benefits for your exercise performance and muscles. Made from clean ingredients with proven results on all aspects of performance, this product is sure to make you rethink what energy drinks can really do for your health and fitness. What you are really getting is a great tasting energy drink at a great price from a company who cares about their consumers. Check out Gym Molly today and grab a pack of these energy drink cans to boost your workouts to new levels.
Try This Energy Drink at Gym Molly Today
Generation Iron may receive commissions on purchases made through our links. See our disclosure page for more information.
Let us know what you think in the comments below. Also, be sure to follow Generation Iron on Facebook, Twitter, and Instagram. 
*Images courtesy of Gym Molly and Feddy Moe Instagram
References