Hafthor Bjornsson provided his latest update following stem cell and PRP injections.
Hafthor Bjornsson suffered a torn pec back in April as he was preparing to make a comeback to Strongman. Just five months later, Bjornsson is "optimistic" with his progress during his latest update following stem cell and PRP injections.
Bjornsson, the 2018 World's Strongest Man and 3x Arnold Strongman Classic champion, was planning a massive comeback to strength sports after his stint in boxing. Part of that comeback was to make an attempt to break Dan Bell's all-time world record raw (with straps) total of 2,607 pounds. As he prepared, Bjornsson was training in powerlifting.
Bjornsson took to his YouTube page to share his latest update and his feeling on the overall process.
"Today is the day. I'm about to do my PRP injection and stem cells, super excited for the outcome. Obviously, it's going to help me a lot with my recovery so yeah, let's fuc**ng do it."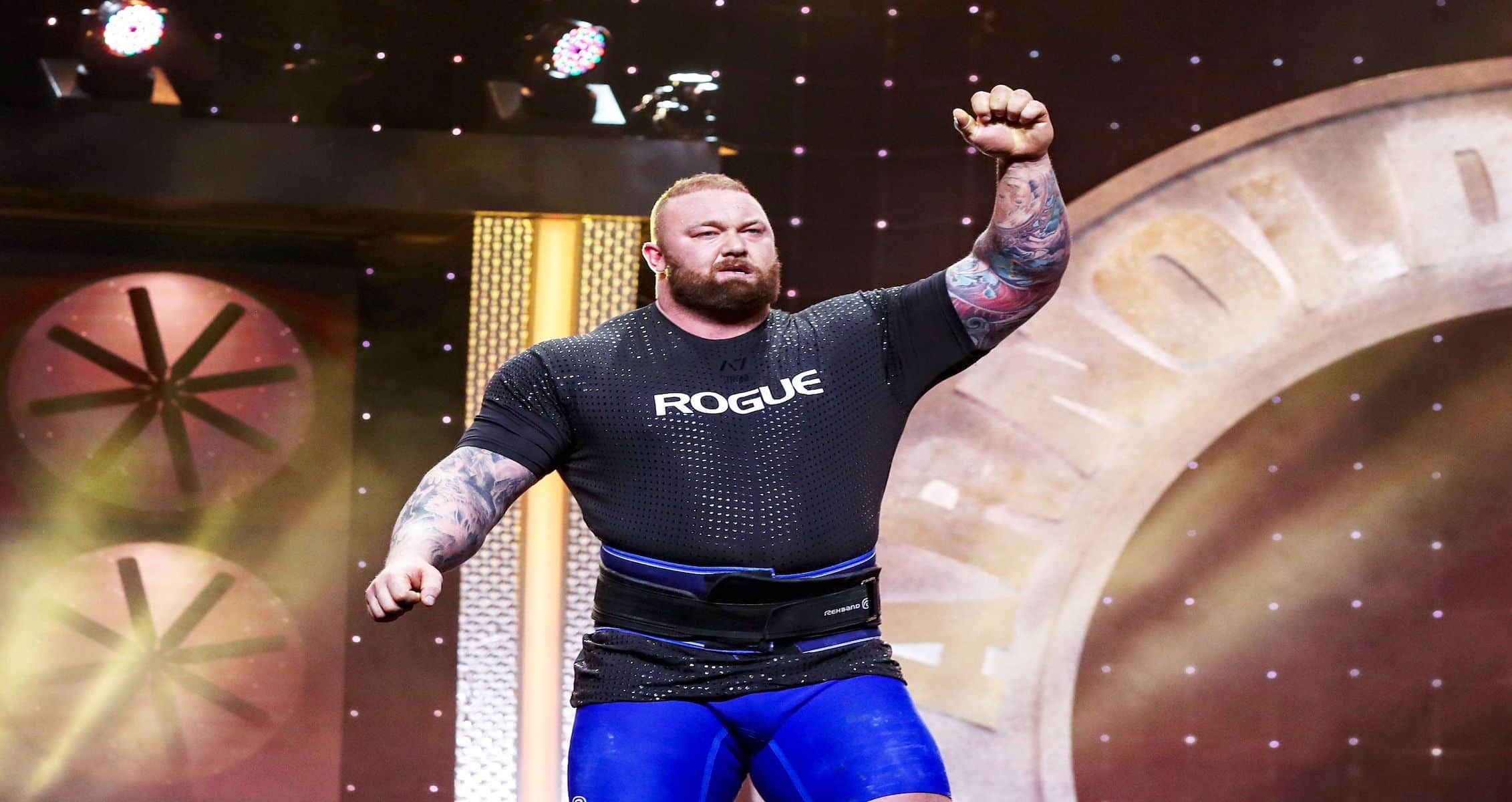 Hafthor Bjornsson: "Movement Is Good"
Hafthor Bjornsson began by discussing his feeling on the treatments and feels good.
"Movement is good. You know, I'm almost at, I'd say, a full range of motion. When I'm here, I can feel a stretch obviously but it feels great. I'm very optimistic."
Hafthor Bjornsson asked the doctor about seeing it work or making an impact. The doctor claims that there will be "nothing for a month" but the collagen production ramps up between the second and third month.
"When you surgically operate on something and your body repairs to that, your body tends to form Type 3 collagen, which is not very elastic scar tissue-type collagen. What we're going to do today is take that bone marrow and that platelet-rich plasma, mix it together…About a whole six months is the whole time frame with the most rapid improvements occurring in the second and third month."

View this post on Instagram
Bjornsson ended his video by visiting the Transcend HRT clinic, where he was able to enjoy many of its amenities.
"Today, I'm going to be doing the hyperbaric chamber. As you guys know, I love that and I do it when I can. We're going to do the infrared sauna. We're going to do cryotherapy and we might do something else. We'll see what they have available for me today. I might do red light therapy as well, if it's open."
You Can try Stem Cells Too
Though stem cell therapy may not be for everyone, as it is not cheap and comes with its risks, but there are alternatives that make you are able to use stem cells to help with your own recovery and progression as well. Check it out.
MuscleMeds Stemtropin
30% OFF
MuscleMeds Stemtropin is the first natural dietary supplement that increases stem cell and GH production. A 72% increase in GH and a 20% increase in stem cells is a pretty drastic increase, so it should provide you with all the benefits GH and stem cells offer, including increased strength and muscle growth, muscle regeneration, and fighting age-related diseases.
Stemtropin is the first all natural nutritional supplement that works to increase the production of stem cells and HGH (human growth hormone), naturally. Stemtropin is designed to help you build more muscle, prevent muscle loss, and help with muscle regeneration. Check out some key points of Stemtropin below:
Stemtropin is a natural dietary stem cell and growth hormone booster that helps with

muscle hypertrophy (growth)

and prevents age-related muscle atrophy. 

It increases your stem cell production by 20% and HGH by 72%. 

Stem cells help with muscle regeneration to

help athletes recover from injuries

such as sprains and muscle tears. 
Check out our individual review for Stemtropin!
For more news and updates, follow Generation Iron on Facebook, Twitter, and Instagram.