How much weight will you get to in your quest for big gains?
Product Overview
Growing in popularity, weightlifting belts have become incredible equipment aids in your mission for efficient but safe workouts. When it comes to lifting big and seeing huge gains, a lifting belt is more than important to keep you stable and supported to avoid any unwanted injury and strain. While some people take the "natural" approach to this and go without one, working with a weightlifting belt is only for your benefit. Keeping people safe and in the gym longer while also promoting solid form are just some of the great benefits lifting belts have to offer. Harbinger 4-Inch Nylon Weightlifting Belt is one such belt that can help you lift more while keeping you strong and stable.
Able to support your core, weightlifting belts work to reduce that lower back strain that causes injury and time off (1). With an engaged core, much of the pressure from these lifts stays off your low back and that increased level of stabilization offers better range of motion (2). Wearing a lifting belt can also show you proper form and eventually muscle memory will start to adjust to this. Proper form and efficient lifts leads to decreased risk of injury (3) and big gains, both of which lifters, bodybuilders, athletes, and everyday gym-goers strive towards.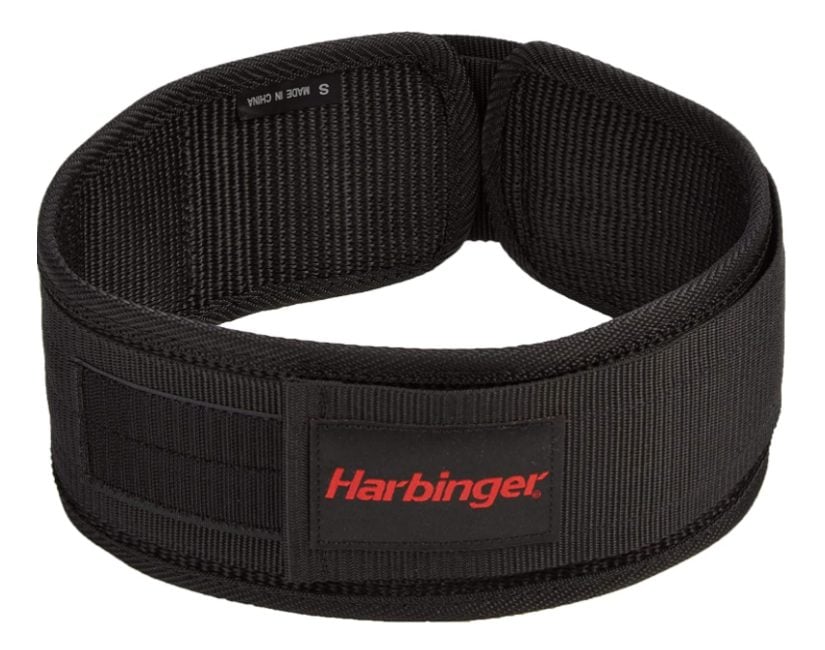 Founded in 1988, Harbinger's first product was a wrist-stabilizing glove intended for skateboarders. After realizing the effect this product would have on weightlifters, the company quickly became a sought after brand for both weightlifters and strength trainers alike. Expanding their products to include gloves, belts, speed ropes, and so much more, their high quality and innovative designs make Harbinger a veteran in the business. With a national and international reach, Harbinger seeks to improve the lives of weightlifters and athletes all around the world.
Key Details Of A Good Weightlifting Belt:
Material: Choosing between nylon or leather is often a matter of preference and what feels more comfortable.
Durability: Made from quality material, a good lifting belt can last years.
Functionality: Getting into and out of the belt, as well as how it fits and conforms to your body.
Affordability: While it is your health and safety, there are good belts out there that are also affordable.
Harbinger 4-Inch Nylon Weightlifting Belt Highlights
Harbinger offers this great weightlifting belt designed for maximum comfort and durability with the added benefit of aiding in muscle warmth. Made from thick, flexible, heavy-duty nylon, this product ensures durability and since the stitching runs in parallel lines across the entire belt, that uniform design allows for better support and stabilization.
With a 4-inch belt and 3-inch extra wide strap, this weightlifting belt will promote proper lower back and abdominal support for any of those heavy lifts. The steel buckle makes tightening and tensioning easier for convenience and simple adjusting for that desired custom fit. This belt is great for anyone looking to lift big and stay safe with the bonus of slight flexibility with great durability.
Product Details
Support & Stabilization
The most important aspects of a weightlifting belt, having both support and stabilization allows for your core to remain engaged and that pressure to be taken off of your low back. This Harbinger belt is 4-inches with a 3-inch extra wide support strap for that added ability to maximize lower back and abdominal support. With a 346 count of nylon stitching, it allows for the belt body to be stabilized to provide you with uniform support.
Comfort & Flexibility
The thick, flexible, heavy-duty nylon offers maximum comfort and provides muscle warmth as well. Able to conform to your body, this belt really brings a comfortable feel to those big lifts so you aren't left feeling awkward under so much weight. By conforming to your body, it offers the flexibility for a slight movement so you can work on form and not feel constricted under the pressure of the belt. While you want support and stabilization to keep your body free of injury, comfort and breathability are also key.
Durability & Material
The heavy-duty nylon proves to be rather durable and although many lifters like leather belts, nylon belts can offer fairly great durability when taken care of. The heavy gauge steel rollerbuckle makes tightening and tensioning this belt simple and convenient to get to your desired comfort level. Harbinger ensures quality material for their products and has proven that over time building up a reputable consumer base.
Price & Effectiveness
The Harbinger weightlifting belt comes in a range of prices depending on size. Finding your right size can be difficult but using a size chart or measuring yourself can help make that decision easier. Prices and sizes for this belt are:
Small (24-29 Inches)- $13.56
Medium (29-33 inches)- $18.30
Large (33-37 inches)- $15.75 as part of a promotional offer
X-Large (37-42 inches)- $18.96
Pros: The thick Velcro is intended to offer great durability and support but also fit comfortably and aid in muscle warmth. The steel buckle makes adjusting easy and convenient. The simple design will allow for comfortable workouts and for the price, it's a good option.
Cons: Not as rigid as other belts, in particularly leather ones, so support may be different or not as strong the more weight you add on. With Velcro straps, you always run the risk of durability issues just from constant wear and tear.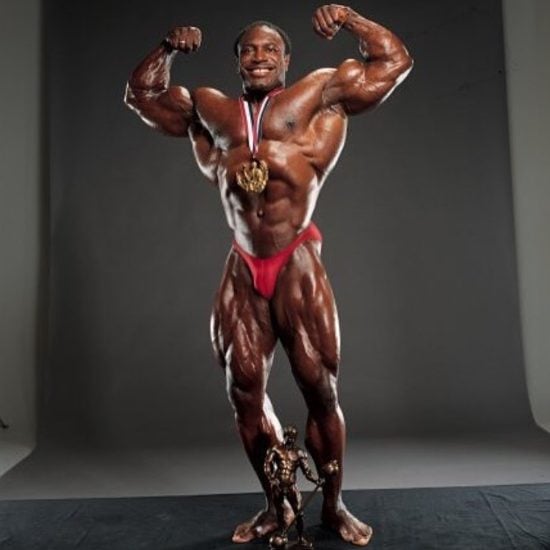 Harbinger & Lee Haney
The relationship between Harbinger and 8-time Mr. Olympia champion Lee Haney began when the company realized their products weren't just for skateboarders, as originally intended. Along with Haney, they worked for new ways to engineer high quality equipment while seeking to help others of all sports with their equipment needs. Haney holds the all-time record for most Mr. Olympia wins along with Ronnie Coleman and was also appointed to the position of chairman of the President's Council on Physical Fitness and Sports by former President Bill Clinton. In the end, the relationship between Harbinger and Haney works to benefit consumers. Not only do these products come from a reputable and high-quality company, but are also supported by a reputable and knowledgeable athlete in Haney.
Overall Value
Weightlifting belts are ultimately incredible aids when it comes to lifting big and staying safe while doing so. The Harbinger 4-Inch Nylon Weightlifting Belt is one such belt that can really provide great support and stabilization with the added bonus of comfort and flexibility. With a high-quality, thick, yet flexible support belt and support strap, it will maximize lower back and abdominal support while working to stabilize the body with parallel stitching.
Durable and reliable, this weightlifting belt should be in your bag and on your body when performing big lifts to help you see growth, increased performance, and solid form. What you are really getting is a high-quality weightlifting belt from a reputable company with all the benefits of keep you safe and efficient in the gym. Check out Harbinger 4-Inch Nylon Weightlifting Belt and see what this piece of equipment can do for you.
Shop Harbinger 4-Inch Nylon Weightlifting Belt Today
Generation Iron may receive commissions on purchases made through our links. See our disclosure page for more information.
Let us know what you think in the comments below. Also, be sure to follow Generation Iron on Facebook, Twitter, and Instagram. 
*Images courtesy of Harbinger and Lee Haney Instagram
References
Miyamoto, K.; Iinuma, N.; Maeda, M.; Wada, E.; Shimizu, K. (1999). "Effects of abdominal belts on intra-abdominal pressure, intra-muscular pressure in the erector spinae muscles and myoelectrical activities of trunk muscles". (source)
Finnie, S. B.; Wheeldon, T. J.; Hensrud, D. D.; Dahm, D. L.; Smith, J. (2002). "Weight Lifting Belts: Motivations For Use". (source)
Hsiang, Simon M.; Brogmus, George E.; Courtney, Theodore K. (1997). "Low back pain (LBP) and lifting technique- A review". (source)