Iranian bodybuilder, Sajad Gharibi aka "Iranian Hulk," prepares for a boxing match with colossal 6-foot-8-inches, Martyn Ford. 
Instead of David vs. Goliath, picture two Goliath's going head-to-head in a blood-soaked onslaught. Well, the blockbuster fight between Sajad Gharibi and Martyn Ford may make this come to fruition. Sajad Gharibi is set to fight Martyn Ford in London on April 2, 2022. 
Sajad Gharibi, aka "Iranian Hulk," is a superstar Iranian bodybuilder. And his opponent, Martyn Ford, also carries the spotlight with him. Ford is a prominent actor you've may have seen on the silver screen, most prominently known for his roles in Kingsman: The Golden Circle and Fast and Furious 9. Some dubb him as the "scariest man on the planet."
One's a famous bodybuilder, and the other's a renowned strongman/bodybuilder gone movie star. So determining which one will win is a challenging quest. But one's thing for sure – they're both mammoths! 
How Big Are These Behemoths? 
Sajad Gharibi is shy of 400 pounds weighing in at 390 pounds! However, Martyn Ford is no little person either, standing at a gigantic 6 feet 8 inches tall. This gives him a tremendous half a foot height advantage over the 6 feet 2 inches Gharibi. Although, Gharibi weighs close to a 100 pounds more than Ford, who still hovers over 300 pounds. Of course, they could come in a bit trimmer as the eve of the boxing match approaches. 
Training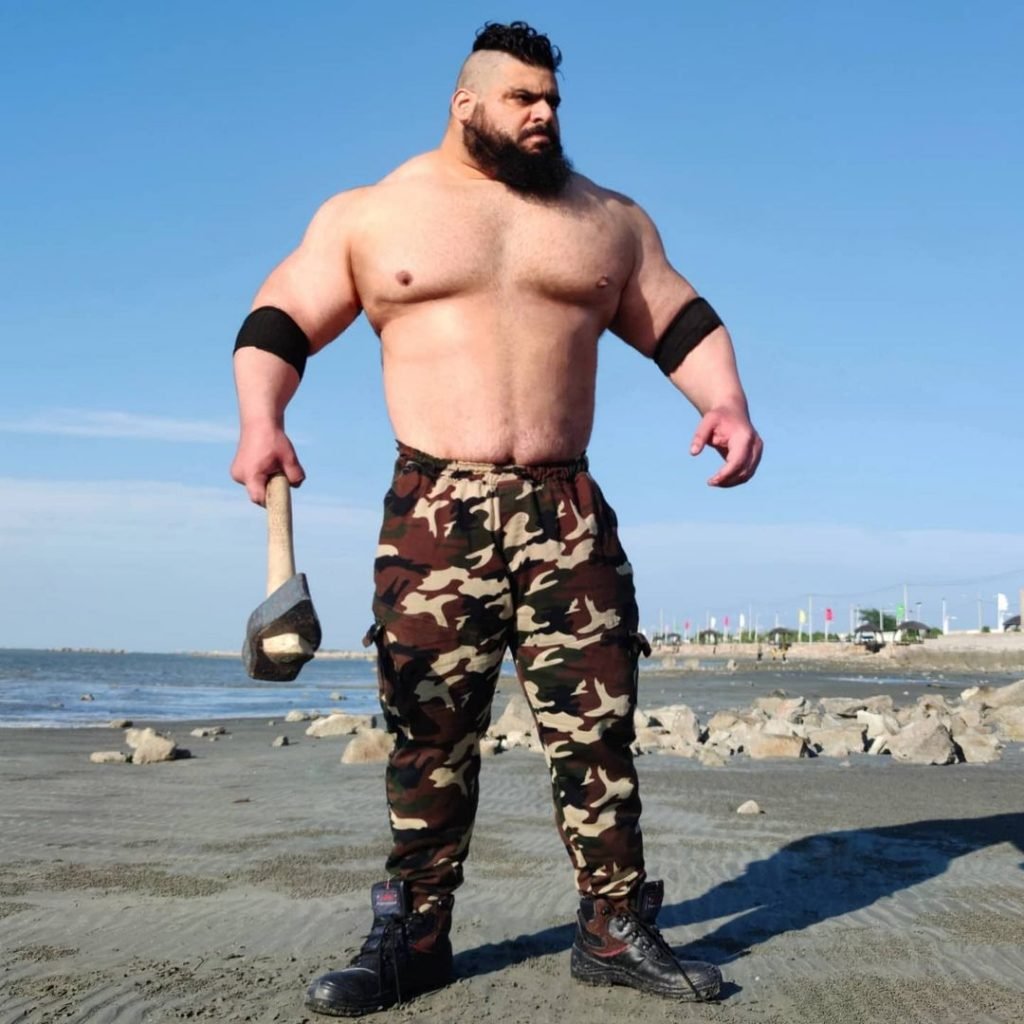 Neither contender has ever fought a professional fight before. But they don't seem to be taking the bout lightly, though. Both contenders appear to be prepping for the competition seriously as they show off their training styles on social media. With only four months out from the fight, their training has intensified. 
Below is an Instagram (IG) video of Martyn Ford vigorously bashing a hedge slammer against a tire combined with intense rope slams. 
View this post on Instagram
Ford is also training with Eddie Hall – the former World's Strongest Man and claims to have trained in MMA over the years. 
Sajad Gharibi is shown taking a slightly more combative approach in the IG video below, as he fends off multiple sparring partners. 
View this post on Instagram
He's also seen punching concrete walls, ripping melons, and bending metals in other training clips. 
Although Gharibi seems to be capable of defending himself from these men through a series of trips, throws, and grabs, it's interesting to see how this will translate into boxing. Grappling isn't allowed in boxing – ask Jake Paul. 
Squash Beef
There seems to be some beef between the two. Ford frankly says things are personal for him now, and Gharibi and his team have said some things that can't be taken back. 
Gharibi mocks Ford on social media, saying:
"Hey pretty boy Enjoy your remaining days. 

I will come to London"
Ford doesn't seem to show any fear, though. He responded:
"While he's bending spanners, punching walls, cutting bones and chewing crayons … I will put myself through the most vigorous fight camp EVER … I will PROVE to a lot of people what I'm about that night."
This fight is finally coming into existence after years of speculation between the two. Fans question some of their unorthodox training methods and search for a shared inquiry: how well does each competitor's training translate to boxing, and who will win? 
Let us know which titan you think will pull through in the social comments section. 
Follow Generation Iron on Instagram, Facebook, and Twitter for the latest news on bodybuilders!