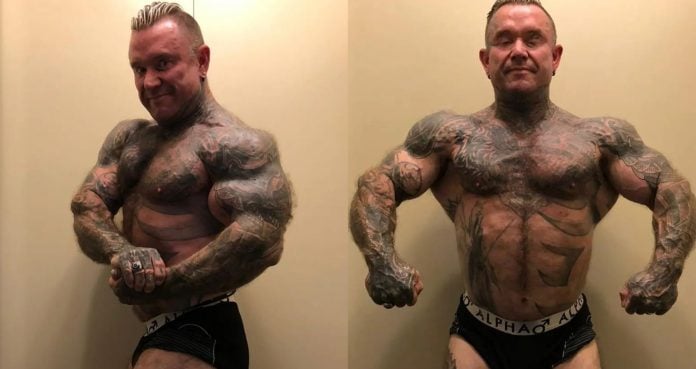 Lee Priest has transformed his physique in an impressive photo update.
Australian bodybuilder Lee Priest has been turning heads in his latest photo update showcasing an incredible physique transformation. Dubbed "The Evolution," it seems that this is just the beginning of a physique transformation journey for Lee Priest.
Lee Priest was quite the hyped yet controversial bodybuilder during his prime years of competing. Primarily competing in the 90s and 2000s, his physique was often lauded by the bodybuilding community. But his blunt honesty caused quite a stir and eventually got him banned from competing in the IFBB Pro league.
During his competitive years in the IFBB Pro, Lee Priest qualified for six Mr. Olympia competition, though never earned the title of Mr. Olympia champion. In total, he won three IFBB Pro shows. Perhaps his most accomplished year was in 2006 when he won the Iron Man Pro and the Night of Champions in New York.
The entire journey of Lee Priest was chronicled in our feature film documentary, Lee Priest Vs Bodybuilding. The film showcased his childhood upbringing, rise in the IFBB Pro league, and eventual ban that removed him from competition. He later went on to compete in the NABBA league for a short while.
Since then, Lee Priest has been more of an online personality than a competitor. While it was clear that he still always remained in shape, Priest's most notable moments came in the form of his video posts with honest yet controversial statements. Many love him. Others hate him. He's a divisive personality in the sport.
But now it seems that Lee Priest is starting to focus even more strongly on his training and physique. His sponsor, Species Nutrition, posted a physique update – which is apparently the near beginning of Priest's transformation. Despite only being the beginning, his physique already looks impressive considering he had not been in active competition for some time.
View this post on Instagram
"#TheEvolution of Lee Priest has begun. Follow the Australian bodybuilding legend's journey to a truly astonishing physique transformation – fueled by SPECIES Nutrition."
Is Lee Priest's transformation for the return of the Mr. Olympia Masters?
Earlier this year, Mr. Olympia president and owner Jake Wood confirmed that the Mr. Olympia Masters would be returning. While there were many details still up in the air, he was hoping to have the competition return by 2023. The Mr. Olympia Masters first debuted in 1994 under Joe Weider's leadership. The goal was to provide a more level playing field for older bodybuilders who still wanted to compete.
Lee Priest has not stated that he will be preparing for the Mr. Olympia Masters – though he has given his opinion on it a few times recently during video interviews and discussion. Some websites have already begun speculating that he might be preparing for the Mr. Olympia Masters. At this point, it's all here-say as Priest has not confirmed anything specific. Perhaps if Priest's transformation goes well enough, he might be interested in stepping back on stage again. Though this might present its own challenges based on his complicated history with the IFBB Pro.
Generation Iron will continue to update this story as new information becomes available – perhaps sometime soon we will get more clarity on wether or not Lee Priest is interested in the Mr. Olympia Masters. Until then, make sure to stay tuned to the Generation Iron Fitness Network for all things bodybuilding, strength sports, and fitness!